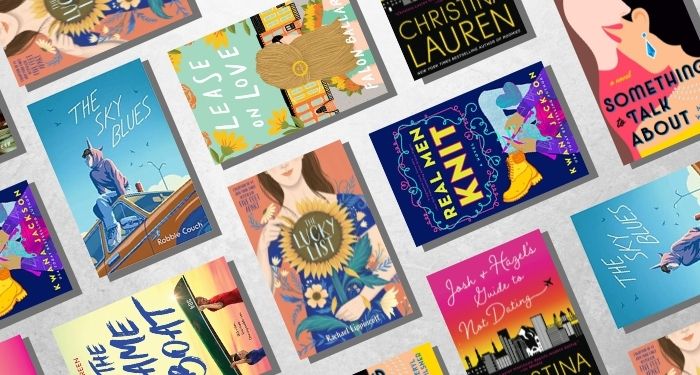 Is there anything better than falling in love with your best friend? Sometimes there's drama involved—no one wants to mess up a perfectly good friendship—but there's something so satisfying about those friends to lovers who are meant to be! If you can't get enough of this delectable romance trope and all the feels that it inspires, then pick up any of these great friends-to-lovers romance books!
Poppy and Alex have been best friends since the end of their freshman year of college, despite being total opposites. But they stay connected by doing something they both love each summer: Taking a trip. From their college days of budget travel to the more extravagant European vacations of their late twenties, they've always enjoyed the time they set aside for each other…until their friendship blows up in their faces. Now Poppy is desperate to fix things, so she suggests one final trip to repair their friendship…
Dani Brown is a PhD student who isn't interested in a relationship, but wouldn't mind a nice friends-with-benefits situation. When a security guard and friend from work named Zaf rescues her and the sweet moment goes viral, the whole world seems to ship them, and Zaf could really use the publicity for his charity. Soon, Dani finds herself agreeing to fake date her friend, all the while realizing that they might be catching feelings.
Hazel and Josh have been friends for years—Hazel is a whirlwind, a force to be reckoned with, and Josh is more patient and mellow but enjoys the spectacle of her life. But when he is cheated on, Josh is in need of a romantic reboot, and the two begin setting each other up on a series of blind dates, all the while avoiding the truth of their attraction to each other.
Jo and Emma have a perfectly cordial working relationship. Jo is a former child star turned Hollywood show runner and Emma is her capable assistant. When Jo asks Emma to come with her to a red carpet event, a shared laugh on the red carpet sparks tabloid gossip that they're a couple. Now, Jo and Emma struggle to maintain their great working relationship and friendship, even as they each question whether or not they could become something more…
Sky doesn't want to let his conservative hometown hold him back senior year, so he makes plans for an elaborate promposal for his secret crush. But when said plans are leaked in a homophobic email, Sky finds that his friends rally around him in support, and that maybe the person he's meant to go to prom with is a lot closer than he thinks.
Kerry loves her part-time job at Strong Knits, a Harlem knitting shop. But when her beloved mentor and boss passes away, Kerry's life gets complicated by the fact that her mentor's son Jesse steps forward to run the business. They've known each other since they were kids, so Kerry knows Jesse can be a bit of a player…but that doesn't stop her from crushing on him. Can they figure out how to make a business—and a real relationship—work?
Harper has spent too much time in her mom's wedding dress shop to believe in true love—it's all just an excuse for some insane capitalism. But her best friend Theo is a true romantic through and through, and so when he finds himself heartbroken yet again, Harper offers to teach him how to be impervious to falling. The only problem? The more she teaches him, the more she realizes that perhaps she's the one falling this time.
When Sadie accidentally mixes up a dating app with a roommate-finding app, she finds herself leasing Jack's spare bedroom for a rock-bottom price. Which is convenient for both of them, as Sadie wants to switch careers and Jack is grieving a big loss and has withdrawn from friends. But as they live together as roommates and make their place a home, they have to admit some growing feelings.
Sadie comes from a family obsessed with the Texas River Odyssey, a boat race that every member of her family has completed. When Sadie's first attempt tanks, she becomes determined to not just complete her second try, but place in the race. But some unforeseen circumstances upend her plans, and she finds herself partnering with the last person she wants to spend three days on the water with: her former best friend Cullen, now her biggest competitor.
Zorie and Lennon used to be best friends, until the Homecoming dance ruined everything. Now they can't stand each other, which is really inconvenient when they're stranded in the wilderness together after a camping mishap. Now they have to rely on each other in order to make it home safely, and confront their true feelings.
Emily has just ruined things with her boyfriend and is now facing a summer of change when she meets Blake, the new girl next door. The two develop a fast friendship over a bucket list Emily's late mom made when she was her age, and Emily decides to take the challenge in order to feel close to her mom. Blake is by her side through it all, and soon Emily has to admit that maybe she thinks of Blake as more than a friend.
For as long as Belly can remember, she and her mom and brother have spent every summer at her mom's best friends beach house with her sons Jeremiah and Conrad. It's always magical, but this summer is different: Suddenly, Belly is pretty. And her long-held feelings for Conrad rise to the surface as everyone faces the unthinkable.
Kendall and Payton have been best friends since they were kids, but now Kendall's Hollywood career is taking off and she feels completely out of her depth. She invites Payton to move to LA with her, to help keep her grounded and remind her of who she really is. But Payton has a big secret: She loves Kendall and wants to be more than friends.
Aristotle is full of anger and Dante always has a clever comeback. The two don't seem like the most obvious of friends, but when they meet at the pool one summer, they just click. Over the years, their friendship becomes a lifeline as they face major upheavals and emotional revelations. But can their friendship weather the transition into something more?
Lady Victoria has a wonderful life as the second daughter of an earl, and she enjoys helping her father run his estate rather than trying to find a husband. But all that changes when her older sister reveals some shocking news, and Vicky needs to get married as soon as possible in order to secure the family fortune. Luckily for her, she has options…including her childhood best friend who has suddenly, and inexplicably, returned to England after years abroad without a single letter.
Need more romance recommendations like these friends-to-lover romance books? We've got you covered!
Need even more romance book recommendations? Sign up for TBR: Tailored Book Recommendations! TBR is a personalized book recommendation service that sends you books you'll love to read. Here's how it works: Simply fill out the reader survey and let us know what you want more of—such as romance novels with your favorite tropes—and what you're not keen on. Then, an expert Bibliologist will read your responses and recommend three books just for you. Receive your recommendation letter via email in about two weeks, or opt to receive your recommendations as brand new hardcovers in the mail in about three to four weeks. Learn more and sign up now!