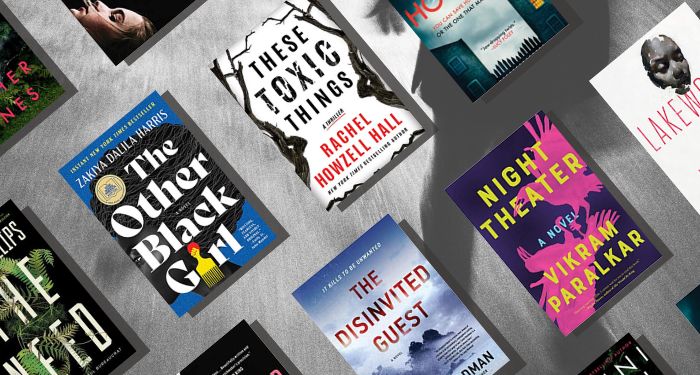 If you're looking for a read full of twists and turns, one that will keep you guessing and turning the pages in equal measure, you might want to read one of these psychological thrillers. Ranging from domestic thrillers to workplace dramas, the best psychological thriller books all have one thing in common: they just might may have you questioning reality — or at least your sanity — by the end.
You might also enjoy a romantic thriller, a domestic thriller, or a political thriller! Most thrillers have some crossover in sub-genre, so you may have to read around a little to find your sweet spot.
The Need by Helen Phillips
Molly is home alone with her two children when she confronts an intruder—who seems to know far more than he should about her family.
Lakewood by Megan Giddings
When Lena's grandmother dies, it's up to her to support her family, so she takes a mysterious job in a secret research program. As she learns more about the research, she is forced to make some decisions about how far she'll go.
Dr. Park's job on the space mission is to observe the human crew, but she prefers the company of the androids. When the ship lands and they are trapped in a radiation storm, everyone begins to act strangely—even the androids—and Dr. Park has to figure out what's really going on.
When a family comes into the a village clinic and asks the surgeon to heal their wounds, he is shocked—because they are already dead.
Nella is the only Black employee at a publishing house, tired of the endless microagressions. She is thrilled was Hazel is hired, but before long Hazel is the office darling and Nella is receiving anonymous threatening notes.
Londoner Mia meets fellow actress Emily at an audition in L.A., and when Emily disappears Mia was the last person to see her. But then Emily turns back up, and she is not the person Mia met before—is she?
Hostage by Clare Mackintosh
Mina is a flight attendant on the first 20-hour flight from London to Sydney. When she receives a note from a passenger, her world is turned upside down as she is forced to either help stop the plane from reaching its destination, or risk her 5-year-old daughter at home.
Lana doesn't mean to meet Katya, the anonymous egg donor she recognizes from her picture at the clinic. But they become friends, and then Katya disappears, leaving Lana with even more questions, and under suspicion.
When an explosion kills two people, the town is forced to wonder what the hyperbaric chamber that was believed to cure everything from infertility to autism was really meant for.
Amy can't connect with her daughter Emma, and when Sarah grabs Emma in an airport and raises her as her own, all three of them grapple with their pasts.
An investigation into a girl's death ends in a mass tragedy, and one of the men investigating goes to jail as a mass murderer. Years later, his son receives a mysterious package and tries to piece together what really happened. From the author of The Good Son.
Years after the COVID-19 pandemic, with lingering health issues, Lucy and her husband Reed flee a new virus, taking refuge on his family's private island with five others. But it seems that the island might be haunted—or Lucy might be affected by learning its history. From the author of The Other Mother.
Florence is an as-yet unsuccessful writer who gets a job working as the assistant to Maud Dixon, a famously anonymous author. But when they are traveling abroad and are in a fatal car accident, Florence realizes how easily she could become Maud.
Mickie is following her client's last wishes, creating a digital scrapbook of important items, but someone wants her to stop. What do Nadia's treasures mean to the person who's threatening Mickie?
Beth and Tom have the perfect marriage from the outside…and from the inside, or so Beth thinks until the police question her about his activities, and she finds that she knows less about him than she thought.
As children in Edinburgh, Cat and El invented a world called Mirrorland. As adults, they are estranged and Cat lives in Los Angeles, but when El goes missing Cat returns home…and returns to Mirrorland.
Alexa's best friend Ella gets a job at a gentleman's club and discovers that the owner, Navid, is involved in sex trafficking. Alexa has been tapering off meds for her Dissociative Identity Disorder, and she and her "Flock" try to navigate helping Ella take down Navid.
Aicia is a famous painter, her husband Gabriel a fashion photographer. One night she shoots him dead and refuses to speak a single word. Years later, psychotherapist Theo is desperate to try to get through to her, and his motivations are as mysterious as hers.
The Push by Ashley Audrain
Blythe hopes to be a better mother to her daughter Violet than her mother was to her, but something is…wrong with Violet. Except, her husband Fox says it's all in her head. Then their son Sam is born, and Blythe is more sure than ever that she is right about Violet.
When Nina disappeared ten years ago, everyone assumed she had taken the money and run. But when her long-dead body is discovered nearby, her son Aarav is determined to figure out what happened to her—and whether he witnessed it.
Told from three different POVs, this book follows seven students who are enrolled in a secret study at their D.C. college—they're psychopaths being tracked via smartwatch. But when one of them is murdered, it becomes clear that one of them is a killer.
---
If you're looking for even more great reads, try TBR: Tailored Book Recommendations! TBR is a personalized book recommendation service that sends you books you'll love to read. Here's how it works: Simply fill out the reader survey and let us know what you want more of and what you're not keen on. Then, an expert Bibliologist will read your responses and recommend three books just for you. There are two subscription options: receive your recommendation letter via email in about two weeks — perfect for library users! — or opt to receive your recommendations as brand new hardcovers in the mail in about three to four weeks. Learn more and sign up now!