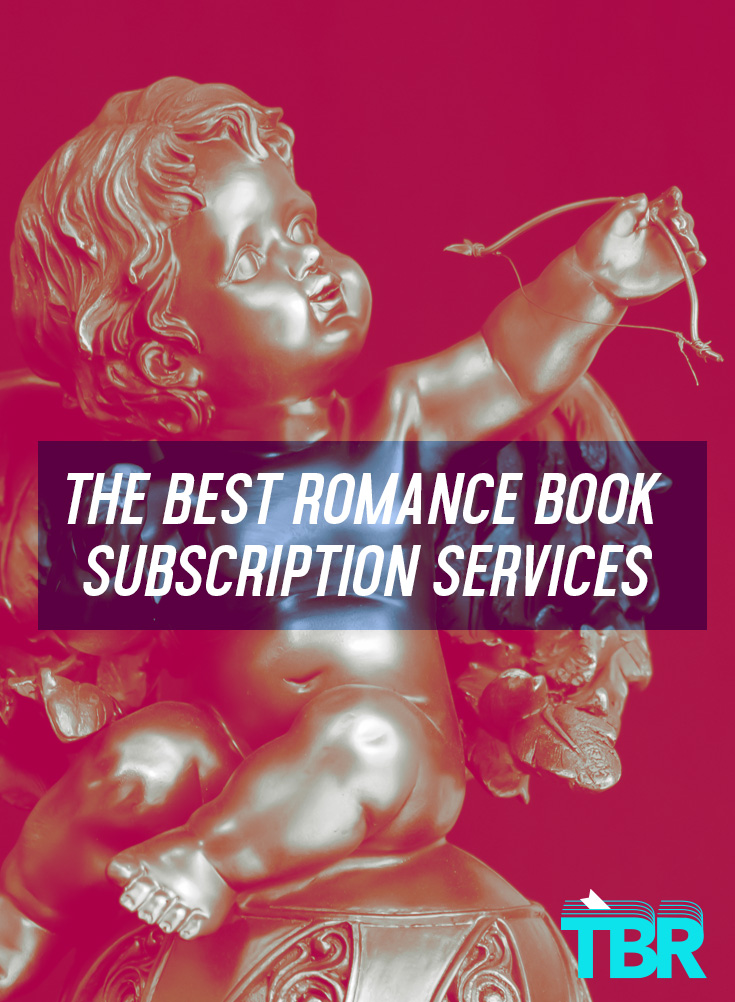 Do you like your books packed with dreamy love interests, romantic tension, swoony kisses, and wrapped up neatly with a happily ever after? If you can't get enough romance in your life, consider signing up for a romance novel subscription box so that you can get romance novels delivered directly to your door on a regular basis! We've compiled a list of various romance book subscription services, comparing the perks, pricing, and sub-genres so you can find the perfect romance novel subscription for your reading life!
Totally Booked
Totally Booked offers two options–romance and YA! The romance option is called My Guilty Pleasures, but we don't think you need to feel guilty at all for snagging this subscription at $25. You'll get two new releases each month, plus a candle, an edible treat, and 1-2 bookish goodies that promise to be useful! If you are picky about your sub-genres, you may choose between historical romance subscription, or New Adult or traditional romance! If you love all three genres, you can pick the "surprise me!" option.
If your favorite pastime is reading romance while relaxing in the bathtub, this is the perfect subscription service! The standard box starts at just $24.99 per month, and each box includes one new release in print and five ebooks (choose from contemporary, paranormal, or historical romance subscriptions), plus five luxury bath items that include bath salts and bombs, face masks, handmade soaps, lip balms, and other items to pamper yourself. Go premium and get an additional print book and even more bath items! It's the perfect subscription to keep you well read and maybe a little pruny.
Created by bestselling romance author Colleen Hoover, this subscription service is awesome because it offers a range of options for all budgets, and each purchase contributes to charities. The focus of these boxes is also on discovering new and indie authors, so you'll likely find great reads before anyone else! Starting at just $9.99 per month, you can choose from ebook and print book options, and all boxes come with letters from the authors. The swag options are great, too, making this a great choice for the ultimate romance fan!
If you're a romance fan who loves it all and just wants the best books at the best price, the Fresh Fiction Box is the way to go. For just $25.95 per month, you will receive three to five print books and one to three ebooks (you'll get a download link). Each box is packed at random, so everyone's box differs slightly, but books are picked from a wide range of new titles each month. This box is just the books, so if you'd rather not collect lots of goodies and just want a source for great books, this is a great way to do just that!
Let It Bee is a great service that offers a romance/chick lit box in addition to kids and teen boxes. Each box is lovingly put together with a a new release book signed by the author, an exclusive book mark or art print, bee themed goodies and reader merchandise, all with an emphasis on handmade and cozy products. Plans start at just $32 for the Love Box, and you can even add on a box for your young (or young at heart) readers!
If paranormal romance is your jam, this box is the perfect way to treat your shelf–and yourself! Although it comes in at a little higher cost ($45 per month), it's packed with a new paranormal romance novel, a piece of jewelry, chocolate or other treats, a bookmark, a tea, and one other goodie, such as a bath bomb. All of the items are dark and moody and picked to align perfectly with the theme of your book!
For an inexpensive and no-frill option, Booking for Love from Book Case Club is an affordable option. For just $14.95, you'll receive two romance novels. This service allows you to pick between contemporary, paranormal, and historical fiction to ensure you get just the type of romance you're looking for!
Harlequin, the publisher of romance novels, is a true pioneer of the romance subscription service! They offer both print and ebook services that are highly customizable to your reading tastes and plans start at $11.99 per month. Choose between their various romance lines, and enjoy lots of free bonuses such as two free books when you sign up. The downside is that you'll only receive books published by Harlequin, but when they publish so much you'll never run out of reading material!
Are you a romance reader who enjoys print books but struggle with the tiny print in mass market paperbacks? This is the service for you! Big Reads has a romance-only option where they deliver one new large print romance novel to your doorstep each month. You'll also get the occasional bookish goodie for being a long-time subscriber! Large print books can be expensive and most subscription services don't offer them, but this service makes it easy to bulk up your large print library at only $18.75 per month!
Although not a subscription service in the strictest sense, this is an amazing service from the U.S.'s only romance-only independent bookstore, The Ripped Bodice in Los Angeles, CA! At $8 per mass market paperback and $12 per trade paperback, you can get a surprise book in the mail, wrapped with a little teaser with what the book is about! The surprise is half the fun, and The Ripped Bodice makes it affordable to treat yourself to a carefully curated book. The perk of this not being an ongoing subscription service is you can indulge as often or as infrequently as you like!
And if you need even more romance recommendations, check out our list of the 15 best funny romance novels! Want even more romance book subscription services? Happy to oblige! Sign up for TBR: Tailored Book Recommendations! TBR is the only book subscription service that gives you handpicked, personalized book recommendations. To get started fill out our reader survey and let us know what you want more of, what you don't like, and tell us some favorites. You can even link us to your Goodreads page so we don't recommend something you've already read. Then, depending on your selected plan, we'll send you a recommendations-only letter to your email inbox, or 3 hardcover books straight to your doorstep.
Want to find out more? See how it works in detail.