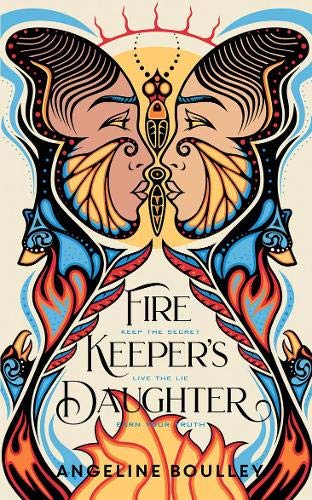 Firekeeper's Daughter by Angeline Boulley is one of the most buzzed-about book releases of 2021. It was a Reese's Book Club pick, an instant bestseller, and it had been optioned by the Obamas' production company in addition to winning a Goodreads Choice Award. It's no surprise that it's a popular pick for book clubs of all stripes, so if your group needs some Firekeeper's Daughter book club questions ahead of your next meeting, we've got you covered!
Want some tips for running a book club meeting? Check out these tips!
Firekeeper's Daughter Summary
Daunis Fontaine is an eighteen-year-old half white, half Ojibwe teen living in Sault Ste. Marie, Michigan. She's always felt torn between her white, affluent family and her Ojibwe community on the reservation on nearby Sugar Island. With her grandmother ill and in the wake of her uncle's recent death, she decides to stay in the UP for college despite gaining entry to the University of Michigan. She keeps busy at home, preparing to attend college locally, and is mostly content—staying home means she'll stay with her best friend, and she'll be near her half-brother Levi and her other family. Plus, the new guy on her brother's hockey team, Jamie, is pretty cute.
But then a shocking murder changes everything for Daunis, and she is drawn into an FBI investigation into her Ojibwe community that has her walking a thin line between her two worlds, investigating the people she considers friends and family. As the mystery deepens, and as Daunis uncovers more secrets about the people she loves, she finds herself pulled in two different directions: Following the investigation through according to the letter of the law, but also honoring her people and learning what it means to be a good Anishinaabe kwe (Ojibwe woman).
Content warnings: Substance abuse, murder, grief, sexual assault, racism, kidnapping, death by suicide, gun violence
Firekeeper's Daughter Book Club Questions
Daunis is someone who has a lot of traditions and rituals, both formal and informal. Discuss the significance of her various rituals, and how the inform her life and give structure to her day.
Daunis is grieving at the beginning of the book, both the loss of her uncle and her grandmother's illness. How does Daunis let her grief and her guilt guide her decisions? Do you think her decision to stay home and attend college locally is a wise one?
Daunis exists in many different worlds, and must learn how to navigate them and their various demands on her. How does she balance it all? What does she learn in trying to keep boundaries between her worlds? How does she succeed, or not?
Discuss identity and how each of the characters view their identities. Daunis is very aware of being biracial and feeling caught between worlds, and she and her best friend Lily also live with the weight of being unenrolled members of their tribe. How does that affect how they're treated? Jamie also struggles to feel any connection to his heritage. Discuss the pitfalls and advantages of both being aware of your background, and also oblivious to your history.
Discuss the concepts of justice as portrayed in this book—how does Jamie view justice? How does Daunis? How do members of Daunis's family and tribe view justice, and how does that differ from more traditional ideas of law enforcement?
Some of the most powerful scenes in the book occur in moments of ceremony and ritual. Discuss the significance of this, and how the author uses these moments to create tension and resonance.
How does Daunis learn who to trust? Discuss how she navigates her worlds, and how her decisions impact the investigation. Do you think there are times where her trust is misplaced? Discuss her motivations.
There are many elders in Daunis's life who give her guidance and and share wisdom. Who was your favorite? If you could have a novel about any of the, which would you choose?
The end of the book finds Daunis in a different place, pursuing a different future than she first envisioned. Why do you think she decided to shift her focus? What do you think about her new path?
If you want more great book recommendations for your book club, sign up for TBR: Tailored Book Recommendations! TBR is a personalized book recommendation service that sends you books you'll love to read. Here's how it works: Simply fill out the reader survey and let us know what you want more of–such as new book club picks–and what you're not keen on. Then, an expert Bibliologist will read your responses and recommend three books just for you. Receive your recommendation letter via email in about two weeks, or opt to receive your recommendations as brand new hardcovers in the mail in about three to four weeks. Learn more and sign up now!