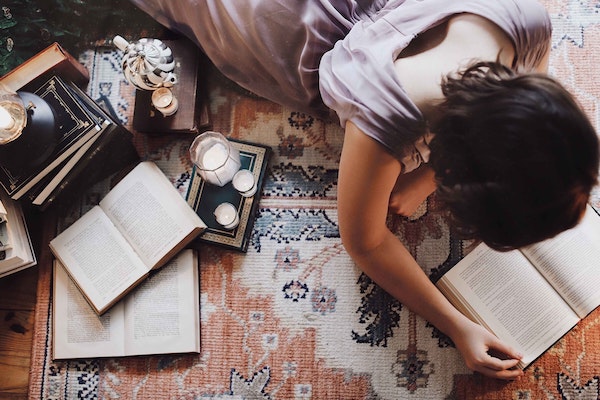 A new year means more incredible new books, and we can't wait to read and discuss them all! If your book club is looking for some great new reads, here are 21+ of the best book club books of 2021 (and late 2020) that you won't want to miss out on!
A Black woman works her way through law school and lands her dream job at a corporate law firm, only for it to be brought down by the FBI for illegal dealings. She turns on her bosses and makes a deal with the feds, but when they ask her to infiltrate a group of domestic "extremists" her ethics are challenged in a big way.
Darren is happy to work at a Midtown Starbucks, until a chance encounter lands him a job as the only Black employee of a trendy new start-up. Darren reinvents himself, and then hatches a plan to get other young people of color into the company, which could change everything for his industry.
Jane is a broke dog walker who is hired by the wealthy residents of Thornfield Estates. When her job brings her in contact with Eddie Rochester, a widower, and they begin to fall for one another, rumors swirl about his first wife Bea and her mysterious death.
In this novel, Benedict explores one of the greatest mysteries from the life of the Queen of Mystery herself, Agatha Christie. Christie went missing for eleven days in 1926, launching a massive manhunt that swept across the nation. When she reappeared, she claimed amnesia, but did she really forget, or was she hiding something?
Pheby Delores Brown grew up on a plantation in relative privilege, expecting to find freedom on her eighteenth birthday. Instead, she finds herself in one of the most infamous jails, having to endure and outsmart a cruel jailer in order to survive and escape.
Daunis Fontaine is a biracial teen of Ojibway descent, but not tribally enrolled thanks to scandal. She's never felt like she fit in anywhere, but when she witnesses a murder, she's uniquely positioned to go undercover and try and catch a killer before she finds herself in grave danger.
Quotah tells the story of Muneer and Saeedah, a married couple who have a daughter, only for their marriage to dissolve soon after. As Muneer returns to his homeland of Saudi Arabia and Saeedah stays in the U.S., relations between them become strained to the point that Saeedah disappears with their daughter, leaving Muneer desperately searching for her from afar.
In another sweeping historical novel about great change, this story begins in Texas in 1934 with a woman named Elsa Martinelli faced with an impossible choice to try and stay on her land as the Dust Bowl bears down on her, or move west to California to uncertainty.
Set in 2008, this novel is about Ruth, a Black engineer with a good life who is haunted by the baby she gave up years earlier. She returns to her small Indiana hometown to try and seek out answers about her baby's fate, which leads to uncovering shocking secrets that her family has buried.
Kieran Elliott is haunted by a youthful reckless mistake that drove him away from his hometown, but now he's back and visiting with his own young family. But when a body is found on the beach, the past comes rushing back and Kieran has to confront it once and for all.
Klara is an Artificial Friend who lives in a store, and watches as customers come and go, hoping that one day someone will bring her home with them. Ishiguro's new novel is a book about the rapidly changing future and the fundamental questions about love and life that endure.
In this novel that weaves back and forth between the past and present, Penner tells the story of a secret apothecary that dispenses poisons to be used against oppressive men, a mistake that could threaten everything the apothecary stands for, and the present-day woman who uncovers the mysteries of the past.
Sophie is at first all too happy to move with her husband from New York City to a small Texas town for a slower lifestyle, but she soon becomes bored. That's when she befriends a group of women known as the Hunting Wives, who are alluring and possibly dangerous. But by the time Sophie realizes this, she's in too deep.
Cold in Her Bones by Nailini Singh
Aarav's mother disappeared years ago with a quarter of a million dollars in cash. Everyone just assumed that she'd run away from her husband and started a new life, but when her bones are found in the woods surrounding their elite neighborhood, it's clear that something went wrong–and Aarav is determined to get to the bottom of it.
Set in Boston in 1662, Mary Deerfield is a young woman trapped in a loveless marriage with an abusive, angry man. She knows that she must escape him if she's to live, but when a series of mysterious events befalls her, Mary must also escape the town's suspicions that she is a witch.
When Ambrosia receives an invitation to her ten-year college reunion, it's accompanied with an anonymous note referring to something awful she did with her former best friend. Ambrosia shows up at the reunion and reunited uneasily with her former friend as it becomes clear that someone out there wants revenge.
In 1940, Osla, Mab, and Beth became friends through their work at Bletchley Park, the Allies' codebreaking station in England. Seven years later, these three women are now enemies driven apart by their wartime agendas, but they must work together one last time when they receive a mysterious coded letter that could have serious consequences for their country and its reconstruction.
When Lara's fiancé disappears on their wedding day, she's devastated and turns to an unlikely source for comfort and answers: her great-grandmother's diaries. As she reads, she discovers a curse that's been set upon her family for generations.
Opal grew up in Detroit in the 1970's, determined she had what it took to be a star–and when she teams up with singer/songwriter Nev, the two rocket their way to stardom. It all comes crashing down when Opal protests a rival band's use of the Confederate flag on their new album, and her career tanks. Forty years later, a music journalist engineers a reunion between Opal and Nev, and shocking new allegations come to light.
Set in Malibu in 1983, four siblings, children of a legendary rockstar, are throwing a party at a lavish estate that everyone is dying to be invited to. But each are keeping secrets from one another, and by the time dawn breaks, their estate will go up in flames.
Dara and Marie Durant and dancers and sisters who run the ballet school founded by their mother with Dara's husband, Charlie. Everything in their lives is perfectly choreographed until a terrible accident occurs just before their annual production of The Nutcracker, sending fractures in the sisters' perfect facade.
---
Need more book club suggestions? We have a list of funny book club books we recommend, and then some shorter books for clubs that don't have tons of extra time on their hands! And if you want even more amazing curated recommendations, sign up for TBR: Tailored Book Recommendations! TBR is a personalized book recommendation service that send you books you'll love to read.
Here's how it works: Simply fill out the reader survey and let us know what you want more of–such as great book club picks–and what you're not keen on. Then, an expert Biblioligist will read your responses and recommend three books just for you. Receive your recommendation letter via email in about two weeks, or opt to receive your recommendations as brand new hardcovers from our partner, Print: A Bookstore in Portland, ME in about three to four weeks. Learn more and sign up now!