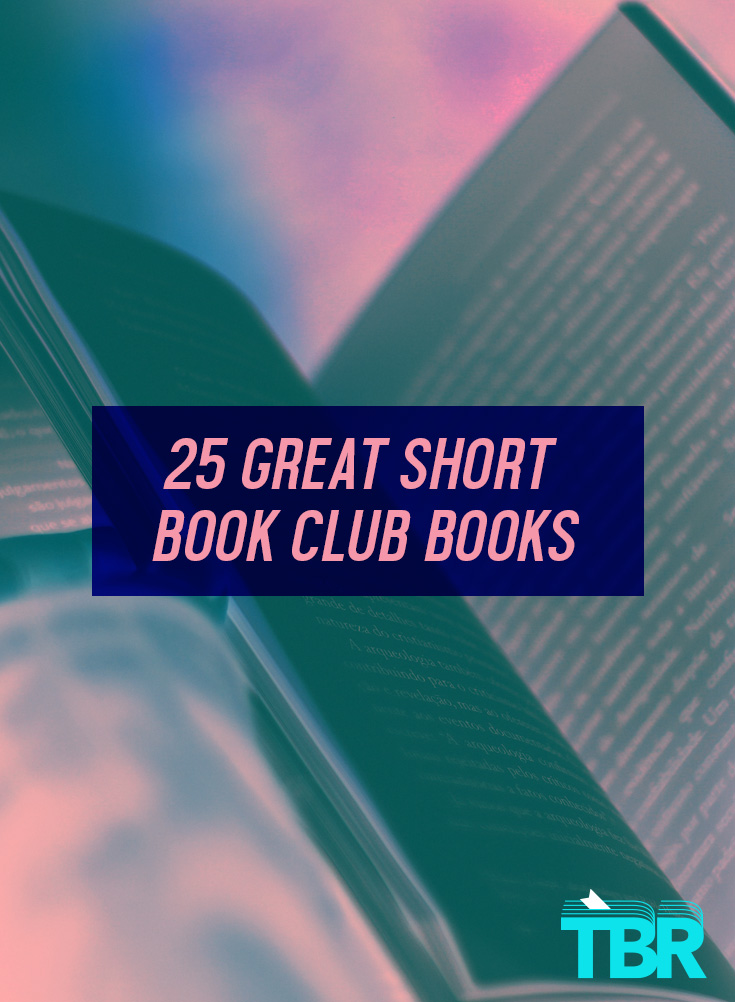 Hey, we get it–life is busy, you've got a lot of books on your plate, and the last thing you need (or want) is for your monthly book club to pick a 500+ page doorstopper. Never fear! We've rounded up a list of 25 great short book club books that are perfect for discussion groups and hitting your reading goals. From must-read modern classics to new releases, there's something here for everyone!
A note on what we mean by "short": All of the books on this list are under 300 pages, and most of them are under 250 pages. They're all really great reads!
Pet by Akwaeke Emezi
Jam has grown up in Lucille believing that there are no more monsters left. But when a creature her mother painted comes to life, it tells her there is a monster lurking among them–and they must hunt it. This is a discussion-worthy novel that was a National Book Award finalist.
Haruki Murakami is a book club favorite, but his books tend to be epically long. Not this one! This novella is about a boy who becomes trapped in a dangerous library, the people he meets there, and how he plots escape.
In this short novel told in vignettes, Andrea Bern is contemplating her identity and what it means to be an adult when her baby niece is born with a disease that sends the family reeling. This is a bittersweet coming of age story that shows we never stop growing up.
Terese Marie Mailhot is a survivor. After enduring hardship and a rough upbringing in the Pacific Northwest, she finds herself in treatment with a diagnosis of PTSD and bipolar disorder. She turns to writing to heal, excavating memories of her parents and past.
At 88, Maud has seen quite a bit of life and has decided not to put up with any nonsense. And so she sometimes resorts to a bit of crime. A bit of murder. This slim collection of comically dark short stories involving Maud and her misadventures is irreverent and fun.
In this stunning memoir, Machado revisits the two years that she was in a relationship with an abusive woman, attempting to make sense of their connection, the domestic abuse, and start the conversation about domestic abuse between queer couples. This is a literary and brave memoir.
Two very different families from different classes are upended and united by an unplanned teenage pregnancy in Jacqueline Woodson's latest novel for adults. This book is an exploration of family, class, community, and gentrifications.
Sittenfeld's debut short story collection contains stories of domestic drama, and men and women adrift. Each of these stories reflect interesting truths about modern life and relationships.
Shane Burcaw is a hilarious blogger and disability advocate, and his latest book is a collection of comedic essays about life as a wheelchair user with a degenerative disease. From others' weird reactions and assumptions to his transition from his parents' house to living with his able-bodied girlfriend, this is an engaging, eye-opening read.
Friday Black by Nana Kwame Adjei-Brenyan
This short story collection is an exploration of race, injustice, and brutality in modern day America, following ordinary characters in extraordinary circumstances. These stories run the race from literary to surreal to satirical, and the collection has been optioned for film adaptation.
If your book club wants to mix things up with a classic, pick up this modern classic about a young woman's slow mental unraveling set over the course of a summer in New York City.
Elwood Curtis is set to go to college, galvanized by the words and leadership of Dr. Martin Luther King Jr., when one mistake sends him to Nickel Academy, a "reform school" for black boys and teens that promises to set them on the straight and narrow. In reality, the academy abuses its students, and when Elwood and another boy make a fateful decision, it has far-reaching consequences.
This book is a collection of columns that Fadiman wrote about the love of reading and books. This is an eclectic trove of essays that is sure to delight any reader.
A powerful novel-in-verse, this book follows one young man and his fateful decision to grab a gun and avenge his brother's death. He steps in an elevator going down, and on each floor the elevator stops and someone in his life gets on, challenging his perspective and desire for revenge in a moving, memorable way.
Fox 8 by George Saunders
Fox 8 is a peculiar kind of fox, made even more strange when he teaches himself how to speak human by lurking near humans and observing them. But when the humans build a new mall and his pack is cut off from their food supply, it's up to Fox 8 to save them. This is a short story from a unique perspective.
In London, a mother and daughter make their living by making the most splendid gingerbread anyone has ever tasted–but it doesn't win the mother any friends. Instead, she becomes increasingly haunted by her home country, a place that doesn't seem to exist on any map, and a long-ago friend she knew simply as Gretel.
When a woman loses her best friend in the entire world, she inherits his dog–a Great Dane who is also grieving. Although her apartment building doesn't allow pets, she takes him in and their bond proves to be transformative.
The Deep by Rivers Solomon, Daveed Diggs, and William Hutton
Beneath the sea exist the descendants of pregnant African women thrown overboard by slavers. They've forgotten their horrible past, except for one: Yetu, who is tasked with remembering. When it becomes too much for her to bear, she flees the to surface and discovers a whole new world.
Laurel and Daphne are redheaded twins obsessed with words. Once close enough to create their own language, as adults they've gone their separate ways. Their relationship turns contentious when they begin feuding over who should inherit a rare family dictionary.
One day, a Korean woman decides to give up meat. This single act infuriates her husband and mystifies her family, and the novel is told from her sister, husband, and brother-in-law's perspectives as she refuses to eat meat and begins to lose weight, paying an unimaginably high price for a decision she refuses to explain.
Sarah Gailey reimagines history in this novella that takes a very real proposal–to introduce hippos to the American South in solve the country's meat shortage–and builds a world where it actually happened. The result is feral hippos who rule the rivers and bayous of the south, and one man with vengeance on his mind who is contracted to solve the hippo problem.
Sweetgirl by Travis Mulhauser
Set in the depths of winter in Michigan norther Lower Peninsula, teenager Percy is determined to track down her addict mother and bring her home. She sets out for her mother's dealer's rural house, and instead finds a baby abandoned by passed out adults. She makes the impulsive decision to take the child, setting in motion a chain of events that will have her running for her life and fighting to protect an innocent child.
Adichie's powerful argument for feminism is tailored for the modern world, advocating inclusion and intersectionality. This is a great very-short pick for book clubs during busy seasons, but it's so full of amazing insights and truths that will generate lots of discussion.
Beth, an Aboriginal teen, is dead. She passed away in a car accident and now appears to her grief-stricken detective father. She encourages him to return to work, and to take a case in a small town where a fire has claimed two lives, the bodies still unidentified. As the two investigate, they uncover dark secrets that could have consequences for Beth's ability to move on.Whose Story is This? Old Conflicts, New Chapters by Rebecca SolnitWe know that history is told by the victors, but what does that look like now, in our current state of events? In an increasingly volatile political climate, Solnit examines the tension between old and new narratives, and how we talk about current events, what details we focus on, and whose perspectives are elevated.
Looking for more amazing short book club books for 2020? Sign up for TBR: Tailored Book Recommendations!
TBR is a quarterly book subscription service that offers personalized book recommendations, and allows readers to request what they want to read more of–like short books for discussion groups! Readers fill out a survey, and then are matched with a Bibliologist who will come up with personalized recommendation letters. If you are a library user or avid ebook or audiobook reader, choose the recommendations-only level and get your recommendation letter in your inbox within two weeks. If you love receiving books in the mail, choose the hardcover level and you'll get your personalized recommendation letter and three new hardcover books from our partner, Print: A Bookstore in Portland, ME, within 3-4 weeks!
And for more book club book ideas beyond short book club books, check out our best book club suggestions of 2019!