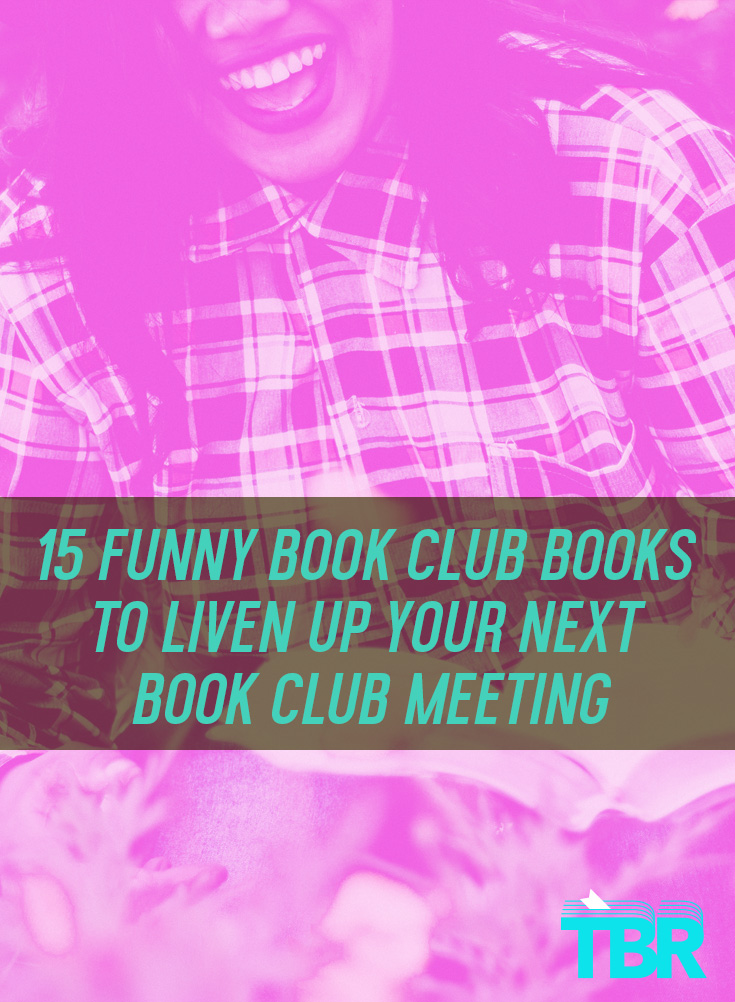 Does your book club need an infusion of laughter? Whether your group is in the mood for a palette cleanser from heavier reading or you're just on the lookout for funny book club books for 2019, we've compiled a list of books that will do just the trick! Bring one of these funny nonfiction books or funny fiction books for adults to your next meeting for a good time!
Irby is a writer on the TV show Shrill (based on a great book club book by Lindy West) and a brilliant and hilarious essayist. Her collection covers her early adult years as she struggled to figure out the whole "adulting" thing, dated some people who weren't so great for her, fell in love, and figured out her career. From talking about contentious relationship with her cat to chronicling her complex relationship with her parents, Irby's words are hilarious and insightful.
Evvie is a woman who lost her husband in a car accident and won't leave her house in Maine. Dean is a baseball player who can't seem to pitch straight anymore, in need of escape. When Evvie and Dean find themselves living under the same roof, they agree not to talk about Evvie's husband's death or baseball, but they also can't seem to keep their distance, either. This is a funny and warmhearted book about love and second chances.
Hilarious and straight-talking Phoebe Robinson gets real about feminism, race, beauty standards, money, and pop culture in this funny essay collection. Perfect for these confusing, scary, garbage-fire times we live in, Robinson's real talk will give you comic relief but also make you think! Reading this book will feel a lot like a friend who is simply telling you about her life over coffee or wine–which is great for book club discussion!
Andrew makes his living informing people of their loved ones' deaths, a grim job that is alleviated by his happy home life–at least, that's what his coworkers think. One little lie led Andrew to construct this at-work fantasy when in reality he goes home alone each night. The ruse is challenged when a new woman starts working in Andrew's office, and she makes Andrew rethink everything he thought he knew about life. If you like your book club picks with a healthy dose of dark humor, this is the pick for your club!
For fans of the actress and viewers of Freaks and Geeks and Cougartown, this is a must-read. Busy Phillips gets real about leaving Arizona to pursue an acting career in LA, the sexist structures she had to fight against, business heartbreaks, and the joys and struggles of motherhood. Phillips is a daring and bold comedian, and storyteller!
When Justine and Nick bump into each other after years out of touch, Justine falls hard for her childhood friend. And when she finds out that Nick religiously reads the horoscope that her magazine puts out, she decides to take fate into her how hands and use the horoscopes to convince him to fall for her–with hilarious and unexpected results! This is a great funny romance pick!
Stand-up comedian and star of Girls' Trip Tiffany Haddish regales readers with stories growing up a foster kid in Los Angeles, and how she learned early on to embrace humor as a survival technique. Her memoir covers her youth and early years in the industry, through today, as she learns how to manage newfound fame and all that comes with it. This is a hilarious and balanced memoir with plenty of heft for discussion!
If dark humor is your thing, then this novel about taxidermy, death, and loss is a must-read. It follows Jessa-Lynn, the daughter of a taxidermist who must step up and take over the failing family business when her father dies by suicide, and somehow keep hold of her crumbling family while pining for her brother's MIA wife. This is a funny, morbid, and compelling book.
Maybe You Should Talk to Someone: A Therapist, HER Therapist, and Our Lives Revealed by Lori Gottlieb
With wit and warmth, Lori Gottlieb tells readers about her life as a therapist helping patients in Los Angeles, and how a personal crisis sent her to seek out her own therapist. She and her patients are all seeking the same thing, and asking the same big questions about life. This memoir is a beautiful rumination on life, people, and the connections we make with others, told with humor and heart.
Set in Greenwich, CT, this witty novel is about a former image consultant to the stars in desperate need to reinvent herself and liven up her career. She gets the chance when she meets a former supermodel with a shoplifting scandal and together with an attorney turned stay-at-home mom, the three band together for a hilarious comeback.
Dear Girls: Intimate Tales, Untold Secrets, and Advice for Living Your Best Life by Ali Wong
Readers will recognize Ali Wong from her Netflix special Baby Cobra, which she performed while eight months pregnant. Wong is back with more real-talk and over-the-top honest in this collection that is addressed to her daughters, and contains hard-earned wisdom and hilarious advice from her various misadventures in comedy, travel, and her dating life.
When overworked single mom gets the chance to leave her kids with their dad and head to New York City for the summer, she seizes it. And while she's there, she wastes no time taking advantage of everything city life has to offer, going on dates. When one man in particular gets her heart racing, she'll have to figure out how to balance both lives!
Crosley is a well-regarded essayist whose quick and sometimes acerbic wit has earned her comparisons to David Sedaris and Nora Ephron. In her latest collection, she details encounters with neighbors, a trip to a volcano, and other seemingly mundane experiences, but she does so with great hilarity that makes her stories remarkable and memorable.
Issa Rae is the creator of a web series by the same title, and she brings her funny and impactful insights on the perils of online dating and harassment, diet culture, beauty, and the self-love to this book. If you're a fan of deadpan humor and awkward moments, you won't want to miss this book.
I Might Regret This: Essays, Drawings, Vulnerabilities, and Other Stuff by Abbi Jacobson
Co-creator of Broad City Abby Jacobson chronicles her decision to move across the country to LA, and her journey along the way as she contemplates big life questions both serious and funny. Part road trip story, part healing journey, this is a wryly funny book about striking out on your own.
Are you looking for more personalized funny book recommendations? Check out TBR: Tailored Book Recommendations! TBR is a service offering readers book recommendations that are catered to their individual tastes and taking in account past reading! TBR offers two different subscription levels: a recommendations-only level, which delivers three personalized book recommendations to your email inbox via a letter, and a hardcover subscriptions level, which delivers three brand-new, hand-picked hardcover books to your doorstep!
To get started, all you need to do is fill out the reader survey! Share your favorite genres, recent favorite books, what you're looking to read more of, any themes, and your dealbreakers and most-hated books for good measure! Then, sit back while expert Bibliologists pick out your perfect next read and get ready to read some awesome, funny books!