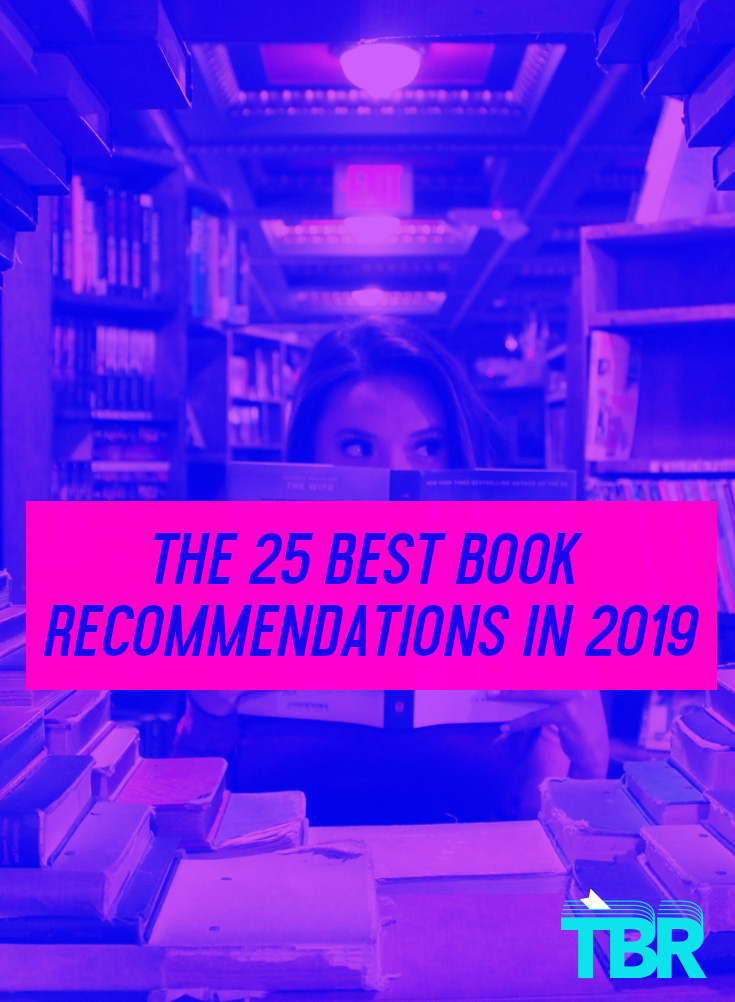 With so many different best books of 2019 lists to choose from, it's hard to know which books are truly the best! Never fear! If you're looking for the best of the best recommended books to read, we've gone through and picked the most-mentioned books in a variety of lists in order to give you the best book recommendations in 2019!
A young Black woman is hired by the CIA to spy on the president of Burkina Faso in this fast-paced thriller set in the 1980's. The mission will challenge everything that she understands about what it means to be a good person and a good American.
Written as an oral history, this novel is about Daisy Jones, an aspiring singer, and The Six, an up and coming band in the 1970's. When Daisy and The Six's lead singer come together, their stardom is legendary. So, too, is the fallout from their collaboration.
When Wang was diagnosed with schizophrenia , she was inspired to take a deep look into the myriads of experiences that those who have schizophrenia face. This collection of essays explores the nuance of the disorder, the challenges for diagnosis, the stigmas, and how society understands the collected schizophrenias.
This graphic memoir tells of Jacobs' conversations with her son about a myriad of complicated issues from race, sexuality, oppression, and politics. As Jacobs figured out how to be honest with her son, she also examines the conversations she's had herself about these big topics.
A couple own an experimental medical device that is rumored to be a miracle cure for numerous ailments–until it explodes, killing two people. The ensuing court case will expose secrets and make a small community examine the lengths people will go for those they love.
Written from the point of view of a twenty-something man as a letter to his single mother, who cannot read, this is an elegantly written novel about immigration, family, and sacrifice.
Ruth Reichl's memoir about her time as editor of Gourmet magazine is full of reflections and anecdotes from the food world at a transformative time in both the print magazine and food worlds. Accompanied by recipes and their stories, this warmly written memoir is one to savor.
When Sylvie vanishes during a trip to Switzerland, her younger sister Amy becomes determined to learn what happened to her, and begins to look into the mystery. What she uncovers will force her to reconsider her sister and her family.
Spanning from Palestine in 1990 to Brooklyn in 2008, this multigenerational story details the live of three generations of women–their hopes, dreams, and gritty determination to make their own lives, despite what culture and tradition dictate.
Weiner's latest novel is a tale of two sisters, Jo and Bethie, who grow up in the 1950's into rigid gender roles and expectations. When tragedy strikes, they take diverging but ultimately unfulfilling paths. In order to be truly happy, they must each dare to create a life they never could have imagined.
When Althea, the oldest sister in a well-respected family, is faced with the scandal of her husband's arrest and trial, her younger sisters come together to help her care for her daughters. Once together, the three sisters must discover what exactly happened and find the courage to forge a new path forward.
Harriet Lee is not who she appears. Although she and her daughter Perdita may seem average enough, Harriet is from a mysterious country that may or may not exist, and her talent for baking gingerbread is well-known. When Perdita seeks out a childhood friend of her mother's, Harriet's life story unfolds in surprising twists.
Told from the point of view of an unnamed man, this novel is a beguiling and thrilling story of a suburban couple who appears to have it all. They also share an unconventional hobby: murder.
Bowlaway by Elizabeth McCracken
Bertha Truitt is found unconscious in a cemetery in the early 1900's, baffling the local townspeople. Their gossip is fueled by Bertha's next move: marrying the town doctor, and opening a bowling alley that becomes a landmark. When Bertha dies and a man claiming to be her son shows up to take over the bowling alley, the town is thrown yet again into gossip.
Alicia's life is seemingly perfect–until the day she goes home to murder her husband and then refuses to utter a single word. She's put into a secure facility, and that's where she meets Theo, a young psychotherapist determined to get Alicia to speak, even if it means crossing a few lines to do so.
Maybe You Should Talk to Someone: A Therapist, HER Therapist, and Our Lives Revealed by Lori Gottlieb
Lori Gottlieb was a therapist with a thriving practice in LA when personal tragedy sent her reeling, and she wound up with a therapist of her own. The experience of being a therapist while in therapy led to to make some surpyringing connections between herself and her patients, and helped her gain a deeper understanding of the human condition, which she details in this memoir.
Beth Teller is dead, and her father, a policeman, is wallowing in his grief. There's nothing Beth can do about her death, but she can prod her father to investigate another murder and get justice for another girl, killed in a remote Australian town with twisting secrets.
At eighty-nine, Vivian Morris recalls with fondness the days of her youth, when in the 1940's she moved to New York City and discovered true freedom in her relationship with the showgirls employed at her aunt's playhouse. As she comes of age, a personal mistake becomes public, giving her a clear-eyed view of what kind of life she wants to lead.
Teen mother Emoni is shouldering a giant load of responsibility: caring for her infant daughter, being a good granddaughter, a good student, and finding a practical future. But cooking is her calling and passion, and if she can only just take a chance, she may be able to find that it can sustain her for whatever comes next.
When Jess-Lynn's father dies by suicide, he leaves behind a failing family business in taxidermy and a devastated family who all fall apart in different ways. Jessa-Lynn steps up, determined to save the business, even as she has to find more creative means of making money and is pining for her brother's wife.
Ivy and Tabitha Gamble are twins, but they are not close. Tabitha was born with magic, and Ivy without, and this fact has always caused a rift between the sisters. When a murder shocks the school where Tabitha works, Ivy is called into investigate, which may bring the sisters together or drive them apart once and for all.
The first in an epic fantasy trilogy that draws on African myth and legend, Marlon James's new book tells the story of Tracker, a man known for his abilities to track and find anyone. When he's tasked with finding a young boy who went missing years earlier, he garners the strange attention of unseen forces who would stop his search, calling into question the fate and importance of the missing child.
Naamah by Sarah Blake
This novel is a bold imagination of the life of Naamah, the wife of Noah, who is the unsung heroine of the story of Noah's Ark, and must endure hardship, isolation, and temptation in order to ensure the survival of her clan and the many lives rescued in the rising flood waters.
In this mind bending novel, Choi presents readers with two characters, David and Sarah, who meet at a performing arts high school in the 1980's and fall in love–but their relationship is manipulated by everyone, including their teacher, and the consequences will leave readers debating truth, ethics, and the responsibilities we have to each other.
Are you looking for more book recommendations? Whether you want to find the latest, most buzzed about books or under-the-radar gems, TBR: Tailored Book Recommendations can help! TBR is a quarterly subscription service that offers hand-picked book recommendations! Choose between two tiers: the recommendations-only tier will ensure you three book recommendations delivered via an emailed letter, and the hardcover tier gets you three brand new hardcover books shipped to you. To get started, fill out our reader survey and tell us about your favorite books, genres, what you are looking for, and any dealbreakers, and our expert Bibliologists will find you your next favorite book!