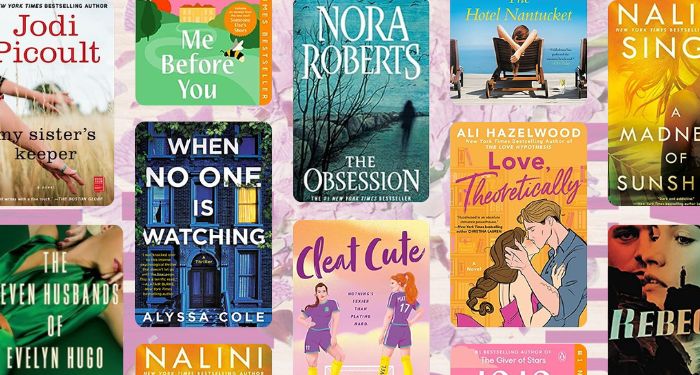 Colleen Hoover is a name you might recognize, whether it's from BookTok, your local Barnes & Noble, or the New York Times Best Seller list. Her books have leapt in popularity in the last year or so, and nearly everyone is reading them, talking about them, and Bookstagramming them. If you're unfamiliar with her work, you might be wondering what the draw is. If you've read Colleen Hoover books, you know why they're so popular. Either way, once you've read all of her backlist, you might be looking for authors like Colleen Hoover. I've got 13 of them for you below — read on for more about Hoover's books, or skip down to see the recs!
What Genre are Colleen Hoover's Books?
Colleen Hoover writes in several genres, but her books primarily fall under the thriller, romance, and thriller romance genres, in both adult and young adult categories. Across genres she writes vivid characters in exciting and often dangerous situations.
Who is Colleen Hoover?
Born in 1979, Colleen Hoover is from Saltillo, Texas, and graduated from Texas A&M in about 2002. She worked as a social worker for about ten years, during which time she began writing. She says she had no intention of publishing, but put her first novel up on Amazon so her mother could read it on her Kindle. Slammed and the sequel Point of No Return both appeared on the New York Times Best Seller list within the year, and were picked up by Atria Books. Due in large part to TikTok, her popularity exploded in 2021–2022 and wrote seven of the top 25 bestsellers of 2022 with 14.3 million sales. She has a two-book deal with Simon & Schuster and It Ends With Us, her novel about domestic abuse, is currently being adapted as a film.
Authors Like Colleen Hoover
Looking for more great reads? Check out our picks for the best authors like Elin Hilderbrand, and read our selections for books like One of Us is Lying. And then, sign up for TBR: Tailored Book Recommendations! TBR is a personalized book recommendation service that sends you books you'll love to read. Here's how it works: Simply fill out the reader survey and let us know what you want more of—such as best horror romance books—and what you're not keen on. Then, an expert Bibliologist will read your responses and recommend three books just for you. Receive your recommendation letter via email in about two weeks, or opt to receive your recommendations as brand new hardcovers in the mail in about three to four weeks. Learn more and sign up now!