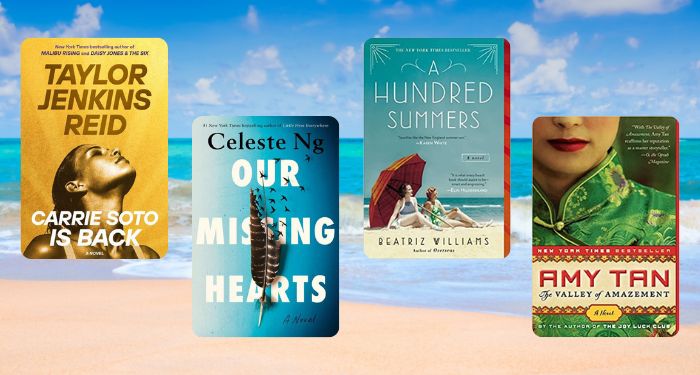 Is there any feeling as a reader more heart-stopping than the moment when we realize that we've exhausted an author's catalogue? If Elin Hilderbrand is your go-to author for both contemporary and historical women's fiction and beach reads, you may find yourself looking for read-alike authors to keep you busy while you wait for her next novel to hit the shelves of your local library.
Elin Hilderbrand is the author of 30 books (and counting!) from The Paradise Series, set in the Virgin Islands, to The Winter series and The Summer Series, all set on Nantucket. Her first novel, The Beach Club, was published in 2000 and her most recent, The Hotel Nantucket, was published in June 2022. She is a New York Times best-selling author, a mother of three, and a Pelaton enthusiast. She plans to retire after her summer of 2024 novel, so it's no wonder if her fans are looking to find their new favorite!
Not to worry! I've found eight authors like Elin Hilderbrand to keep you going. Whether you want new books to read in between Hilderbrand titles or are looking for someone to read once you've read all of hers, there is something here for you. And of course, there's always the option to reread your favorite Elin Hilderbrand novel.
Taylor Jenkins Reed
Touching on themes of family, romance, secrets, and more — like Elin Hilderbrand — there is a Taylor Jenkins Reed novel for everyone. Take a trip back to the golden age of Hollywood in The Seven Husbands of Evelyn Hugo, or dive into the competitive world of professional tennis in Carrie Soto is Back.
Colleen Hoover
The darling of TikTok, Colleen Hoover tackles romance and thriller alike with the same easy, fast pace as an Elin Hilderbrand novel. Her books span young adult to "whoa, very mature" and include romantic thriller Verity and mother-daughter drama Regretting You.
Louise Erdrich
Acclaimed author Louise Erdrich, enrolled member of the Turtle Mountain Band of Chippewa Indians (Anishinaabe), writes across age categories and genres. Her children's series beginning with The Birchbark House follows a young Ojibwe girl as she grows up near Lake Superior in the 19th century, while her latest release, The Sentence, takes place in a present day Minneapolis bookstore that happens to be haunted.
Beatriz Williams
If your favorite Elin Hilderbrand titles are historical, you're in luck with Beatriz Williams! From the 1930s-set A Hundred Summers to her latest, The Lost Summers of Newport, you'll find the same family secrets, in the form of incomparable beach reads, as you would from Elin Hilderbrand.
Kristin Hannah
With a backlist to rival Elin Hilderbrand's, Kristin Hannah's books will take you from the great depression in The Four Winds to World War II France in The Nightingale to 1970s Alaska in The Great Alone, each of them epic in their own way and eminently readable.
Amy Tan
Best known for her 1989 modern classic about Chinese immigrant women in San Francisco, The Joy Luck Club, Amy Tan's novels explore the immigrant experience in the United States, mothers and daughters, and more. In The Valley of Amazement, the story spans 40 years, and in her memoir Where the Past Begins, she discusses her approach to fiction.
Celeste Ng
With three novels and a few short stories, Celeste Ng has already cemented her place in the book world, writing a slightly more literary take on family and secrets in her acclaimed novels Everything I Never Told You and Little Fires Everywhere, as well as her newest title, Our Missing Hearts.
Rufi Thorpe
Novelist Rufi Thorpe writes romance, friendship, and family all with the same sharp wit and nuance. Fans of Elin Hilderbrand will appreciate her layered characters and clear-eyed examinations of youth. From lifelong friendship in The Girls From Corona Del Mar to young love in The Knockout Queen, fans of Hilderbrand will love Thorpe's novels.
If these aren't enough to capture the romance you're looking for in an author like Elin Hilderbrand, try these friends-to-lovers romance titles or the best romance book subscription services. And speaking of subscriptions, if you're looking for even more great authors like Elin Hilderbrand, try TBR: Tailored Book Recommendations! TBR is a personalized book recommendation service that sends you books you'll love to read. Here's how it works: Simply fill out the reader survey and let us know what you want more of and what you're not keen on. Then, an expert Bibliologist will read your responses and recommend three books just for you. There are two subscription options: receive your recommendation letter via email in about two weeks — perfect for library users! — or opt to receive your recommendations as brand new hardcovers in the mail in about three to four weeks. Learn more and sign up now!