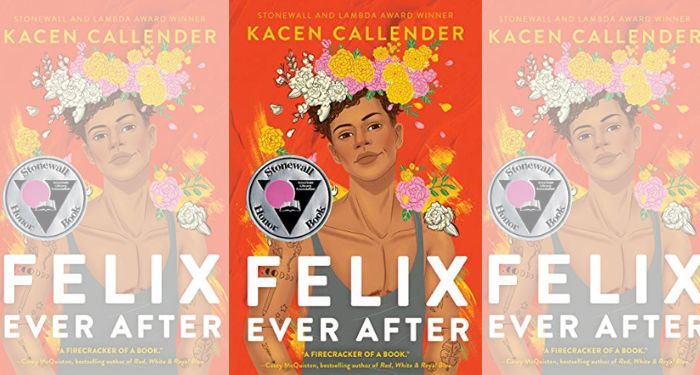 The perfect read for young adult book clubs, LGBTQ+ book clubs, and any other book club looking for a fun book with serious themes is Felix Ever After by Kacen Callender! This YA novel is a Stonewall Book Award Honor title, one of Time's 100 Best YA Books of All Time, a Booklist Editor's Choice selection, and a Book Riot favorite. To get ready for your next book club meeting, check out our guide for how to run a book club, and then look over the Felix Ever After book club discussion questions we've prepared to help your discussion run smoothly!
Felix Ever After Summary
Felix Love is Black, queer, and transgender, and he thinks that's why he's never been in love. (Oh, the irony of being named "Love" and not having experienced it.) Felix has a lot going on. He recently had top surgery. His mom has a new family and doesn't contact him anymore. His dad is supportive but struggles to see Felix's authentic self — plus, they've been priced out of their New York neighborhood. He's blocked artistically and struggling with his college applications. And someone at his art school publicly posted photos of him pre-transition, with his dead name. So he decides to get revenge, concocting a catfishing scheme that accidentally leads to a pseudo–love triangle. And throughout it all, he's struggling with his own identity.
Felix Ever After Themes
Gender, queer identity, class, self-discovery, self-love, family
Felix Ever After Book Club Ideas
Before you launch into your discussion, it might be helpful to come up with an icebreaker question to help get the conversation flowing. These can be silly or fun, and are not meant to be taken too seriously. For this discussion, you might ask everyone what their favorite piece of art is. You could even ask for this information ahead of time and create a slideshow gallery of images!
Bonus: If your group is a safe space (I hope it is!) you might ask everyone to discuss when they knew they were their gender. A note about this: A lot of cis people (anyone who identifies as the gender they were assigned at birth) don't ever question their gender, but thinking about it can be a healthy way to affirm your own identity!
Felix Ever After Discussion Questions
Felix thinks part of the reason he's never been in love is that he exists at the intersection of too many identities. He's queer and he's Black and he's trans; he thinks he is Too Much. How do you think this impacts his life beyond his love life (or lack thereof)? Has anyone ever told you (outright or by implying it) that you are too much? How did that make you feel — or how do you think it would feel?
What are some of your intersecting identities? They might be things you have no control over, like your gender or the color of your skin, and they might be things you chose, like your job or your major in college. How do those identities add up to the person you are? (Anyone who doesn't wish to answer this for themself can choose another fictional character!)
Felix is determined to get into Brown University and win a scholarship, but he's struggling to put together his portfolio. What's a time you've been stuck on a project, and how did you get past that block?
How does Felix's creative journey through that block reflect the larger themes of the book? For example, does his journey through a creative art block mirror his journey to figure out his true gender identity?
Social media is important to the story, and in some ways it can be considered the villain. What are your thoughts on social media? If you were a teen before social media, do you think it would have made your life better or worse? If you grew up with social media, do you think it had a negative or positive impact on your life?
Felix's friends are mostly LGBTQ+ with a variety of personal identities. Do you think queer people are drawn to one another? How did his friends' identities help or hinder their support of his gender identity?
One of the most important themes of the book, according to the author, is self-love. What is something you love about yourself?
What are some of your (other) favorite LGBTQ+ stories (either by queer authors or about queer characters — or both)? Kacen Callender recommends Darius the Great is Not Okay by Adib Khorram and We Are Totally Normal by Naomi Kanakia. We would add Meet Cute Diary by Emery Lee, Cemetery Boys by Aiden Thomas, and The Black Flamingo by Dean Atta.
Looking for more great book club content or recommendations? Check out our list of new LGBT YA books! And if you want another queer book for your book club right now, you'll be sure to find one on our list of cute LGBT books!
If you're looking for even more great book club recommendations, try TBR: Tailored Book Recommendations! TBR is a personalized book recommendation service that sends you books you'll love to read. Here's how it works: Simply fill out the reader survey and let us know what you want more of and what you're not keen on. Then, an expert Bibliologist will read your responses and recommend three books just for you. There are two subscription options: receive your recommendation letter via email in about two weeks — perfect for library users! — or opt to receive your recommendations as brand new hardcovers in the mail in about three to four weeks. Learn more and sign up now!