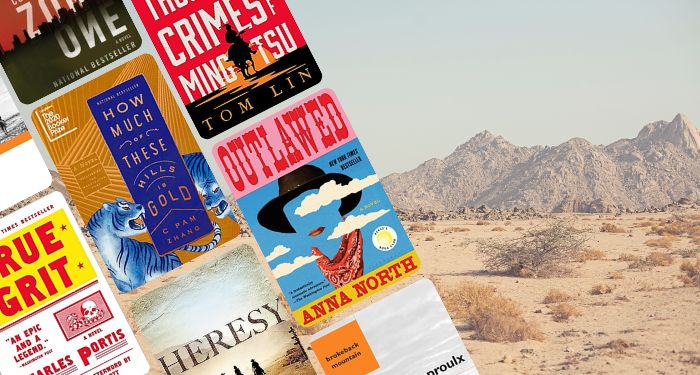 Cormac McCarthy, who died on June 13, 2023, is widely considered one of the great American writers. His body of work, which includes 12 novels, two plays, five screenplays, and short stories, is primarily in the genres of Southern Gothic, western, and dystopian. Loved this author? Keep reading for our list of more authors like Cormac McCarthy.
Who is Cormac McCarthy?
McCarthy was born on July 20, 1933, in Providence, Rhode Island, raised in Tennessee, where he lived for much of his life, and later lived in Santa Fe, New Mexico. Late in his life, he was a trustee at the Santa Fe Institute, one of the few with no scientific background.
Fans of McCarthy's writing praise his nontraditional prose style, which uses both fragment and run-on sentences and makes use of punctuation (or the lack of it) to influence the way his words are read, either speeding up the reader or slowing them down. His dialogue was frequently sparse and unpunctuated, while his descriptions were lush and descriptive. His work has been compared to that of William Faulkner, and indeed his debut novel, The Orchard Keeper, won the William Faulkner Foundation Award for Notable First Novel in 1966.
Several of his works have been adapted as movies, including Academy Award–winning Best Picture No Country for Old Men.
Authors Like Cormac McCarthy
Try these eight authors and additional five novels for a taste of the genres and styles Cormack McCarthy was best known for.
William Faulkner
Why not start here, where most comparisons lay? Their prose shines, and both wrote both novels and screenplays. The Sound and the Fury is famously written utilizing stream of consciousness and other literary devices, and was as divisive when it was published as The Road was for McCarthy.
Larry McMurtry
Known almost as well for his coming-of-age story The Last Picture Show and his stunning portrayal of a mother-daughter relationship in Terms of Endearment as he is for his westerns, Larry McMurtry cemented his place at the top of the list of modern western authors with Lonesome Dove and its sequels and prequels. Like McCarthy, he was also a screenwriter, including some of his own adaptations as well as co-writing the screenplay for Brokeback Mountain, based on the story by Annie Proulx.
Mary Doria Russell
If you love the philosophical underpinnings of Cormac McCarthy's dystopian novels like The Road, Mary Doria Russell's The Sparrow and its sequel Children of God, both exploring the psychological effects of first contact with aliens on humanity, might be for you. Prefer a gritty western? Her take on Wyatt Earp and Doc Holliday, in Doc and Epitaph, would satisfy any lover of westerns.
Colson Whitehead
Best known for his alternate history novel The Underground Railroad and his bildungsromane Sag Harbor and The Nickel Boys, Colson Whitehead's post-apocalyptic novel Zone One features both setting and experimental style that fans of Cormac McCarthy will find both appealing and familiar.
Toni Morrison
It would be impossible to discuss authors like one of the great American novelists without mentioning another of the great American novelists, Toni Morrison. Like Cormac McCarthy, her novels explore American identity, and like McCarthy, she also wrote plays. While most of her work is contemporary to the time in which it was written, Beloved and Jazz take place in the post–Civil War years and during the Harlem Renaissance, respectively.
Annie Proulx
Best known for her short story "Brokeback Mountain" and its acclaimed film adaptation, Annie Proulx writes about the American West with a love and attention to detail — and sparse dialogue — that fans of Cormac McCarthy will love.
August Wilson
Playwright August Wilson may seem an odd addition to this list at first glance, but perhaps no one has written more in-depth about the American experience. He is best known for his Pittsburgh Cycle — ten plays representing the 20th century with a play for each decade showing the lives of African Americans in places like Pittsburgh and Chicago.
Louise Erdrich
One of the most versatile authors working today, Louise Erdrich is an enrolled member of the Turtle Mountain Band of Chippewa Indians, a federally recognized tribe of Ojibwe people. Her Justice Trilogy, including the novel The Round House, was inspired largely by the work of William Faulkner, much like Cormac McCarthy, and her post-apocalyptic novel Future Home of the Living God will surely appeal to fans of The Road.
Books for Fans of Cormac McCarthy
Looking for more great reads? Check out our picks for the best dark books of the last few years, or find a selection of great short book club books. And then, sign up for TBR: Tailored Book Recommendations! TBR is a personalized book recommendation service that sends you books you'll love to read. Here's how it works: Simply fill out the reader survey and let us know what you want more of—such as best horror romance books—and what you're not keen on. Then, an expert Bibliologist will read your responses and recommend three books just for you. Receive your recommendation letter via email in about two weeks, or opt to receive your recommendations as brand new hardcovers in the mail in about three to four weeks. Learn more and sign up now!