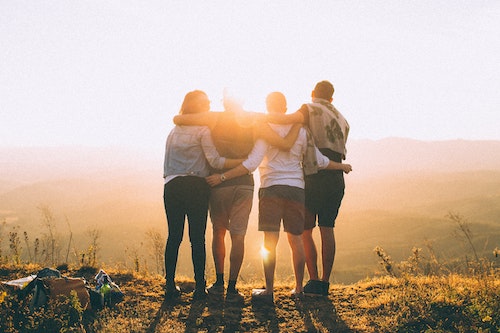 We may only be halfway through 2021, but it's been a year of incredible YA releases so far! If you're looking for the best YA books of 2021 to add to your summer TBR, look no further than this list, broken down by genre. No matter what you love to read, you'll find some of the best new books for teens right here!
Contemporary
Off the Record by Camryn Garrett
Josie is an aspiring journalist, but when she wins a contest to write a celebrity profile, she inadvertently stumbles upon a major story that's a major secret…but it needs to be exposed. The only problem? If Josie writes the story, she might as well kiss her career goodbye.
Love is a Revolution by Renée Watson
Nala is looking forward to a summer of fun, but finds her life getting complicated when she falls for Tye and leads him to believe that she's as politically active as he is…even though she's definitely not. While she enjoys the attention of being in a relationship, she also has to face the fact that self love is the most radical act of all.
Yolk by Mary H.K. Choi
Jayne and June are estranged sisters who both in in New York City, and find themselves shocked and a little uncertain when June is diagnosed with cancer. When June needs treatment and needs to impersonate Jayne for insurance fraud, their lives become tangled in a complicated and irrevocable way.
Romance
Happily Ever Afters by Elise Bryant
Tessa writes love stories where Black girls get to be the stars, but when she gets into an exclusive creative writing program, she runs into writer's block. Her best friend convinces her that the only way to get unstuck is to get out there and find a romance of her own!
She Drives Me Crazy by Kelly Quindlen
Scottie is struggling to get over a break up when she gets into a fender bender with Irene, the star cheerleader. This turns into an uncomfortable ride share situation, but when Scottie's ex is jealous, Scottie convinces Irene to fake date her…with unexpected results.
Kisses and Croissants by Anne-Sophie Johanneau
When Mia gets the chance to study dance in Paris, she's thrilled to be able to follow in the steps of her great-great grandmother. But Paris is also full of adventure and cute boys, and when one in particular offers to be Mia's tour guide, how can she say no?
Meet Cute Diary by Emery Lee
Noah is the writer of a blog of trans meet cutes, but when its exposed as fiction he needs a way to gain back his credibility, and fast! When Drew offers to fake date him, it could be the thing that saves the blog…but will it also lead to a happily ever after?
Fantasy
The Nature of Witches by Rachel Griffin
Clara is a once-in-a-generation everwitch whose power is tied to all four seasons, and who has become humanity's last hope for saving them all in a world where climate change threatens everything. Clara isn't sure if she has what it takes to be the savior, but she has one year to come to terms with her power.
The Gilded Ones by Namina Forna
When Deka faces her blood ceremony, which will determine her place in her village, her worst fears come true when her blood runs gold, considered impure. She is facing a fate worse than death…or she could run away and join a group of other impure girls in a dangerous yet glorious destiny fighting for the empire.
Sweet and Bitter Magic by Adrienne Tooley
Tamsyn is a witch cast out from her coven and cursed to not feel love. Wren is a magical source who has spent her life caring for her ill father. When a magical plague sweeps the country, the two team up in order to find the dark witch causing the plague, but they don't expect to fall for each other.
Science Fiction
Victories Greater Than Death by Charlie Jane Anders
Tina may look like a normal teen girl, but she's actually the keeper of an interplanetary beacon that, when activated, will help save the universe from a great evil. She's looking forward to that day, but when it actually comes it turns out that reality is a lot harder than fantasy, and she's going to have to find out who she can trust if she's going to save the world, much less the universe.
The Ones We're Meant to Find by Joan He
Cee has been trapped on a mysterious island with no recollection of who she is or what came before–all she knows is that she has a sister that she must find. Kasey lives in an eco city, where her life is pretty perfect, except that her sister went missing and she can't find her. As the two search for each other, they expose shocking secrets along the way.
The Infinity Courts by Akemi Dawn Bowman
When Nami Miyamoto dies unexpectedly, she learns that the virtual assistant that everyone relies on while alive has taken over the afterlife, and unless she wants to be a slave for the rest of time, she must team up with a group of rebels to take her down.
Historical
Last Night at the Telegraph Club by Malinda Lo
Lily is a teenager who has always felt she's different, but it isn't until she meets a classmate, Kath, and they sneak out to the Telegraph Club that they discover a world of queer women and find the words to describe who they are, and their growing feelings for each other.
Luck of the Titanic by Stacey Lee
Valora Luck is a Chinese-British acrobat who is determined to stowaway on the Titanic–her brother is on the ship, and so is a wealthy man who could be the ticket to a better life in America. But when the Titanic faces disaster, it will take all of Val's wits and luck to survive.
A Sitting in St. James by Rita Williams-Garcia
Madame Sylvie Guilbert has decided to sit for a portrait in her plantation house in 1860 Louisiana, much to her family's horror. It's all a part of plot that will force everyone on the property to reckon with the legacy of slavery, both at home and in the wider world.
Mystery/Thriller
The Girls I've Been by Tess Sharpe
Nora is the daughter of a con artist, but she's in hiding from someone who wants her dead. When she walks into a bank with her ex and her current boyfriend, this awkward situation turns deadly as they get caught in a hold up. Nora must rely on all of her usual skills in order to get them all out alive.
Ace of Spaces by Faridah Àbíké-Íyímídé
Devon and Chiamaka are star students who've just been made prefects at their elite academy, but their achievements are shadowed by an anonymous person named Aces who threatens to reveal secrets that they'd rather keep hidden. And when this prank turns dark, it'll take everything Devon and Chiamaka have to stay alive and stay one step ahead of Aces.
The Initial Insult by Mindy McGinnis
Tress Montor has resented Felicity for years–her ex-best friend was the last person to see her parents alive, but claims she has no idea what happened to them. Tress wants answers, and she decides to take drastic measure to get them, not caring if Felicity is hurt along the way.
Firekeeper's Daughter by Angeline Boulley
When Daunis witnesses a murder, she becomes a reluctant CI to the FBI's investigation into an especially dangerous batch of meth that they believe is being distributed from within her tribe.
Need more great YA reads in your life? Check out our best YA book club recommendations, and some of the best LGBTQ+ YA recommendations! And if you want to stay on top of all things YA, sign up for TBR: Tailored Book Recommendations! TBR is a personalized book recommendation service that sends you books you'll love to read. Here's how it works: Simply fill out the reader survey and let us know what you want more of–such as best new YA fantasy books–and what you're not keen on. Then, an expert Bibliologist will read your responses and recommend three books just for you. Receive your recommendation letter via email in about two weeks, or opt to receive your recommendations as brand new hardcovers in the mail in about three to four weeks. Learn more and sign up now!