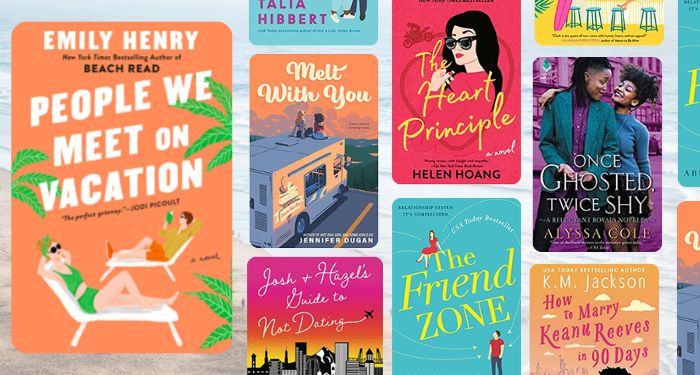 Emily Henry burst onto the adult rom-com scene with her novel Beach Read, and she quickly followed up with another beguiling summer romance in People We Meet on Vacation, which is full of funny, flawed characters, irresistible banter, and exciting settings. It also features one of our favorite tropes in romance, friends to lovers!
The book follows Poppy and Alex, unlikely best friends who are opposites in every way but clicked at the end of their freshman year of college. Despite their differences, one major thing they have in common is a love of travel, and so they make a pact to take a summer trip together each year. This tradition continued throughout their twenties as their lives shifted and changed, until one summer it all fell apart and they've not spoken since. Now Poppy is desperately unhappy despite having achieved her dreams, and she decides that what she needs is to repair her relationship with Alex through one final trip—but her attempts at recreating the past don't exactly go as expected.
If you love the romantic tropes, the vacation vibes, the hilarious dialogue, and romantic tension of Henry's book, you might want to pick up any of these great books like People We Meet on Vacation!
If you love the dynamic between Poppy and Alex, then you'll adore Josh and Hazel, two unlikely friends who've always seemed way too different to actually work together as a couple. But when Josh's girlfriend cheats on him, he and Hazel start setting each other up on blind dates, all the while ignoring what's right in front of them.
Who doesn't like the tension of a little forced proximity after a falling out? Dylan and Addie fell hard for each other two years previously, but it didn't work out. Now they're forced to carpool to a friend's wedding in rural Scotland in a tiny car, where they must face their past.
For a summer vacation setting and characters with lots of shared baggage, pick up this book about Nina, who is a head stewardess on a swanky yacht and happily single. Her life is upset with the return of Ollie, an old flame who takes the position of executive chef onboard and gives her an ultimatum: confess she's in love with him by the end of the season, or he'll leave for good. Now the two of them have to face their shared baggage and past in order to be honest about the future.
This book has a quirky set up—Lu is devastated to learn her ultimate celebrity crush Keanu Reeves is about to get married and she decides that the only thing to do is road trip to LA to somehow meet him and convince him to call off the wedding. Along for the ride is her best friend Truman, and this road trip is sure to be full of all sorts of shenanigans and misadventures that will have Lu seeing her best friend in a new light.
If you love the dynamics of unlikely people forced on vacation together, then pick up this books about two very different families—a boisterous Australian family and a buttoned-up American one—forced together on vacation thanks to the marriage of their two daughters. When their plans go awry and they're stranded together for two weeks, they must confront love, family secrets, and what they all really want out of life.
Looking for more romances about two people seemingly at odds with what they want out of life, but can't help but feel a frisson of attraction? Pick up this book about Kristen, who just has learned that she is unable to have kids when she heads into her best friend's wedding planning. She quickly meets Josh, whom she clicks with instantly. The only hitch? Josh has made no secret about how he one day wants to have a big family, and to save them both the heartbreak, Kristen decides she has to friend-zone him.
If you love the beautiful disaster that is Poppy, then get ready to meet Eve Brown! Eve has aways marched to the beat of her own drum but when the natural consequences of her actions have her seeking out a job, she finds herself applying for the position of chef at a B&B. The owner, sexy Jacob, wants no part in her mayhem but when a broken arm puts him out of commission he's forced to accept her help, and her brand of chaos.
In People We Meet on Vacation, Poppy has achieved her dream job and gets to do all the things she always wanted…but she's not happy. In The Heart Principle, Anna has achieved success by a fluke and ever since then she feels incapable of showing up as an artist. When her boyfriend announces he wants an open relationship, Anna finds herself embarking on a strong of one night stands that lead her to the last person she'd expect to find lasting happiness with.
Fallon and Chloe used to be best friends, but when they had a huge misunderstanding right before Chloe left for college, they stopped speaking. Now Chloe is back for the summer and Fallon would like nothing more than to avoid her forever, but that's hard when their moms are business partners and they're forced to work together—and face their feelings for each other!
Second chance romance abounds in this novella about Likotsi and Fabiola, who had a whirlwind romance that ended abruptly and without explanation. Now back in town, Likotsi runs into Fabiola in the most unlikely of places and the two agree to talk…which leads them on yet another adventure. Only this time, can they make their romance last?
If you want more great romance recommendations, check out our round up of best romantic movies based on books!
And if you're looking for the best summer romance reading recommendations, sign up for TBR: Tailored Book Recommendations! TBR is a personalized book recommendation service that sends you books you'll love to read. Here's how it works: Simply fill out the reader survey and let us know what you want more of—such as books for fans of Emily Henry—and what you're not keen on. Then, an expert Bibliologist will read your responses and recommend three books just for you. Receive your recommendation letter via email in about two weeks, or opt to receive your recommendations as brand new hardcovers in the mail in about three to four weeks. Learn more and sign up now!