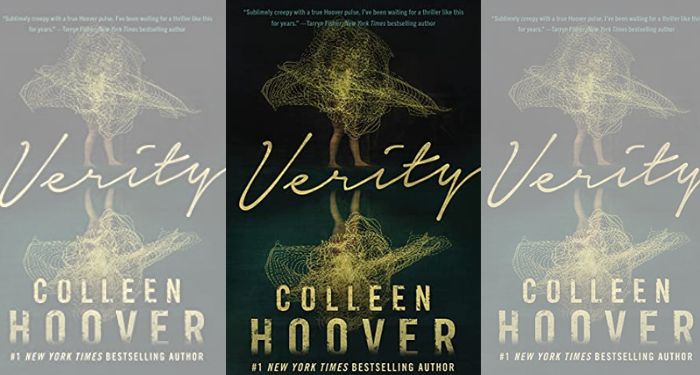 BookTok favorite Verity by Colleen Hoover is the perfect choice for any book club. You've likely already heard of this number one New York Times bestseller, USA Today bestseller, and Publishers Weeky bestseller — among other accolades — but if you haven't, you're in for a treat and a wild ride. Found on every TikTok table in bookstores across the USA, this novel is a perfect blend of romance and thriller, as many readers have come to expect from Hoover. Originally self-published in 2018, Verity was rereleased in 2021 by Grand Central Publishing. It's a great choice for book club discussion, and we're here to help! Read on for our Verity book club questions and ideas for your next meeting!
Verity Summary
Struggling writer Lowen gets the offer of a lifetime: Bestselling author Verity Crawford is injured and immobile, and cannot complete her latest novel series; Verity's husband Jeremy wants to hire Lowen to finish it for her. In Verity's office, Lowen sorts through piles of notes to piece together Verity's plan for the book, and she stumbles on something unexpected — an autobiography. Unfinished, unpublished, and unflattering, the book includes revelations about what really happened when Verity and Jeremy's twin daughters died. Lowen keeps the manuscript from Jeremy, not wanting to further devastate him, but as her feelings for him grow, she becomes torn, certain he would not stay true to Verity if he knew the truth.
Verity Themes
grief, child abuse, affairs, mother-daughter relationships, truth in fiction, the writer as creator and destroyer, lies
Verity Book Club Ideas
Before you get into the specifics of the book, try an icebreaker question to get everyone talking! For this book, you might ask: if you could finish a novel for any author, who would you choose?
Verity Book Club Questions
1. Let's cut to the chase: that twist ending! Which do you believe, the manuscript or the letter?
2. The book opens with someone dying, and then has several other important deaths throughout. Do you think Hoover deliberately opened the book this way to set the stage for the possible murders to come, or for another reason?
3. Why do you think Lowen accepted Jeremy's offer? Was it just the money? Was it because Verity's books were already successful, guaranteeing that the work Lowen does would be, too? What else might have motivated her?
4. What role do you feel Vermont plays in the book, as its primary setting? Why do you think Hoover chose Vermont as the location, and how does it contrast with New York, where Lowen's part of the story begins?
5. The book alternates between Lowen's first-person narration and the chapters of Verity's autobiography. How do you feel about seeing the story from both women's perspectives?
6. There are a lot of mother-daughter relationships in the book: Verity and her mom, Lowen and her mom, Verity and her twin daughters. How do you think each of those relationships might have influenced the others? And how do they contrast with Verity's relationship with her son Crew?
7. What do you think of Jeremy? Both Lowen and Verity seem to think very highly of him; they're each willing to hurt other people to be with him, but does he earn that level of desire and loyalty?
8. Lowen initially didn't show Jeremy the manuscript because she didn't want to upset him. She ultimately showed it to him for the opposite reason. Do you agree with that choice? And what do you think about her decision to keep Verity's letter a secret?
9. Verity means truth. Do you think Verity ever tells the truth? Does Lowen? What is the truth in this book?
10. Who do you think is the real villain in this book?
Looking for more great book club content or recommendations? Check out our lists of the best romantic thriller books and the best domestic thriller books! Need help getting started with your book club? Check out Tirzah's guide to running your own book club!
If you're looking for even more great book club recommendations, try TBR: Tailored Book Recommendations! TBR is a personalized book recommendation service that sends you books you'll love to read. Here's how it works: Simply fill out the reader survey and let us know what you want more of and what you're not keen on. Then, an expert Bibliologist will read your responses and recommend three books just for you. There are two subscription options: receive your recommendation letter via email in about two weeks — perfect for library users! — or opt to receive your recommendations as brand new hardcovers in the mail in about three to four weeks. Learn more and sign up now!