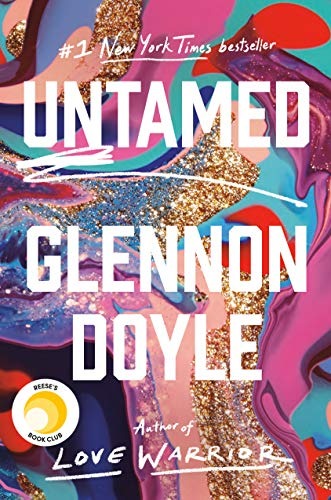 Untamed by Glennon Doyle is a memoir about how Doyle, a popular writer and speaker, one day realized that she wasn't living the life she wanted, and how she found the courage to radically change her life. It's been a book club favorite (Reese Witherspoon selected it for her Hello Sunshine book club), so if you and your book club haven't had a chance to read it, now is the perfect moment! We've come up with a summary, reading guide, and Untamed book club questions to help kick off your meeting.
Summary
Glennon Doyle has always strived to be good: a good mother, partner, friend, and more. But while speaking at a conference, she looked across the room and saw professional soccer player Abby Wambach and thought, "There she is." While she questioned where this powerful feeling was coming from, Glennon reckoned with what she really wanted out of life. Was her life the result of something she'd created for herself, or was she adhering to the expectations of those around her? Once she found the courage to be honest about what she wanted, she made the bold move to ask her husband for a divorce and began to reshape her life to be with Abby. This memoir is both a stirring account of Glennon realizing what she really wanted out of life, and an inspirational book for women to closely examine their own lives to recognize if they were living according to other people's expectations, or their own dreams and aspirations.
Themes: reflection, freedom, being caged, trusting your intuition, breaking free, being brave
Before you read: Talk with your book club members! Does your group read nonfiction? Memoir? Is your group familiar with Glennon Doyle? It's not necessary to have read her previous memoirs in order to enjoy Untamed, but you might enjoy Googling her, and watching a few short interviews with her about her work!
Untamed Book Club Questions
What did you think about the first time that Glennon saw Abby? Have you ever experienced a moment like that in your own life?
Glennon talks a lot about feeling trapped, and how women in particular tend to be more trapped than men in the social constructs of our lives. Do you agree or disagree with this view? Why do you think this might be?
Discuss what it means to have a "good life." What do you think is the line between being grateful for all that you have, and recognizing when you're becoming complacent or you've stopped attending to your own needs or happiness?
Glennon says, "When a woman finally learns that pleasing the world is impossible, she becomes free to learn how to please herself." She connects this to Knowing–discuss this concept, and how it might apply in your own lives.
Glennon talks a lot about being an adult, and being a parent. At one point, she says that she became a responsible parent when she stopped trying to be an obedient daughter. If you're a parent, do you agree with this sentiment?
Glennon claims that women have forgotten the moment when they learned how to please others rather than themselves. Do you agree with this? When did you start thinking about pleasing the wider world rather than following your own heart?
Discuss Glennon's exploration of friendship in this book. Are your friendships built around obligation and rules? Do they serve you?
One of the things we expect of our girls and women is to be happy all the time, even if we aren't feeling happy. Where does this pressure come from? How did Glennon learn to deal with it, and let go of that pressure? How did letting go of this expectation result in her being a happier person and better mom?
Aside from being a memoir of Glennon's experiences, she also writes a lot about what it means to be a woman in today's society. What did you think of her insights? So you agree with her viewpoints? How successful do you think Glennon is at conveying the experiences of women in society?
Glennon discusses the way we control girls and women can adversely affect boys and men, too. Discuss how men can benefit from feminism, too.
Would you read another memoir by Glennon Doyle? Why or why not?
Did this book inspire you, or offer you any important insight? Discuss your main takeaways.
Need more book club recommendations? We've got you covered. And if you want more personailzed picks, sign up for TBR: Tailored Book Recommendations! TBR is a personalized book recommendation service that sends you books you'll love to read. Here's how it works: Simply fill out the reader survey and let us know what you want more of–such as memoirs for book clubs–and what you're not keen on. Then, an expert Biblioligist will read your responses and recommend three books just for you. Receive your recommendation letter via email in about two weeks, or opt to receive your recommendations as brand new hardcovers from our partner, Print: A Bookstore in Portland, ME in about three to four weeks. Learn more and sign up now!