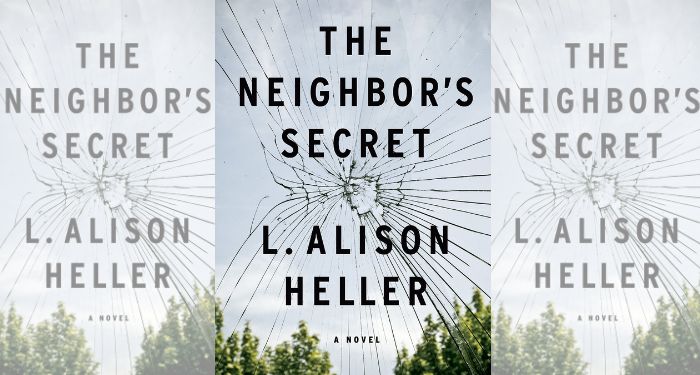 If your book club loves discussing novels about books and readers, and they love a good mystery/thriller, then The Neighbor's Secret by L. Alison Heller is the perfect pick! It's about a close knit community book club who find themselves caught up in a twisty plot that rivals one of their book picks! Check out our ideas for The Neighbor's Secret book club questions and some tasty snacks to make for your next meeting.
The Neighbor's Secret Book Summary
Set against the backdrop of the prestigious Cottonwood Estates, the Cottonwood Book Club is part book club, part social group, part neighborhood watch. They happily read murder mysteries and salacious tales because they know that those stories could never take place in their beloved subdivision. But some members may be hiding some big secrets: Lena and Annie are mothers, book club members, and women who are trying to hide secrets from their pasts. Jen is a newcomer who is excited to make friends, but trouble at home poses an obstacle. And when a mysterious vandal begins targeting the women, suggesting that they know their secrets, things get deadly.
The Neighbor's Secret Book Club Questions
In many ways, the residents of Cottonwood Estates live in a fishbowl. Discuss the concept of perception and appearances as it plays out in the book. Who seems to care the most about what others think? To what end? Could you live in a community like that?
How important is the book club to the members? What role does it serve, aside from offering a social outlet?
Do you see parallels between the book club in the book, and your own book club? Is there anyone in your group that takes on the roles that we see in the novel?
What do the snacks and drinks at book club say about the women and how they distinguish themselves? Do the snacks and drinks at your book club meetings have any deeper meaning?
Discuss the secrets that each of the three central characters carry. What do they gain by keeping these secrets? What do they sacrifice? Could you keep the secrets they do?
How is Jen affected by her son's behavioral issues? Why do you think she feels so isolated by his struggles? In what ways does Jen struggle to protect her child? Do you agree with her choices? What do you think she should have done differently?
One idea brought up in regards to Lena is how trauma might change someone's personality. Do you think that is true in Lena's case? Do you think it is true in general?
Which character did you relate to the most? How did your feelings about each of the characters evolve over the course of the book?
Discuss how the women of the book club deal with their emotions and frustrations. Is it healthy, or not? Do you think women are conditioned to react to stress in a certain way?
Compare and contrast the relationships the women have with their respective children. Are they healthy, or fraught?
Much emphasis is given on how safe and idyllic Cottonwood Estates is. How does vandalism, more than any other crime, affect that perception of the subdivision as a safe place? What do you think are the "real" dangerous elements of the community?
How does your book club compare with the book club in the book? Do you also understand the world through books and literature? What have you learned through book club you might not have learned elsewhere?
Would you read a book by Heller again? What books might you recommend to members who enjoyed this one?
If your book club was at the center of a mystery, who is most likely to be the leading sleuth? The culprit? The witness?
The Neighbor's Secret Book Club Snacks and Drink Inspiration!
Looking to make your book club meeting extra sweet with food and drink straight from one the Cottonwood Book Club meetings? Then check out the recipe for Lena's brownies and a Lolita Lemondrop (both cocktail and mocktail versions) on the author's website.
Check out our guide to running a book club, and add some great mystery book club picks to your club's TBR!
Need more great book club inspiration? Sign up for TBR: Tailored Book Recommendations! TBR is a personalized book recommendation service that sends you books you'll love to read. Here's how it works: Simply fill out the reader survey and let us know what you want more of—such as book club mysteries—and what you're not keen on. Then, an expert Bibliologist will read your responses and recommend three books just for you. Receive your recommendation letter via email in about two weeks, or opt to receive your recommendations as brand new hardcovers in the mail in about three to four weeks. Learn more and sign up now!