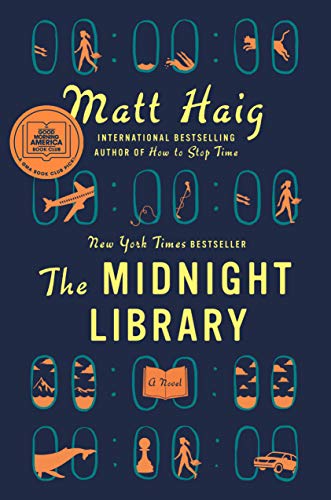 The Midnight Library by Matt Haig took the book world by storm when it first released in 2020, winning a Goodreads Choice Award from readers and getting picked at the best book of the year by multiple outlets. It's no surprise to find the novel making its way through book clubs, as it's full of rich themes and big ideas that are perfect for book group discussions. If your book club has picked this title as its next read, then here are some The Midnight Library book club questions to get your conversation started!
Important note: Before picking this book, please be aware that this book depicts depression and a suicide attempt. That may be difficult for some book club members to read, so you might want to do a check-in before deciding on this book, just to make sure all members are okay with reading about this tough subject.
Nora Seed is a woman struggling with depression, desperate for a way out of her life. Not long after attempting suicide, she discovers the Midnight Library, a library full of of books that contain all of the versions of your life if you had taken a different path or made a different choice. At 35, Nora is living with the heavy weight of other people's expectations and disappointments, and she's full of regrets and what-ifs. When she enters the library and discovers all for he books chronicling different versions of her life, she opens them and lives these alternate versions for a short while, gaining some valuable input along the way.
The Midnight Library Book Club Questions
Talk about Nora and where she is at the beginning of the book. A lot seems to be going wrong for her, and she's not happy about her life. What regrets does she have? Is she allowing herself to be blamed for things that aren't her fault?
Let's talk about regrets. Do you have any? Do you think it's natural to go through life with some regrets? Would you go back and change things or make different choices if given the chance? Has a fear of regrets ever motivated you to make certain choices?
If you were offered the chance to explore your alternate lives through the Midnight Library, would you take it? Do you think we as humans are better off not knowing what might have been, or do you think it helps inform our perceptions of life?
Which of Nora's alternate realities do you find most interesting? Do you think Nora could have been happy in any of them in particular, even if they come with their own set of tragedies?
What moments do you think were significant in the book, and made Nora start to change her perception of her life?
Some of Nora's struggles have to do with the fact that she gave up something she loves because she couldn't be the best at it. Discuss the importance of doing something because you like it vs. because you're good at it. Do you think it's important to have hobbies that you might be bad at?
Do you think Nora's life will be better, after the end of the book?
Nora experiences the midnight library as a library, with Mrs. Elm as the librarian. Other people experience it a little differently. If you had the chance to visit, what would your version look like?
What do you think are the ingredients to living a happy, fulfilled life? Did reading this book make you reconsider some of your thoughts on this matter?
Would you recommend The Midnight Library to others? If you enjoyed the book, what book would you recommend that is similar?
Would you read another book by Matt Haig? Why or why not?
We recommend: If you enjoyed the idea of exploring possibilities of different versions of the same life, we recommend My Real Children by Jo Walton!
Want more great book club resources? Check out our guide to running a book club, then hop over and discover our recommendations for some of the greatest book club picks for 2021!
And if you want more recommendations, sign up for TBR: Tailored Book Recommendations! TBR is a personalized book recommendation service that sends you books you'll love to read. Here's how it works: Simply fill out the reader survey and let us know what you want more of—such as books like The Midnight Library—and what you're not keen on. Then, an expert Bibliologist will read your responses and recommend three books just for you. Receive your recommendation letter via email in about two weeks, or opt to receive your recommendations as brand new hardcovers in the mail in about three to four weeks. Learn more and sign up now!