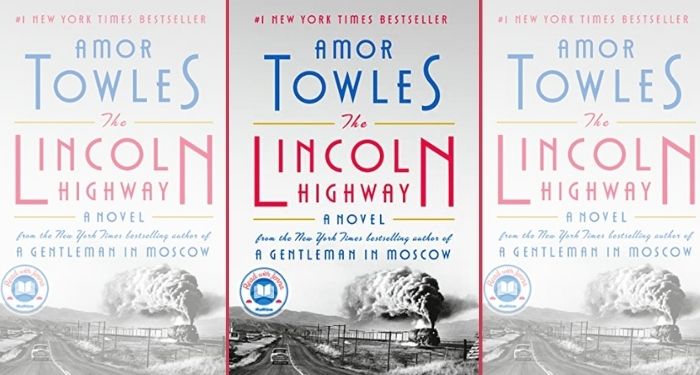 Amor Towles is well known for his distinct historical novels that offer tantalizing glimpses into the lives of larger-than-life characters from the past. His debut novel Rules of Civility has been a book club favorite, and A Gentleman from Moscow was an instant bestseller, now with over 2 million copies in print and slated to become a TV series. His latest, The Lincoln Highway, is an instant bestseller and obvious choice for book clubs looking to explore another fascinating era in history—it was even chosen as a Read with Jenna Book Club pick! If your book club plans on picking it up next, here are some The Lincoln Highway book club discussion questions and background info to get your conversation started!
The Lincoln Highway Summary
Set over the course of a transformative ten days in the 1950's, this story follows Emmett, an eighteen-year-old boy who has just been released from a juvenile work farm from only to find his old life is gone—his father is dead, his family home has been foreclosed, and his mother abandoned the family years ago. He just wants to find his eight-year-old brother and head off to California for a new life, but his plans are thwarted by the discovery that two of his friends from the farm have stowed away in the warden's trunk. They have no interest in California—the want Emmett to go with them to New York City, where they believe they can uncover a stash of money that's been hidden away. Emmett and Billy would prefer to go looking for their absent mother, but as they set out against an American landscape that is just beginning to make its comeback from the Depression and war, their journey will take them all to unexpected places.
The Lincoln Highway Themes
Expectations, the failure of the American dream, the meaning of family, the meaning of home, dreams both lost and realized, class
Before diving into your discussion, you might check out our advice on how to run a book club, and then consider asking an icebreaker question to get the conversation flowing. Consider asking your group, If you can take a road trip throughout the U.S. at any point in time, what year (or decade or era!) would you choose and where would you go?
The Lincoln Highway Discussion Questions
The concept of dreams is big in this book, and in American mythos. What were the various characters' dreams, and how did sustaining or giving up on their dreams affect them?
All of the characters have varied expectations of each other and their world that are based on gender, class, and race. How do they affect the characters' choices? Could you sympathize with them? What expectations do you carry about the world and people around you, even seventy years later? Are they the same, or do they differ?
Who was your favorite character (or characters) in this book?
One of the big ideas explored in this book is the idea of a perpetual scorecard of advantages and disadvantages, and the idea that all things shake out somewhat evenly—or don't. Do you believe that this is true?
How might each of the boys' lives been different if they'd been born into the present rather than the past? Do you believe life has improved for young people in the seventy years since this novel takes place?
Discuss the nature of ambition, which is a driving force for many in this book. Is a little bit good? How much ambition is too much? How do the various characters balance—or not balance—their ambitions?
These tens days on the road are transformative for all the boys, but who do you think changes the most?
Do you think the boys are believable for their ages? Do you think hardship forces kids to grow up faster?
If you could get a novel about any of the secondary characters in this book, which would you choose?
What did you think about where Towles leaves the characters at the end? Were you satisfied by the ending? Why or why not?
Did you love this book? Check out our book club guide to his previous novel, A Gentleman in Moscow.
Want more great literary fiction recommendations for your book club? Sign up for TBR: Tailored Book Recommendations! TBR is a personalized book recommendation service that sends you books you'll love to read. Here's how it works: Simply fill out the reader survey and let us know what you want more of—such as books for fans of Amor Towles—and what you're not keen on. Then, an expert Bibliologist will read your responses and recommend three books just for you. Receive your recommendation letter via email in about two weeks, or opt to receive your recommendations as brand new hardcovers in the mail in about three to four weeks. Learn more and sign up now!