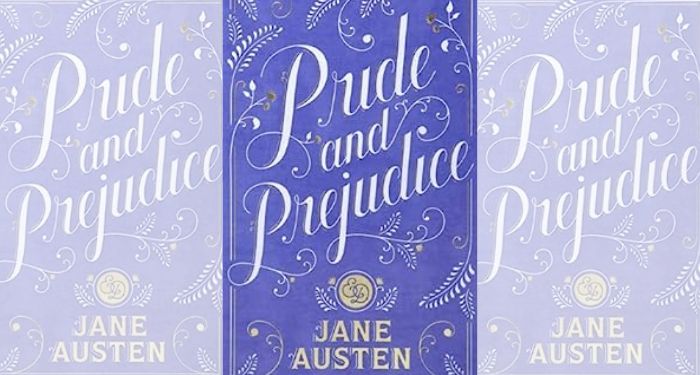 Pride & Prejudice is Jane Austen's most widely read work, commonly assigned in schools, and it has been retold countless times since its publication over 200 years ago. It's never too late to pick up this classic book for fun or for book club, but if you're not quite sure where to start, never fear! We've compiled a summary, some tips on how to start reading, and Pride & Prejudice book club questions to help you discuss the book!
About the book
Pride & Prejudice tells the story of Elizabeth Bennet, a clever young lady living in the English countryside during the Georgian era whose family is poor but of good standing in society. When the nearby Netherfield Hall is let by a wealthy gentleman from London and he brings along his friend, Mr. Darcy, Elizabeth and Darcy clash almost immediately. But as Elizabeth's sisters, friend, and acquaintances all struggle to find matrimony and happiness, Elizabeth must face the fact that first impressions can be deceiving, and perhaps finding happiness in marriage is not as simple as making an advantageous match.
How to read Pride & Prejudice
Pride & Prejudice may be intimidating to some readers, but while the style and voice are more formal than contemporary novels, it's important to remember that this book is meant to be a humorous satire of marriage and society. Many of the characters aren't meant to be taken too seriously, and they live in a society where marriage dictated the means within which people would live and their social standing first, and the couple's happiness second–or last. Read slowly to appreciate the humor, and take breaks if you need to–fortunately for the modern reader, Jane Austen wrote in shorter, accessible chapters!
Pride & Prejudice Book Club Questions
"It is a truth universally acknowledged, that a single man in possession of a large fortune, must be in want of a wife." That opening line might just be the most famous first line in all of English literature. What do you make of it? How does it set the tone of the rest of the novel?
What was your first impression of Darcy? Looking back, do you think that Elizabeth overreacted to her interpretation of Darcy's rudeness, or do you think her first impression was valid? How are both characters guilty of pride and prejudice?
Charlotte Lucas declares early in the book that, "Happiness in marriage is entirely a matter of chance." Do you agree with her? Why or why not?
Discuss Charlotte's reasoning for marrying Mr. Collins. Do you think she was being pragmatic, or acting in fear? Do you think Elizabeth's critique of her choices were too harsh?
When do you think Darcy first became attracted to Elizabeth? Why do you think it took Elizabeth so long to sense it?
When Darcy first proposes, he insults Elizabeth's family. Do you think his judgments are fair? Why or why not?
Do you think it's realistic that Elizabeth's feelings towards Darcy change considerably, even though she barely spends any time with him after turning down his proposal? Why or why not?
What do you think Darcy's motivations are when he comes to the Bennet family's rescue after Lydia runs away? Do you think that he is motivated purely by his love of Elizabeth, or does he feel obligated to help because he never revealed Wickham's true nature?
Lady Catherine de Bourgh clearly believes that her money and title give her the power to tell others how to live their lives. Discuss how her involvement in other people's lives backfires on her. What other forms of dramatic irony did you notice in the text?
The Bennet parents are clearly very unhappy in their own marriage–how do you think their relationship influences their daughters? How do you think their relationship influences their own styles of parenting? Do you think that either of them are good parents?
Consider the ending, and the resulting couples of the novel. Who is truly happy? Who is unhappy? Are there any couples who are content in life, but unhappy in marriage? What message (if any) do you think Jane Austen was trying to convey about marriage and happiness in life? Do you think that message rings true today?
Pride & Prejudice has inspired so many adaptations and retellings over the years, from North & South by Elizabeth Gaskell to The Lizzie Bennet Diaries, a web series produced by Hank Green. What are some of your favorite works inspired by Pride & Prejudice? Why do you think the novel is so ripe for retelling and adaptation? What is it about the themes that endure 200+ years later?
Want more great book club reads? We've got you covered with some of the best book club picks of 2020.
Do you want to read more great classics, but aren't sure which will be the right fit for you? Sign up for TBR: Tailored Book Recommendations! TBR is a personalized book recommendation service that send you books you'll love to read. Here's how it works: Simply fill out the reader survey and let us know what you want more of–such as classic literature–and what you're not keen on. Then, an expert Biblioligist will read your responses and recommend three books just for you. Receive your recommendation letter via email in about two weeks, or opt to receive your recommendations as brand new hardcovers from our partner, Print: A Bookstore in Portland, ME in about three to four weeks. Learn more and sign up now!