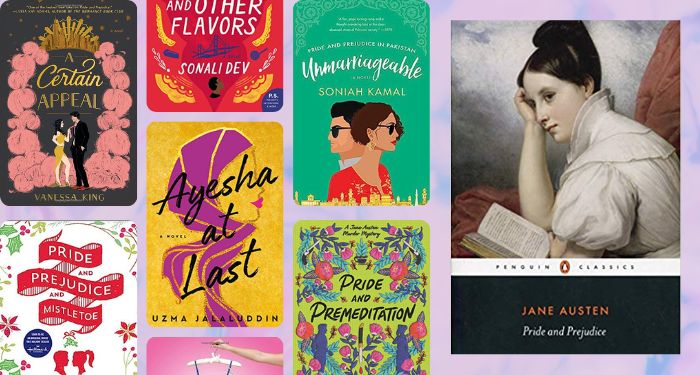 It is a truth universally acknowledged that Jane Austen fans can't get enough Pride and Prejudice adaptations! If you're like us, any book based on Pride and Prejudice is an auto-read–and we've got a list of ten must-not-miss book adaptations for your TBR!
Eligible by Cutis Sittenfeld
The master of intimate, domestic fiction takes on the classic tale by setting it in modern-day Ohio! Jane and Liz are the oldest Bennet sisters, the only ones to move out of their parents' home. They're called home from New York City when their dad has a health scare and are horrified to see that their family home has fallen into disrepair. As they settle in for an extended stay, they meet new neighbors and surgeons Chip Bingley (once a star on a Bachelor-like dating show Eligible) and Fitzwilliam Darcy, and their fates are intertwined.
Pride by Ibi Zoboi
Set in Bushwick, Brooklyn, this retelling is centered around teenager Zuri Benitez, a spoken word poet who has fierce pride for her neighborhood and no love for the gentrification that is sweeping through her streets. When the wealthy Darcy family buys the building across the street from them and renovates it before moving in, Zuri especially can't stand proud Darius Darcy. But with her older sister Janae falling from Darius's older brother, she finds herself in close proximity to the Darcy family, forced to rethink her first opinions.
Pride and Prejudice, but with a murder mystery twist! Lizzie Bennet is an aspiring barrister who wants nothing more than to follow in her father's footsteps. But since women are barred from entering into a profession, she must prove her worth–and she decides to take on a murder case. When Charles Bingley is falsely accused of murdering his brother-in-law, Lizzie is suspicious and decides to find the true killer, but she faces opposition in the form of Mr. Darcy, Bingley's legal representation!
In this gender-swapped version of Pride and Prejudice, DJ Caine is an up and coming chef and Trisha Raje is a talented surgeon from a powerful family. DJ can't stand Trisha's snap judgements and biting remarks, and Trisha clearly judges DJ for his past. But when Trisha is the only one who can save DJ's sister in a vital surgery, they two find their misconceptions about one another falling to the side as they fall for one another.
Liza is nothing like her perfect older sister Jeannie, and she isn't one to let her mom tell her how she ought to date. But she does love her mom's bakery, and agrees to help out with the annual junior baker challenge…but joke's on her when she realizes all of the contestants have been handpicked by her mom as potential boyfriends! But Liza is stuck helping out, and she finds her task even more challenging when she catches feelings for the annoying and reserved James!
Alys Binat never wants to marry. As a teacher to teenage girls in Pakistan, she's seen firsthand how marriage is used to restrict girls from getting an education, and she wants more than that. She and her older sister Jena are also her family's only breadwinners after scandal sent them to live in exile in a small village, but when they get an invitation to the wedding of the season, their mother sees it as an opportunity to marry off Jena. At the same time, Alys clashes with Mr. Darsee, the wealthy man who owns a stake in the school she teaches at.
Lizzie Bennet is a student at Longhorn Academy, and when prom fever hits, she's less than impressed. As a scholarship student, she's a bit more focused on her academic career than her love life, but she's all too happy to support her best friend and roommate Jane in her quest to find love with Charles Bingley, who's just back after a semester abroad. The only problem? With Charles comes Will Darcy, his best friend. Will is a total snob, and Lizzie is certain it's because she's not rich like the rest of them…but the more time they all spend together, the more Lizzie begins to wonder if that's really the case.
Ayesha is a teacher who dreams of being a poet, but has to face the reality of working a job that will bring in money. Meanwhile, her flighty younger cousin gets pretty much whatever she wants, and flits from marriage prospect to marriage prospect without any idea of what it's like to live in the real world. When Ayesha meets Khalid, she sees in him someone she might actually fall for…even if he is haughty. And then, it's announced that Khalid is to be married to her cousin, and Ayesha finds herself torn between duty and love.
Liz Bennet fled betrayal and heartbreak and now works a boring office job by day, but by night she works at Meryton, Manhattan's hottest burlesque venue. When she meets finance bro Will Darcy one night, the chemistry is undeniable, even if he does call her tolerable. When her best friend falls for Will's closest friend, they find themselves thrown constantly in each other's path, until a new development threatens to close Meryton for good.
Feeling like a gender-swapped holiday spin on the classic tale? Look no further! Darcy is a high-powered executive who works and plays hard, and got out of her hometown as quick as she could. Luke Bennet next door to Darcy's parents, and at 32 is content to live with his parents while working as a carpenter. When the two meet at Darcy's parents Christmas party, sparks fly as they clash…but also fall in love.
If your book club is reading Pride and Prejudice, check out our book club guide! And if you want more great book recommendations, sign up for TBR: Tailored Book Recommendations! TBR is a personalized book recommendation service that sends you books you'll love to read. Here's how it works: Simply fill out the reader survey and let us know what you want more of–such as Jane Austen retellings–and what you're not keen on. Then, an expert Biblioligist will read your responses and recommend three books just for you. Receive your recommendation letter via email in about two weeks, or opt to receive your recommendations as brand new hardcovers from our partner, Print: A Bookstore in Portland, ME in about three to four weeks. Learn more and sign up now!