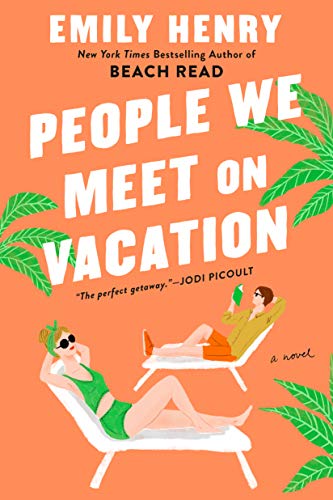 Emily Henry's Beach Read was her debut adult novel and a breakout hit! Since then, it's no surprise that people are clamoring to read her next adult book, People We Meet on Vacation. If your book club wants to see what all the hype is about, have no fear! Here is a reading guide to the book, plus some People We Meet on Vacation book club questions to get your conversation rolling!
Poppy and Alex have been unlikely friends since they met in college in Chicago twelve years earlier and shared a ride back to their small Ohio hometown. At a glance, they seem to be polar opposites: Poppy is outgoing and vibrant, a bit messy, and she loves living in New York City, where she works as a travel writer. Alex is straight-laced and serious, loves literature, and he's content to settle down in their hometown and work as a high school English teacher.
The one thing they have in common besides a deep friendship, is a love of travel, and each summer they take a trip together. But after nearly a decade of this, they stopped after their last disastrous trip two years ago, and they've barely spoken since. Poppy is deeply unhappy in her life, and she thinks if she can just get back to her yearly trips with Alex, she can maybe figure out where her life went off the rails. She reaches out, proposes an impromptu trip…and Alex actually agrees!
Now, as their present day trip plays out against flashbacks to every single trip they took in the years before, she has to figure out how to repair her relationship with Alex before it's too late.
People We Meet on Vacation Book Club Questions:
As an icebreaker, ask your club if they could pick one vacation destination, no matter the cost or barrier, where would they go?
Which of Poppy and Alex's vacations sound most exciting to you?
Are you a plan-things-out-in-advance or fly by the seat of your pants kind of traveler?
Discuss Alex and Poppy's first impressions of each other. Do you think that the old saying about opposites attracting is true? Do you think they're unlikely friends, or meant to be?
Do you believe that heterosexual men and women can be just friends? Do you think that Poppy and Alex are deluding themselves by not confronting their true feelings?
Do you think that Poppy and Alex's life goals and ambitions are compatible? Why or why not?
Discuss the influences of Poppy and Alex's upbringings on their life goals. How did growing up in a small town affect Poppy? How did facing so much responsibility at a young age shape Alex? Do you think that by clinging to these earlier influence, they're limiting themselves?
Who would your perfect traveling companion be?
This is very much a novel about millennials and the millennial experience. Are you a millennial? if so, did you relate? If not, did you gain any new insight about the millennial generation?
Have you ever experienced burnout the way Poppy experienced it at her work? What do you think is the key to pursuing your dreams while also staying grounded?
Do you think that having a purpose vs. being happy with where you are in life are two different things? How do you balance these two ideas?
Were you surprised about where Poppy and Alex end up at the conclusion of the novel? Do you think that they will stay together?
Book Club Meeting Ideas
As Poppy and Alex might say, "theme matters!" For your book club discussion, it might be fun to offer drinks and snacks that one might typically indulge in on vacation. Wine and fancy cheese boards, fancy cocktails, and treats from their travels, such as beignets to commemorate the time they go to New Orleans! Feel free to pick a locale from the book and design a spread around that, or offer something fun from every location!
Looking for more inspiration? Here's how to run a book club if you're just getting started, and we've rounded up some of the best book club picks of 2021 for your next meetings!
Want more book recommendations? Sign up for TBR: Tailored Book Recommendations! TBR is a personalized book recommendation service that sends you books you'll love to read. Here's how it works: Simply fill out the reader survey and let us know what you want more of–such as fairy tales for adults–and what you're not keen on. Then, an expert Bibliologist will read your responses and recommend three books just for you. Receive your recommendation letter via email in about two weeks, or opt to receive your recommendations as brand new hardcovers in the mail in about three to four weeks. Learn more and sign up now!