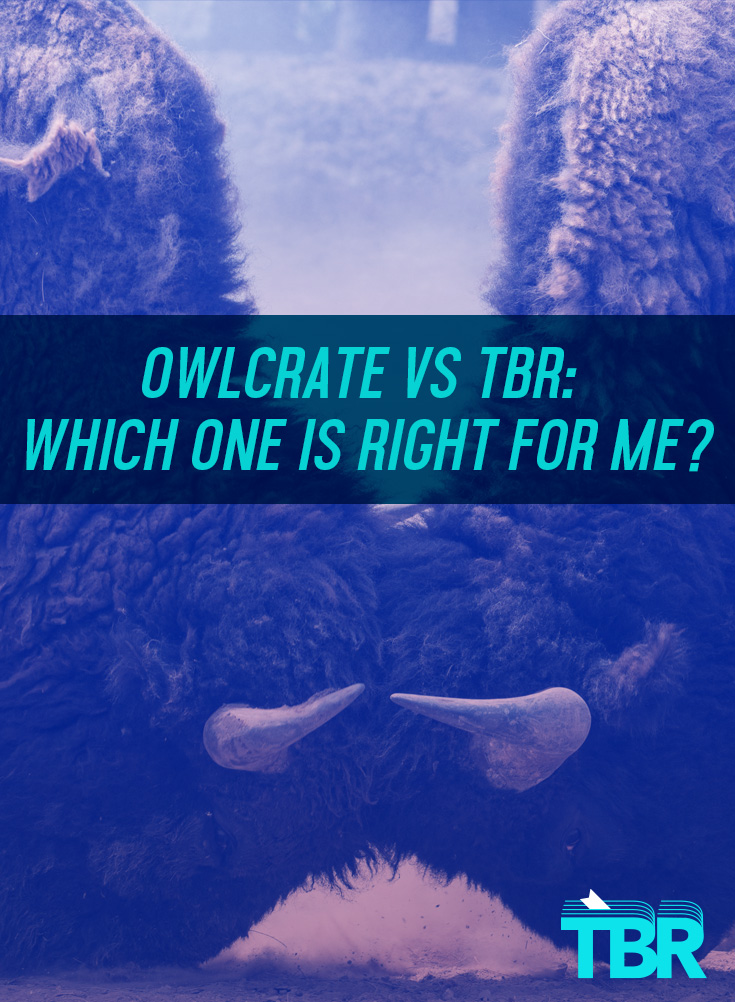 Are you ready to invest in a book subscription service? With so many options out there, it can be hard to make a decision! If you're trying to choose between Owlcrate vs TBR: Tailored Book Recommendations, we've broken down the details of the two services so you can see which book subscription service is the best one for your literary lifestyle, and make an informed decision!
Format: Choose between the Recommendations-only or Hardcover levels. The Recommendations-only level gets you three recommendations via an email, delivered as a personalized recommendation letter. The Hardcover level includes three handpicked, new hardcover books, delivered to your door with a personalized recommendation letter! The Recommendations-only level is available worldwide, but the Hardcover level is available to U.S. residents only.
Frequency: Quarterly, cancel or change your subscription at any time.
Price: The Digital level costs $15 per quarter, or $50 annually. The Hardcover level is $79 + $4.99 shipping per quarter, or $300 annually, with free shipping!
How It Works: Start by filling out our reader survey. We'll ask you about your reading tastes, your favorite books, authors, TV shows, and movies. You can also tell us how adventurous you want to be in your recommendations, what you might want to read more of, and link your Goodreads profile to your account. You'll be matched to an expert Bibliologist who will read your responses carefully and check your Goodreads account, if applicable, and then recommend three books to you. If you've picked the recommendations-only level, you'll get your recommendations via email in 1-2 weeks. If you've picked the hardcover level, you'll get three new hardcovers delivered to your door within 3-4 weeks, shipped by our partner Print: A Bookstore in Portland, ME.
Gifting: Available soon! Sign up to be notified when gifting options become available.
Feedback: After you receive your recommendations, you can log into your TBR account and give feedback on the books you received or were recommended, and general feedback to your Bibliologist. You can also rate your recommendations. This is an important part of the process as it allows the Bibliologists to pick the best books for you!
OwlCrate
Format: A box with one new YA hardcover book published within 45 days of delivery, and three to five bookish goodies, and occasionally exclusive content from the author. Available worldwide.
Frequency: Monthly, cancel your monthly subscription any time.
Price: $29.99 per month, or $86.96 for three months, or $167.94 for six months, plus monthly shipping (varies according to country).
How it works: It's super easy to subscribe to OwlCrate! Simply choose your subscription plan, and then wait for your box to be shipped. Every month you'll receive a brand new YA hardcover, often with an OwlCrate exclsive cover and signed book plate, plus a goodie from the author, such as a note about the book. You'll also receive 3-5 bookish goodies from other small businesses or created by the OwlCrate team as exclusives for subscribers. These include tote bags, pins, beach towels, pens, cups and mugs, and more! Each box is curated around a theme, and often includes objects from other YA fandoms.
Gifting: Gift subscriptions are available for monthly, quarterly, or six-month subscriptions.
Feedback: While OwlCrate boxes are nonreturnable and nonrefundable, the OwlCrate team has curated a large bookish online community so that you can connect with other readers, and they do their best to listen to the community. However, their selection process for books happens many months in advance due to the fact that they work with publishers to develop exclusive editions of new releases for their boxes.
OwlCrate vs TBR: Which one is right for me?
While OwlCrate and TBR are both book subscription services, they offer different experiences. OwlCrate is a great subscription service if you love getting monthly mail and you like exclusive book editions, signed bookplates, and the goodies that come with the subscription! You won't be able to find their goodies anywhere else online, and they're perfect for mega YA fans! The downside is that you don't get much say in what you receive. OwlCrate does a good job of including books across genres, although they tend to skew towards fantasy and speculative fiction, and their boxes are nonreturnable on the off chance you've already read or purchased the book or don't care for the goodies included. You may skip a month if you have a monthly subscription, but you can't skip when you have a 3-month or 6-month subscription.
TBR, in contrast, is a highly personalized service that gives readers the power decide what they want to receive. With two subscription tiers, it offers affordable options, and you can change your subscription level at any time. While the books and subscriptions are nonrefundable, you can give direct feedback on what you receive so that your Bibliologists can better recommend new and new-to-you titles next time, and Bibliologists take every step to ensure that they don't recommend something already on your radar or in your read stack! TBR also is not just a YA book service–Bibliologists recommend books in all age categories, in all genres–it is entirely up to the reader to decide what to receive. TBR does not come with signed books or exclusive editions, though. It's a just-the-books service!
From a financial standpoint, TBR and OwlCrate are fairly comparable. OwlCrate and the Hardcover level of TBR each offer the equivalent of a book per month. OwlCrate is slightly more expensive, even if you buy a 3-month or 6-month plan, but you get a bit more: extra bookish goodies. TBR offers two subscription levels, which OwlCrate does not. The Digital level is great for people who might not be ready to fork over $30+ per month on a subscription service, but the Hardcover level is slightly less expensive than OwlCrate and while it doesn't have the frills and exclusives, you get more of a say in which books you receive while still getting a surprise! When you buy a subscription from OwlCrate, you are supporting indie designers of the bookish goodies and publishers directly with your purchase. When you buy a Hardcover level subscription from TBR, your book purchases support our partner independent bookstore, Print: A Bookstore in Portland, ME.
Still not sure? Check out this in-depth look at how TBR works, and this break down comparing TBR vs Book of the Month! No matter which service you choose, you're guaranteed to discover more great books! Sign up for TBR here.