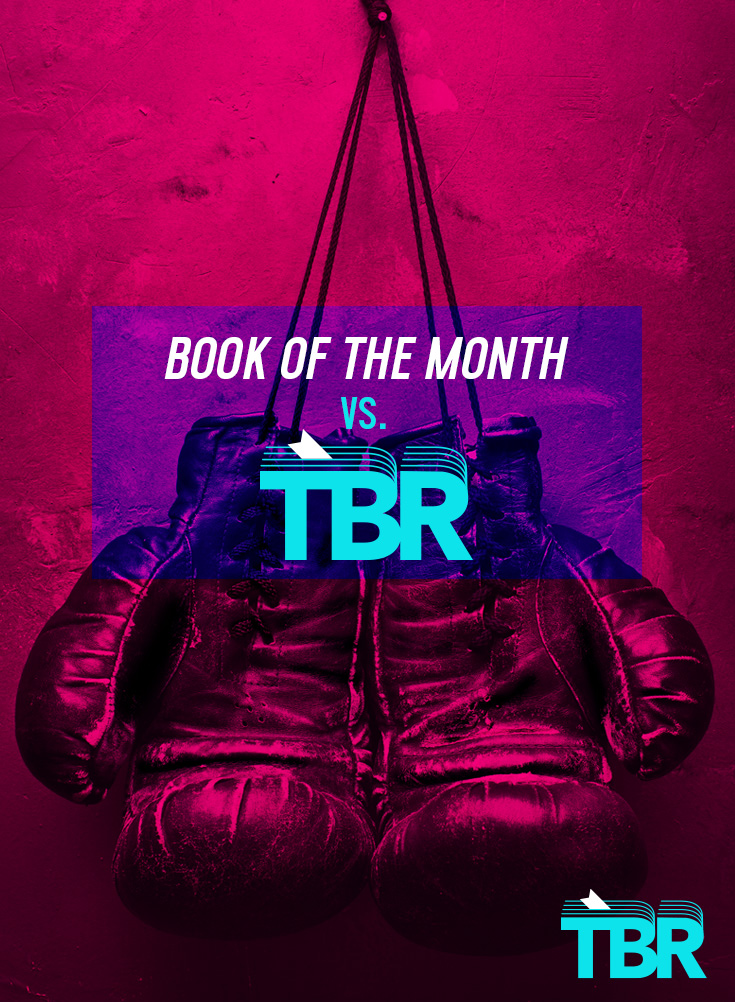 So you want to sign up for some sort of book subscription to spice up your shelf, but you're wracked by indecision. Now what? Which is the best subscription out there? And is it for me? Choosing a book subscription can be tricky, and nobody likes to feel like they've blown their hard-earned cash on a service that they aren't loving. In this post we endeavor to break it down a little bit with some Book of the Month vs. TBR's Hardcover-Level subscription so you, lovely reader, can make an informed decision that's perfect for your reading life.
Hardcover-Level Cost: $79 (+S&H) per quarter, or $300 annually.
Availability: Within the US.

What you get: Three hardbacks per quarter, picked out specifically for you based on your preferences.
Giftable? It's in the works. Soon!
Returnable? No.
TBR is Book Riot's own book recommendation service that also functions as a (sort of) monthly book subscription depending on your level of engagement. When you go to the landing page, the "Get Started" button gets you right into profile-building mode, where you can select books that you've enjoyed. After you've selected a few titles, you'll be prompted to list some genres you enjoy and note whether there's some new genre or medium you want to explore. In case the first selection pages weren't enough, there's a field for you to write in books you've loved recently, and then there's a little slider that will give your prospective bibliologist an idea of just what sort of reads you want recommended to you, from "familiar" to "spice it up". After that, you're just a few clicks away from getting down to brass tacks.
The process is straight-forward and all things considered, the break down is $25 per hardback for an annual subscriber (no shipping fees!) on new or recent releases. The difference between buying these books yourself in a store and getting them via TBR is that someone who is super knowledgeable will look at your preferences and select books specifically for you. You can get into much more detail in this way than you might in a 5-minute conversation with a bookseller on a casual visit, and if you're worried about who you're supporting when your purchases, the books do actually come from an indie bookstore. And just in case you panicked at the note about no returns, there is some hope: You can totally send your bibliologist a link to your GoodReads profile or similar compendium of books you've read already so they can do their best to avoid sending you things you've already gobbled up. After you receive a shipment, you'll also be able to give your bibliologist feedback or request to change to another recommender for the next round.
How does this shape up in our Book of the Month vs. TBR analysis?
Book of the Month
Cost: $14.99/month ($149.99 annual; shipping is free; $9.99 to add on another book)
Availability: Within the US.
What you get: One hardback of your choosing per month from the BotM's monthly selection, plus any other books you pay for.
Giftable? Yes.
Returnable? Yes, if the book is damaged or defective.
With BotM, you have a little more control over what you're getting. Rather than having a book recommender assigned to you to send you new reads, you get to choose one yourself each month from a selection. Each month, the BotM judges select five titles, and your credit gets you one book. If you want to add any books to your box, you can pay a little extra. The books are a wide variety of genres and each selection comes with a synopsis from one of the good folks who recommended it for the box. Don't like what the month's selections are? You can totally skip it during the designated selection period and resume your subscription the following month.
The cost is low, and once you sign up, you'll immediately be shown the month's book picks and have the ability to choose a plan that works for you. The add-ons section is fairly extensive, and for $9.99 there are some excellent picks there that'll make any bookshelf happy. All in all, it's hard to resist the great deals there, and there's an added benefit of reading descriptions from the judges on all those titles as well as member reviews and ratings to guide you to your decision. As a monthly book subscription, it's hard to beat price-wise.
So which is right for me?
When considering Book of the Month vs. TBR, your decision will depend on what sort of reader you are and, yeah, your budget. If you can't be fussed to be researching books, going back and forth on deciding what you want to read, then TBR is probably the better option. You leave the actual choosing of books to someone else, and it's just a matter of waiting patiently at home to get your mitts on some sweet new releases. But if you're a little freaked out at the prospect of letting go and prefer having a little more control over what ends up on your doorstep, BotM is an excellent option. You know what you're getting up front, and there's an added benefit with regards to the pricing.
Both are great choices, user-friendly, and most importantly, geared toward introducing you to your next great read. Whichever you choose, you're guaranteed to fall in love with a new book.