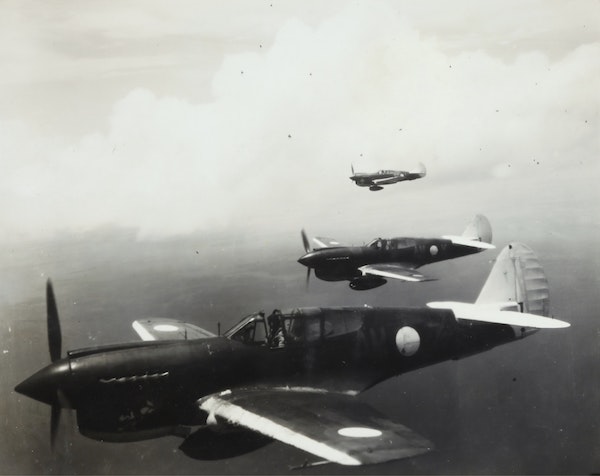 World War II was such a tremendous event that it's impossible to comprehend the complexities of it after reading a handful of books–perhaps that's why new books about the period from the 1930's-late 1940's are still released each year. Whether you're interested in reading military history or novels that explore the impact of the war on regular people, we've got 20 new World War II books you'll want to put on your TBR list, broken down by fiction and nonfiction.
Fiction
Set in Japan in 1945, this book is about Hana, a young woman who has narrowly avoided death by American bombing and has lost her will to live, and Taro, a gifted violinist who is destined to be a kamikaze pilot. Their paths cross, and when Hana hears Taro's music, it awakens something inside her.
This books spans from WWII to the years immediately after, and has three different points of view and timelines: a Russian female pilot during WWII, a New England teenager whose life is disrupted when her father marries a German war widow, and an English man bent on tracking down Nazi war criminals. Their stories collide to form an unexpected thriller.
This novel sets the stage for major conflict of WWII in North Africa. It's about Hirut, an Ethiopian woman working in the household of an officer who is engaged in war with the Italians, and finds herself swept up in the complicated politics of war.
This collection of short stories spans before and beyond WWII, but a few of the stories are anchored in the 1940's and have to do with the conflicts of the war. The focus of this collection is on colonial and post-colonial Asia, and each story is loosely connected.
Traitor by Amanda McCrina
Set in Poland in 1944, following the Soviet liberation, this book follows Tolya, a Red Army solider who accidentally shoots his horrific commanding officer and is rescued by Ukrainian freedom fighters–but despite the rescue, he doesn't trust them. Nevertheless, if they're all to survive, they must work together.
Alice's grandmother has just died, and she has left her an apartment in Paris. But no one even knew that this Paris apartment existed, and it's been shut up since the 1940s. Decades earlier, Adalyn is shocked by how her city has changed with the arrival of the Nazis, but when she meets a freedom fighter, she finds that she might have the power to fight back.
In this graphic novel, Kiku is on vacation in San Francisco when she finds herself repeatedly displaced in time to the internment camps for Japanese Americans, where her grandmother was forced to live. As the displacements occur with more frequency, Kiku soon finds herself stuck in the past.
Set in Germany in 1945, this book tells the story of Zofia, who has just been liberated from Auschwitz and is desperate to find her brother, Abek, the only person in her family to survive the gas chambers. As she navigates across refugee camps and countries, she begins to waver in her hope that she can ever find one person in an ocean of missing and displaced people.
When Lillia's mother disappears without warning, her panicked father whisks her and her younger sister from Poland to Shanghai, one of the very few places to accept Jewish immigrants. But their new life in Shanghai is hard, and despite the new friendship she forges with Wei, a Chinese boy, war is coming to Shanghai.
In this novel, a group of very unlikely Americans are brought together to form a group called Codename Dragonfly, spies whose mission is so secret, most people don't even know they exist. But when one of them ends up dead, they must ask themselves if it was due to a simple mistake, or if something more sinister is at work.
This novel spans multiple decades, but focuses on Mi-ja and Young-sook, two young Korean women who become friends when they join the all-female diving collective in their small village. Their friendship is tested as they endure Japanese colonialism, WWII, the Korean War, and the years beyond.
Nonfiction
This nonfiction title tells the previously unknown story of the women who helped create the nuclear bomb in the Manhattan Project, and the moral implications each woman faced after the bombs were dropped.
This is the story of the immense challenges Winston Churchill faced when he took office, but also the effects of his job on his family–wife, daughter, son, and daughter-in-law–and how they struggled and survived during Britain's darkest days.
This is an in-depth look at the tumultuous days between President Franklin D. Roosevelt's death, and President Harry Truman's order to drop the atomic bombs on Nagasaki and Hiroshima.
The attack on Pearl Harbor in December 1941 propelled the United States to formally join WWII, but this book takes a look at a hasty plot to avenge that attack in the South Pacific, focusing on ace pilot Major John W. Mitchell and his team.
This book tells the story of Women Airforce Service Pilots who served their country and proved that women were just as capable of flight as men, even though they weren't allowed to serve in combat and their service was disbanded after the war.
In this nearly forgotten story, Keene tells of her father's experience with the Cloudbuster Nine, and excavates an overlooked crossroads of American baseball with WWII history.
In this graphic memoir, actor and Civil Rights advocate George Takei shares with readers what it was like to relocate as a child to an internment camp after President Roosevelt's executive order, and how growing up in such a place shaped the person he would become.
The loss of life during WWII was tremendous, and it's especially notable when one views cemeteries where brothers were buried side by side. In this nonfiction book with hundred of photos, Callahan documents how some families gave the ultimate sacrifice.
Chester Nez was given a new name when he was sent to boarding school, and he was punished for speaking Navajo. Nonetheless, he held tightly to his traditions and enlisted in the marines when WWII broke out. As the U.S. struggled to develop a code that would be unbreakable to their enemies, they turned to Chester and other Navajo recruits.Want more WWII books? We've got you covered. And if you're curious about the First World War, we have a list of WWI books you might want to check out.
And if you're interested in even more recommendations, sign up for TBR: Tailored Book Recommendations! TBR is a personalized book recommendation service that send you books you'll love to read. Here's how it works: Simply fill out the reader survey and let us know what you want more of–such as new World War II novels or military history–and what you're not keen on. Then, an expert Biblioligist will read your responses and recommend three books just for you. Receive your recommendation letter via email in about two weeks, or opt to receive your recommendations as brand new hardcovers from our partner, Print: A Bookstore in Portland, ME in about three to four weeks. Learn more and sign up now!