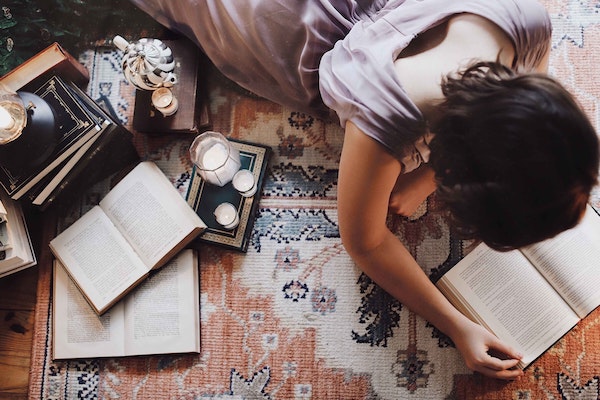 If you're data nerds like us, you're probably curious to know what the most popular books of 2020 were. We've already shared what the most recommended hardcover books of 2020 were in our hardcover tier, but now we're going to dive into the most popular books in the reading world. We've analyzed sales data, big book club picks, and top library checkouts to come up with twenty of the most popular books of 2020 you don't want to miss, broken down into various genres!
Fiction
The Vanishing Half by Brit Bennet
Brit Bennet follows up her bestseller The Mothers with this incredible novel of Black twin sisters who grow up as close as can be, but drift apart as they mature. One stays in their hometown, and the other leaves and marries and passes as a white woman.
The Glass Hotel by Emily St. John Mandel
In her first book since the incredibly popular Station Eleven, Mandel explores the lives of the wealthy and the impoverished as she spins a complex tale of deceit, betrayal, and consequences.
Such a Fun Age by Kiley Reid
This book came out in the last week of 2019, but it was an undisputed hit in 2020. It follows two very different women–a white suburban mom and a Black college grad working as her babysitter–and what happens when their lives get uncomfortably intertwined.
The Midnight Library by Matt Haig
In this novel, a woman named Nora finds herself traversing a midnight library full of books that tell of all the different paths her life might have taken if only she'd made different choices.
Nonfiction
A Promised Land by Barack Obama
Multiple sources have reported that despite releasing in November 2020, Barack Obama's memoir is the number one bestselling book of 2020, with over 2.6 million sales. This tome reveals the former president's early days, his decision to run for president, and his first term.
Maybe You Should Talk to Someone: A Therapist, HER Therapist, and Out Lives Revealed by Lori Gottlieb
New York Times bestselling author and therapist Lori Gottlieb has written a revealing and relatable book about the struggles we all face, and what she has learned on both sides of the proverbial couch.
Caste: The Origin of Our Discontents by Isabel Wilkerson
Caste enjoyed a huge bump in popularity thanks to Oprah picking it for her book club, but it's also an award-winner in its own right. This book tackles the long and complex history of the caste system and how it affects society today.
Mystery
A Time for Mercy by John Grisham
John Grisham can always be counted on to release a book each fall, and his latest legal thriller was at the top of many readers' TBR lists and holiday wishlists. It's the third novel featuring Jack Brigance, and this time he's back to represent a teen boy accused of killing a sheriff's deputy.
The Guest List by Lucy Foley
As far as twisty, delicious mysteries go, you can't ask for a better novel than this story about a wedding party, a gorgeous and isolated Irish venue, and the secrets they keep as someone ends up dead during the reception.
Speculative Fiction
Mexican Gothic by Silvia Moreno-Garcia
Seasoned speculative writer Silvia Moreno-Garcia has finally received widespread recognition for her inventive work with the release of Mexican Gothic, a historical horror set in 1950's Mexico. The book has already been optioned by Hulu.
Crescent City by Sarah J. Maas
Fantasy powerhouse author Maas launches a new adult series with this book about a half-human, half-fae woman who becomes determined to discover who is behind a series of murders in her city.
To Sleep in a Sea of Stars by Christopher Paolini
Known for his bestselling Eragon series, Paolini released his first adult sci-fi novel in 2020 to great success. It follows Kiera, a deep space surveyed who discovers an alien relic on a distant planet, and unknowingly sparks a war between humanity and the alien race.
YA/Children's
Clap When You Land by Elizabeth Acevedo
Acevedo is a YA powerhouse author, nabbing both the National Book Award and the Printz Award for her debut novel. Her newest novel tells the stories of two teenage sisters who live in separate countries and learn of one another when their father dies in a plane crash.
Antiracist Baby by Ibram X. Kendi and Ashley Lukashevsky
This picture book is the perfect introduction to race for the littlest people in your life, because it's never too early to start teaching your kids to be anti-racist. It includes nine steps for parents and little ones, with more discussion questions for parents to reflect.
Stamped: Racism, Antiracism, and You: A Remix of the National Book Award-Winning Stamped from the Beginning by Ibram X. Kendi
Adapted from Kendi's Stamped from the Beginning and co-written with Jason Reynolds, one of the best kidlit and YA writers working today, this is an age-appropriate and accessible book for young readers that explores what it means to be anti-racism and how to be a better human.
Midnight Sun by Stephenie Meyer
The long-anticipated companion to Twilight by Stephenie Meyer dropped this year, and at just the right time: when everyone was home during the pandemic and looking for nostalgic distraction. This book retells Twilight from Edward's point of view, and while the plot isn't new, it sure was a hit.
Backlist Bump (The Most Popular Books of 2020 that Didn't Come Out in 2020)
The Duke & I by Julia Quinn
Although twenty years old, this romance novel saw a huge sales bump thanks to the release of Netflix's highly anticipated Bridgerton, an adaptation of Quinn's romance series by the same name. The first novel follows the romance of Daphne Bridgerton and Simon, the Duke of Hastings.
Becoming by Michelle Obama
The former First Lady's memoir continues to sell at record-breaking rates! Even though her husband's memoir was the number one bestseller of 2020, his book still can't match Michelle Obama's overall sales, which are reportedly near 4 million copies sold.
White Fragility: Why It's So Hard for White People to Talk About Racism by Robin DiAngelo
Following the protests that spread across the country in June, many books about anti-racism were at the top of people's reading lists. This 2018 title about white fragility and the importance of being anti-racist topped many bestseller lists.
Want to make sure you never miss a great new release? Then sign up for TBR: Tailored Book Recommendations, one of the best online book subscription services around. TBR is a personalized book recommendation service that sends you books you'll love to read.
Here's how it works: Simply fill out the reader survey and let us know what you want more of–such as new or popular books–and what you're not keen on. Then, an expert Biblioligist will read your responses and recommend three books just for you. Receive your recommendation letter via email in about two weeks, or opt to receive your recommendations as brand new hardcovers from our partner, Print: A Bookstore in Portland, ME in about three to four weeks. Learn more and sign up now!