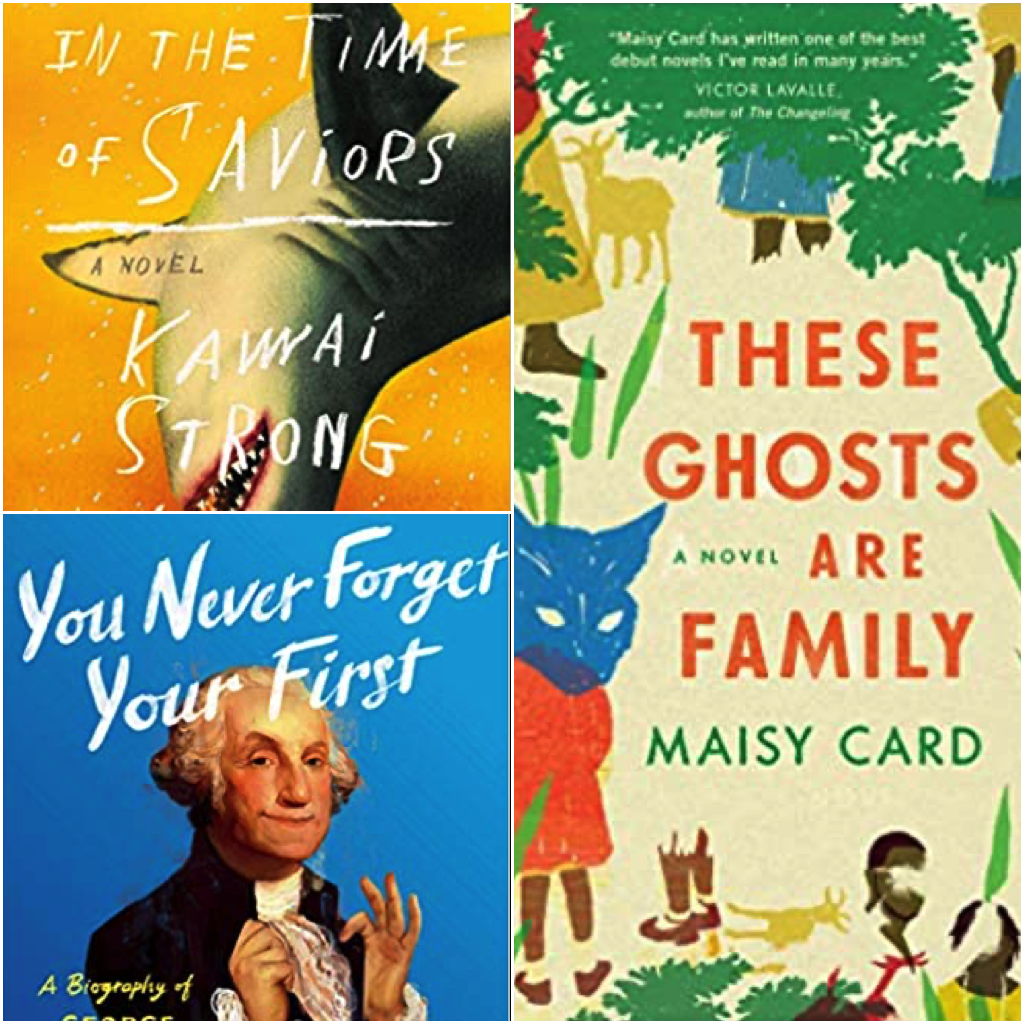 It's the end of the year, which means it's time to shout about our favorite books of 2020! We thought it would be fun to crunch some numbers and look at the most-recommended books in the TBR hardcover subscription tier! In 2020 alone, our Bibliologists recommended 862 unique titles in the hardcover tier–that's a lot of books, but that's because our Bibliolgists personalize each recommendation to you, and your tastes. But among all of those hardcover recommendations, some titles definitely stood out. These are the top twenty most recommended hardcover books by TBR Bibliologists, and you know they must be pretty amazing to make it to the top of such a long list!
In this incredible fantasy novel, large cities are living, sentient beings with memories and mythologies…and New York City has six different souls. But when five people realize they're the living embodiment of the city's boroughs, they also learn that NYC is under attack by an ancient force that wishes to not only destroy them, but their city.
Cara is a traverser of the multiverse in a future where corporations control everything. She's hoping that if she does her job well, she can one day get promoted and find security, but when she lands in a world where her doppelgänger has recently been murdered, she realizes she's at the center of a dangerous conspiracy.
Linus is a caseworker in the Department in Charge of Magical Youth, and he's sent to observe an unusual case of six very dangerous magical children living under the care of Arthur, in a house by the sea. As Linus becomes familiar with this unconventional family, he begins to realize that there's a difference between the policies he sticks to, and what's really the best for his young charges.
In this twisting, experimental memoir, Machado tells the story of the two years she spent in an abusive relationship with another woman. Her chapters take the form of a different literary trope or device, and they demonstrate the importance of speaking up about domestic abuse in queer relationships.
Noemi is a socialite in 1950s Mexico City when she's summoned by her beloved cousin to a mysterious estate in the country. Her cousin is unwell, and once Noemi arrives, she finds strange and frightening things within the walls of the moldering manor house– and she might not make it out alive.
In Kailua-Kona, Hawaii, young Nainoa Flores falls overboard while on a cruise with his family, and onlookers watch in horror as sharks surround the boy…but he's delivered safely back to his mother, and that's just the beginning of the supernatural forces that follow the Flores family for decades, until a reunion in Hawaii forces them to confront their strange legacy.
Americans tend to romanticize the first president, but in this fascinating and engaging new biography, Coe reveals well-researched and little known facts about George Washington, casting this founding father in an entirely different light.
In this Japanese novel, three women–two sisters and one daughter–confront the things that have gone unsaid in their lives and relationships when one of them pursues a breast enhancement. What follows has an effect on the woman and their lives for years to come.
Ines is running from her past, which is why it's easy for her to accept a place at Catherine House, and the terms that come with it–all tuition and expenses shall be paid, as long as she severs contact with the outside world for three years. But when Ines begins to grow curious about Catherine House's secrets, she finds herself facing a life-changing decision.
Spanning the years before and after the Civil War, this novel follows a mother and daughter with a talent for healing, and how their lives intersect with the daughter of the man who has enslaved them. The healing isn't their only talent–they can conjure curses, and one such curse threatens everything they've fought for.
In this historical novel, Lucy and Sam have just lost their father, the only parent left in their life. As orphans and the children of Chinese immigrants, their situation is precarious at best. Wanting to give their father the burial he deserves, they set off into the landscape around their mining town, where they encounter the most spectacular things.
Immanuelle and her family are outcasts in a Puritan-like fantasy world, thanks to Immanuelle's mother attempt on the Prophet's life, and having Immanuelle out of wedlock. Immanuelle has tried to follow all the rules, but when she strays into a forbidden woods, she inadvertently brings aa series of plagues down on her community, and discovers her own power.
Thirty years ago, Stanford Solomon faked his own death and left his family. Now, he's nearing the end of his life and his daughter, a home health aide, has just shown up unwittingly to her father's doorstep, unaware that he's still alive, which threatens to unravel decades of carefully guarded secrets.
Nia captains a spaceship that has preserved her throughout time. Every person she has cared about has ages faster than she, until she's wholly alone. All that changes the day she rescues a young boy who doesn't speak and communicates via haunting music. In each other, they find a home…but very bad people are hunting the boy, and Nia must find a way to protect him.
Lakewood by Megan Giddings
Lena Johnson is a Black millennial who must drop out of college when it's revealed that her family is in over their heads in debt. She takes a job in Lakewood, MI, which seems too good to be true. It's well-paid with so many perks…but Lena is taking part in a study that is kept top secret. Except, the deeper she gets, the more questions she has about how the safety and validity of the study.
Bug is a family man and business owner who falls on hard times, so he turns to his past job as a getaway driver for the cash he needs to get back on even footing…but when the job goes sideways, it'll take everything Bug has to escape with his life and protect those he loves.
Part memoir, part cultural criticism, and part history, Hong explores in a series of sharp and illuminating essays what she thinks of as "minor feelings"–the sensations she experiences when American optimism and ideals conflict with her own experiences as an immigrant.
Gwendolyn and Estella are sisters who have relied on each other growing up in their wealthy Chinese-Indonesian family, which places heavy expectations on each sister. But when Estella poisons their entire family, Gwendolyn is the sole survivor, and she is forced to revisit their past and what could have driven her beloved sister to such a heinous crime while she lays in a coma.
Csorwe is a young priestess who thought she always knew her fate–to become a sacrifice. But on the day that she is to die, a mage offers her a different path, and Csorwe follows him to become his assassin and help him regain what he has lost. But decisions have consequences, especially if you anger the gods.
Emira is a young Black college graduate working as a baby-sitter to make ends meet, and she's alarmed when she's accused of kidnapping her young charge. Although the incident is resolved, the child's mother goes to increasingly desperate lengths to "help" Emira, even though she'd rather just forget about the whole experience, leading to a series of revelations about the family.
Want in on the TBR recommendation magic? Sign up for TBR: Tailored Book Recommendations, one of the best book subscription services out there! TBR is a personalized book recommendation service that sends you books you'll love to read. Here's how it works: Simply fill out the reader survey and let us know what you want more of and what you're not keen on. Then, an expert Biblioligist will read your responses and recommend three books just for you. Receive your recommendation letter via email in about two weeks, or opt to receive your recommendations as brand new hardcovers from our partner, Print: A Bookstore in Portland, ME in about three to four weeks. Learn more and sign up now!