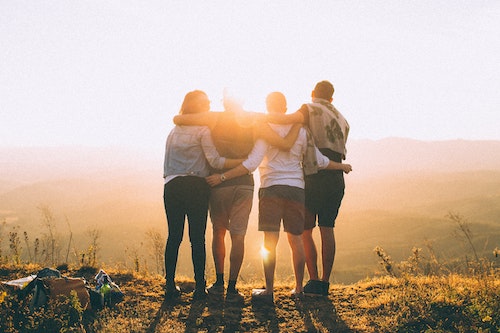 With so many excellent young adult books hitting shelves in 2020, it can be difficult to know where to start! Never fear, because we've got 20 young adult book recommendations to help you navigate the best YA books of 2020! From fantasy to contemporary fiction, fun romance to hard-hitting YA, there's something for every reader with these young adult book recommendations!
Claire is a Shanghai teen suddenly dropped in California for high school, living in a stranger's house. Dani is less than thrilled when her mom rents out a spare room to Claire, and the two girls attend the same school but avoid each other as much as possible–until a life-changing event sends them on a collision course.
Kyle thinks his family is pretty awesome–until he discovers his mom is having an affair and his dad knows all about it. Devastated, Kyle turns to his cousin to try and make sense of this new reality, and reconcile the family he thought he had with reality.
Skye is a fat Korean-American and she's unashamed. But when she tries out for a new K-pop reality TV show and gets on, she has to deal with a lot of fatphobia and ignorance as she works hard to achieve her dreams.
Raina and Millie have both been burned by the same guy, so they decide to retaliate by forming an all-female mock trial team to take on the guy's team. It turns out six angry girls with knitting needles and yarn can wreak a lot of havoc.
Codi Teller is a lesbian who is more than happy sticking to her comfortable routine with her two queer friends. But when she shows up late to a party and makes a new friend in the host, she ends up becoming a part of a whole new friend group on accident and even finds love–all without telling her best friends.
Based on Yusef Salaam's experience as one of the Exonerated Five, this novel in verse follows a Black teen wrongly accused of a crime he didn't commit, and how turning to his poetry saves his life.
Ever Wong's summer plans are upended when she finds herself headed to Loveboat, Taipei–not the academic summer camp she was planning on. Loveboat is more like a teenage free-for-all, where she discovers new friends and new secrets that will prove life-changing.
Furia by Yamile Saied Mendez
Camila is an Argentinian teen living a double life as a dutiful daughter in a strict household, and as a soccer-playing powerhouse on the field. When her team qualifies for a tournament that could open up life-chaning opportunities for Camila, must decide how far she'll go to achieve her dreams.
Miss Meteor by Tehlor Mejia Kay and Anna-Marie McLemore
Chicky and Lita are two former best friends who decide to team up and help Lita enter the Miss Meteor pageant in order to prove to their town and themselves that they have what it takes to win in a town where they rarely see themselves accepted.
In this sequel to Darius the Great is Not Okay, Darius has returned home to the States and found his first boyfriend. But when his two very different grandmothers come to visit and his best friend begins ghosting him, Darius struggles with understanding what he deserves.
Liz can't wait to leave her small town, but when her college funding falls through she finds herself entering her school's race for prom queen so that she can get the accompanying scholarship–but then her new crush Mack also enters, and Liz finds the competition heating up in unexpected ways.
Cinderella is Not Dead by Kalynn Bayron
Two hundred years after Cinderella stole the prince's heart, every girl in the kingdom is required to attend a ball to find a husband–and those who aren't chosen disappear forever. Sophia would rather marry her female best friend, so she runs away from the ball and meets another girl who will help her bring down the patriarchy.
Felix is trans and proud, but when another student begins targeting Felix with transphobic hate and dead names him, Felix decides to fight back by catfishing his bully–only, things don't end up quite the way he expects.
When Chloe doesn't want to get engaged to the son of a family friend, she decides to hire Drew, who works for Rent for Your 'Rents, a fake dating service, to get her parents off her back. But when she starts to actually fall for the real Drew, it's a big problem because Drew's parent-approved personality is all a lie.
Set in 1926 Shanghai, this is a retelling of Romeo and Juliet that recasts the titular characters as two heirs to street gangs locked in a deadly feud. They must set aside their differences to investigate a darkness that could destroy both their gangs.
Mayhem by Estella Laure
In 1987, Mayhem and her mother return to her mother's beachside hometown and where Mayhem learns the truth about their family: the women possess magic. And when girls begin to go missing on the beach, Mayhem decides to put her newfound talents to use and do something about it.
Marva has been waiting weeks for Election Day, and she can't wait to vote. Duke just wants to vote and move on with his day. But when he's turned away at his polling place and Marva witnesses this, she decides to help him, and the two undergo a wild adventure to see that Duke can exercise his right to vote.
Soraya is a princess whose touch is poison. She spends most of her time secluded away from people, prowling her gardens. But as her twin brother's wedding day approaches, she must decide what she wants out of life, and if she'll step out of the shadows.
Grown by Tiffany D. Jackson
Enchanted dreams of becoming a R&B singer, and it seems like her ambitions are about to become reality when legendary singer Korey Fields spots her at an audition. But when Korey ends up dead and Enchanted has blood on her hands, more than one person wants to know the truth about what really happened between them.
Printz Award-winning author Nina LaCour releases her first novel since We Are Okay, a story of Mina, who has graduated from high school and aged out of the foster care system. She accepts a job at a farm on the coast of Northern California–but she doesn't expect the place to be haunted.
Want more great YA book recommendations? Check out our best YA book club recommendations, and the best found family YA books! And if you want even more YA in your life, sign up for TBR: Tailored Book Recommendations! TBR is a personalized book recommendation service that send you books you'll love to read.
Here's how it works: Simply fill out the reader survey and let us know what you want more of–such as the best new YA books–and what you're not keen on. Then, an expert Biblioligist will read your responses and recommend three books just for you. Receive your recommendation letter via email in about two weeks, or opt to receive your recommendations as brand new hardcovers from our partner, Print: A Bookstore in Portland, ME in about three to four weeks. Learn more and sign up now!