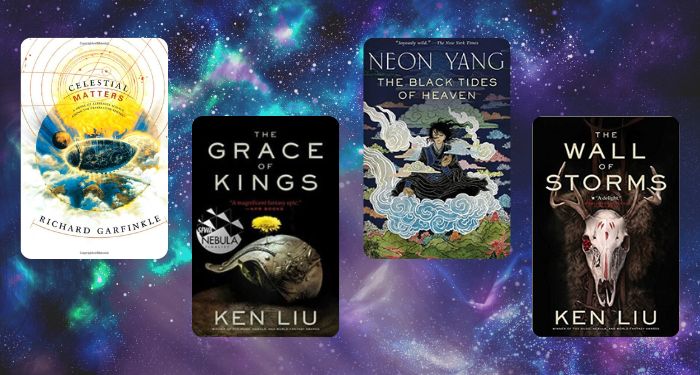 Silkpunk is a sci-fi sub-genre that's new and largely unknown. Created by Ken Liu to describe The Grace of Kings, the first book in his Dandelion Dynasty books, it's a fairly narrowly defined term, and the designation of silkpunk only applies to a few books — but there are several other books with similar aesthetics and vibes that you might also want to check out! Please note: Although silkpunk is commonly believed to refer to any Chinese and Chinese-inspired science fiction, such as Jade City and the rest of the Green Bone saga by Fonda Lee, it actually refers to a specific technology aesthetic found in Liu's series and in the collection of excellent science fiction books below.
First, read this explanation from the master himself, then check out the books below for the best silkpunk books out now, and a few other books that will appeal to readers of silkpunk.
The Best Silkpunk Books
A bandit and the son of a deposed duke become close friends in the midst of an uprising against the emperor, but find themselves on opposite sides after the uprising is a success. This book and its sequels, The Wall of Storms, The Veiled Throne, and Speaking Bones, make up the four original silkpunk books and the ones most worthy of the name.
Published in the 1990s, this book would not have been called silkpunk at the time, since the term didn't exist yet. That said, it was named by Liu when he was asked to give other examples of the sub-genre, so it's a good choice for expanding your silkpunk reading. In it, the world is very different as the Delian League (Greeks) and the Middle Kingdom (Chinese) have been fighting a thousand-year war. Although the Middle Kingdom aspects of this novel are silkpunk, it is told from the outsider perspective of the Delian League.
This Singaporean fantasy series from Neon Yang begins with twin novellas The Black Tides of Heaven and The Red Threads of Fortune (either of which can be read first), and continues in The Descent of Monsters and The Ascent to Godhood. The twin children of the Protector must master their elemental magics: Mokoya is a prophet, able to see what is to come, while Akeha is able to see what could be and how to accomplish it. The two must choose sides in the growing rebellion — and they may end up on opposite sides.
Other Books That May Appeal to Lovers of Silkpunk Books
In this space opera, Shadow's Child, a retired transport ship has become a brewer of hallucinogenic drugs, selling them to travelers. Long Chau comes looking for a corpse to use for his research, but when the body turns out to have been murdered, the ship and the scientist team up to investigate. Other books in this setting include The Citadel of Weeping Pearls; Of Wars, and Memories, and Starlight; and Seven of Infinities.
In this wuxia novel from the author of Sorcerer to the Crown and Black Water Sister, Guet Imm of the Order of the Pure Moon joins a group of thieves on a sort of reverse heist, attempting to protect a sacred object, and things go downhill from there.
In this high fantasy book from the author of Siren Queen and The Chosen and the Beautiful, In-yo, a lonely emperor's wife in a political marriage, befriends Rabbit, a handmaiden sold to the emperor by her parents.
Translated by Ken Liu, this alternate history science fantasy book follows an alien invasion set against the Chinese Cultural Revolution. On earth, people are divided into those who welcome their alien overlords and those who are prepared to fight for life as they know it.
Looking for more books for fans of silkpunk? Check out the best sci-fi book subscriptions, or try TBR: Tailored Book Recommendations! TBR is a personalized book recommendation service that sends you books you'll love to read. Here's how it works: Simply fill out the reader survey and let us know what you want more of and what you're not keen on. Then, an expert Bibliologist will read your responses and recommend three books just for you. There are two subscription options: receive your recommendation letter via email in about two weeks — perfect for library users! — or opt to receive your recommendations as brand new hardcovers in the mail in about three to four weeks. Learn more and sign up now!