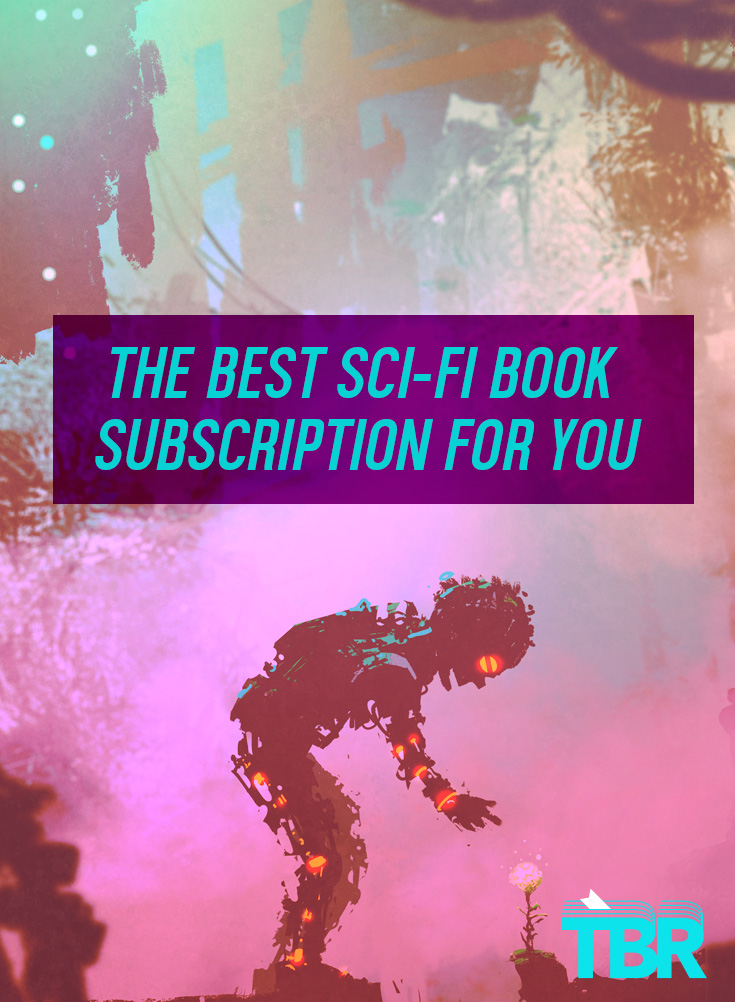 Book subscription services are plentiful, but very few services offer readers science fiction books and science fiction only! If you're a big reader and thinking about treating your shelf to a sci-fi book subscription, your options may be more limited, but it's not impossible! We've rounded up the ten best sci-fi book subscription services around, breaking them down by costs and perks! So whether you're looking for your next great read, or sci-fi book club recommendations, we've got you covered!
New York City's Strand Books offers a monthly Sci-Fi and Fantasy subscription service that gets you one signed hardcover first edition of a new release, plus a paperback and bookish goodies from their store or other NYC businesses. While it's not strictly a sci-fi service, you do get a sci-fi book in each box and past titles include Artemisby Andy Weir, The Book of M by Peng Shepherd, and The Future is Female!: 25 Classic Science Fiction Stories from Women by Lisa Yaszek. You can buy a single box to test it out, or get a monthly subscription for $50! Buy a whole year and get a discount price of $200!
My Chronicle Box offers readers a science fiction and fantasy subscription to their quarterly boxes! In each box, you'll receive three new books, plus three bookish goodies, and exclusive author content like signed bookplates, a Q&A, or an author letter! Again, this is a combo genre box so you'll likely get fantasy reads in the mix, but past sci-fi picks include The Calculating Stars by Mary Robinette Kowal and Do You Dream of Terri Two? by Temi Oh. This is a UK-based company, but they ship anywhere in the world and their quarterly box costs $55.
Chamber of Fables is a subscription service focusing on fantasy, science-fiction, and dystopian literature. You'll get one book in either of those genres, plus an assortment of goodies, depending on your subscription level. The Mini box gets you the book and an exclusive bookmark, and the full box gets you that plus three goodies from Canadian vendors. This is a Canadian company, but they ship worldwide and boxes start at $29.
The Science Fiction Book Club is one of the few book subscription services that allows you to pick just sci-fi books, and consist of just the books. This is a great service if you don't care about frills or goodies, and just want great books. How it works: At the beginning of each month you get the option to purchase 2 credits at $14.99 each, and then redeem them for great books! Most of the options are sci-fi, but there are some fantasy picks mixed in. You get free shipping when you get two or more books, and occasionally you get the chance to buy books for $9.99 apiece! If you like the idea of a subscription service but don't like surprises, this service is for you.
My Sci-Fi Book Club is another great service that allows you to pick only science fiction books if you like, although they do have fantasy options as well, and the option to receive a mix of both sci-fi and fantasy. Each month you'll receive a box with two new hardcover releases in your chosen genre(s), plus an ebook! With boxes starting at $16 per month, it's a great deal for sci-fi and fantasy lovers!
If you read to escape into another world, then this box is the perfect portal for that escape. It's a quarterly subscription that offers you one sci-fi or fantasy book, and plenty of high quality bath products (such as bath bombs or salts), a candle, and chocolate. It's a great way to read an amazing book and pamper yourself while you're at it! The quarterly box is just $29.99.
Another goodie-heavy selection is Universe Bound! Their book selections tend toward science fiction and speculative, but they'll also throw in a mystery or fantasy title every now and then. Each box is shipped monthly and includes one trade paperback, and an assortment of goodies depending on subscription level. The simple box includes the book, plus tea, candles, and bath powder, and starts at $15 per month. The deluxe box starts at $40 and includes two or more books, plus candles, bath products, candles, a beverage, and other handmade goodies. You can choose an audiobook box as well, and "six book cycle" boxes, which will be united by a continuous theme for six months!
Chocolate and Book is a nice, reliable subscription service with a wide variety of genre selections. You can choose sci-fi and fantasy, and from paperback or hardcover. Then, you'll receive a single book in your chosen genre and format, plus a carefully chosen chocolate and some kind of beverage like coffee or tea or hot chocolate. This service starts at $18.50, and ships from the U.K. worldwide.
Are you a sci-fi lover and a big fan of YA? Shelf Love Crate is a subscription for YA fantasy and science fiction, offering new hardcovers plus exclusive collectibles and goodies from their partner vendors. Starting at just $19.95, you can receive the book and their goodies, and starting at $29.95, you'll receive the book, collectibles, and four partner goodies! You may also make one-time purchases of upcoming boxes if you want to just try it out before committing long-term. Past sci-fi elections include The Kingdom by Jess Rothenberg and LIFEL1K3 by Jay Kristoff!
If you want personalized science fiction book recommendations, then sign up for TBR! TBR is the only subscription service that takes into account what you want to read and what you've already read to present brand new and new-to-you recommendations.
Start by filling out the reader survey, which asks about your favorite books, genres, what you want more of, what you hate, and what you want to steer clear of. This is a great time to be as specific as you like–maybe you want more time travel books, or sci-fi books set in space! You decide on what you want, and then an expert Bibliologist reads your responses and carefully selects three personalized recommendations for you. Choose from two subscription levels: recommendations only, or hardcover books! With recommendations only, you'll receive three personalized book recommendations written as a letter emailed to you. With hardcover books, you'll receive three brand new hardcover books, handpicked for you and delivered by Print: A Bookstore in Portland, ME! You can then offer feedback to your Bibliologist, or change up what you want at any time!
And if you're still looking for great subscription services, check out our round up of best fantasy book subscription boxes!