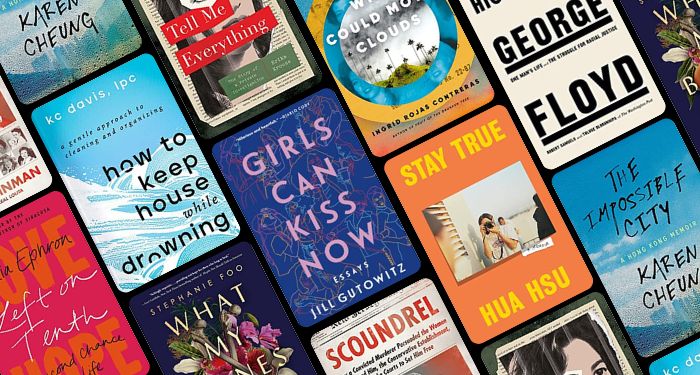 There has never been a better time to read nonfiction! We are experiencing a glut of nonfiction of every variety, from true crime to memoir to true crime memoir, from microhistories to macrohistories to biography, even self-help and other practical nonfiction. It's a great time for longtime nonfiction readers, but if you're traditionally a fiction reader or not much of a reader at all, there's no better time to dig into reading nonfiction. These are just 28 of the best nonfiction books of 2022! (Plus a few bonus titles at the end.)
Elena Ferrante, the pseudonymous author of the beloved Neapolitan Novels (beginning with My Brilliant Friend), writes in this book about "the pleasures of reading and writing."
Chuck Klosterman is a pop culture critic and expert, and the author of several essay collections and nonfiction books. In his latest, he tackles a generation-defining decade: the nineties.
You may know Ed Yong for his Pulitzer Prize–winning reporting in The Atlantic on the COVID-19 pandemic. In this book, the science journalist explores animals, including humans, and how our senses experience the world.
In this partly graphic nonfiction, the authors are joined by other Asian American writers to create a timeline of the history of Asian America, focusing particularly on their representation in pop culture, dividing time into "before" and then by decade from the 1990s to today, examining everything from Hollywood yellowface to Sandra Oh's famous Emmy acceptance speech in which she declared, "It's an honor just to be Asian."
In this memoir, New Yorker writer Hua Hsu writes about a friend with whom he had seemingly nothing in common other than being Asian Americans, their friendship in spite of that gap, his grief when his friend dies, and the way he channels it into art.
In her latest true crime offering, the author of The Real Lolita reveals how Edgar Smith, a convicted murderer, was able to convince William F. Buckley of National Review and all of America of his innocence.
In this biography, Washington Post reporters Robert Samuels and Toluse Olorunnipa reveal the man whose murder by a white police officer sparked Black Lives Matter protests all over the world.
Rogues by Patrick Radden Keefe
From the author of Empire of Pain comes this collection of twelve New Yorker essays about "grifters, killers, rebels, and crooks."
Nora Ephron's sister and writing partner writes in this memoir about her life's surprise second act: after losing her sister and her husband both to cancer, she reconnected with someone she'd dated decades earlier and didn't even remember — and they fell in love. Then she was diagnosed with cancer.
In this timely book, Meghan O'Rourke explores and reframes chronic and invisible illnesses such as Lyme disease and Long COVID, raising the call for a new and nuanced approach to disease and health.
Expanding on her New Yorker essay, author and mother Elizabeth Alexander looks at the experiences of a generation of young people, particularly Black boys, growing up in the shadow of Trayvon Martin's murder.
In this book, a white Southern woman traces her genealogy and reckons with her family history of mental illness and religious fanaticism, including an accused witch and participation in the slave trade.
Reporter Louisa Lim, who was raised in Hong Kong, combines the personal and the political in this deeply researched history of Hong Kong, putting Hong Kong's people and art at the center of the story.
Yes, two histories of Hong Kong! Karen Cheung's memoir of coming of age during the 1990s, when Hong Kong was returned to China by the British, combines the personal with reporting and cultural criticism for a well-rounded look at a pivotal moment in time.
In this new book Susan Cain, author of the introvert's bible Quiet, examines the relationship between sadness and joy, showing us "how sorrow and longing make us whole."
A magical realism memoir? Yes! The men of Ingrid Rojas Contreras's family have what is known as "the secrets," abilities that include talking to the dead. In her twenties, following a head injury, she is the first woman in the family to inherit those same gifts.
In this literal journey through Southern America, Imani Perry shows readers how the history of America is the history of the South, bringing attention to the stories of immigrants, enslaved people, and other Southerners of all sorts.
In this combination of memoir and true crime, Erika Krouse accepts a job as a private investigator working for a law firm. As she learns how to be a PI on the job, she is assigned to a sexual assault case that hits close to home, and works for five years to investigate a college football program's culture of sexual harassment and assault.
In this memoir, former iCarly star Jennette McCurdy relays her experiences with a mom who put her on a diet at age six and demanded nothing less than fame from her daughter, who suffers from anxiety, disordered eating, and addiction, culminating in a hard look at whether she even wants to be an actor, following her mother's death from cancer.
The beloved The Wire actor died in 2021 with a nearly unfinished memoir. In it, we learn about his childhood, his addiction, and his activism, particularly his work for at-risk youth.
After years of panic attacks, Stephanie Foo was diagnosed with complex PTSD from years of childhood abuse and abandonment by her parents. In this memoir, she explores the condition many are unaware of and the various treatments she underwent.
In this deeply researched book, journalist Caleb Gayle explores the Creek Nation, the first Indigenous Americans to both own slaves and accept Black people as full citizens. This is must-read history.
Combining cultural criticism, memoir, and history, essayist, editor, and podcaster Danyel Smith presents the story of Black women musical geniuses as the backbone of the music industry, going back to Phyllis Wheatley singing her poetry while enslaved.
In this essay collection, Jill Gutawitz examines the ways her life has intersected with pop culture, especially queer pop culture, and how lesbians in particular came into pop culture in her lifetime.
This is a sort of biography of coral reefs, a biodiverse microcosm of our world that are dying at unprecedented rates, combined with memoir of Dr. Berwald's part in the efforts to save the coral and her experiences as the parent of a child with mental illness.
In this excellent graphic biography, Grace Ellis and illustrator Hannah Templer explore the years leading up to the publication of Patricia Highsmith's novel The Price of Salt, paying tribute to Highsmith's complicated personality and not shying away from her flaws.
In conversations with brain and trauma expert Dr. Bruce Perry, cultural icon Oprah Winfrey tackles the complex answers to questions such as "Why did I behave like that?"
In the vein of Unfuck Your Habitat, KC Davis offers a compassionate guide to learning to give up the fear, shame, and anxiety you might have around keeping your home clean.
What a list! And I barely even scratched the surface of the amazing celebrity memoirs out this year! Check out Finding Me: a Memoir by Viola Davis, Comedy Comedy Comedy Drama by Bob Odenkirk, Mean Baby by Selma Blair, and Hello, Molly! by Molly Shannon — among many, many others!
Still need more great nonfiction? Check out the best nonfiction from 2021. Reading nonfiction with your book club? Check out these nonfiction book club questions. Want a nonfiction book subscription service? Check out these options! Or you might want to try TBR: Tailored Book Recommendations!
TBR is a personalized book recommendation service that sends you books you'll love to read. Here's how it works: Simply fill out the reader survey and let us know what you want more of and what you're not keen on. Then, an expert Bibliologist will read your responses and recommend three books just for you. There are two subscription options: receive your recommendation letter via email in about two weeks — perfect for library users! — or opt to receive your recommendations as brand new hardcovers in the mail in about three to four weeks. Learn more and sign up now!