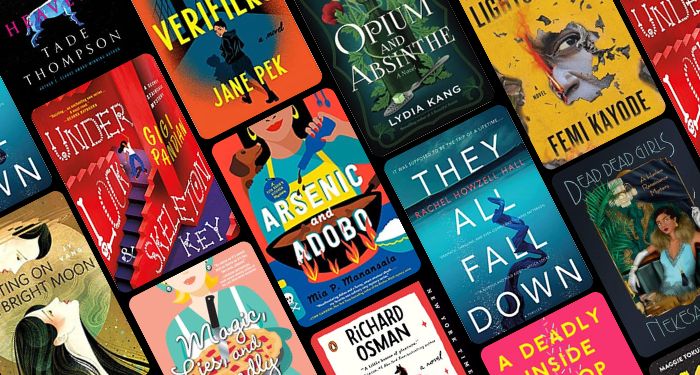 Who doesn't love a good murder mystery? Probably the victim (ba-dum-tish), but as readers a murder mystery has it all. Looking for an investigation into whodunit? These are 24 of the best murder mystery books, with investigators ranging from an ice cream shop proprietor to an escaped former victim, in settings ranging from a retirement home to outer space.
Reading with your book club? Check out these mystery book recommendations for book clubs, or the best feminist mystery novels.
From the author of The Accidental Alchemist. Tempest is at home in California recovering from an accident and trying to avoid working for her father's business, installing hidden staircases and secret doors into clients' homes. But when a body is found in a wall at a worksite, and it's Tempest's old stage double, she is drawn in.
Lady Katherine's ladies' newspaper column leads to the capture of a murderer, and when she runs to the countryside to get away from her newfound notoriety, she immediately witnesses a murderer and finds herself up against the chief investigator, Andrew.
Mimi and her talking cat Marshmallow have their pet grooming service to run, but when Mimi is the top suspect in the murder of a local breeder, she also has to become a detective.
Bronwyn is trying to return her family's ice cream shop to its former glory, despite delays that mean reopening in the dead of winter, but a dead body in a nearby snowdrift and the suspicion thrown on her father means she'll have to juggle business with crime solving.
Beginning with 2016's A Study in Scarlet Women, this series follows Charlotte Holmes, an outcast who takes on the guise of Sherlock Holmes to allow her access she can't get as a woman so she can solve a murder (or…several).
Miriam's best friend Alma gets her a job as a cook on a TV talk show, but when guests start dying and Alma is the prime suspect, Miriam has to find the killer.
Starting with 2017's Frangipani Tree, from the author of Aunty Lee's Delights, this series features Singaporean amateur sleuth Su Lin solving murder mysteries.
Lila moves home and tries to save her Tita Rosie's restaurant, but when a mean critic who happens to be her ex-boyfriend drops dead after eating there, she has to solve the mystery to clear herself of suspicion.
To be fair, the mystery in this first book in the Pies Before Guys Mysteries isn't a murder mystery, it's a blackmail mystery — but there is plenty of murder, as Daisy's pies deliver vengeance for wronged women.
A former transport ship that now brews mind-altering teas for travelers teams up with a scholar whose scientific study of a corpse has led to the discovery that the body was murdered.
On the starship Dormire, the crew each has six clones waiting to be awakened and the crewmember's conscience and memories uploaded in the event of their death. So it's a surprise when Maria wakes up in a new clone body with non memory of how she and the other crew died — and they have to solve their own murders.
When a colony ship docks at its destination, first mate Michelle learns that several of the travelers have been killed in deep sleep. Along with investigator Rasheed, a mystery unfolds into something larger than she could have imagined.
Claudia works for an agency that investigates dating app users to make sure they are who they say they are. When she is taken off a case and the client turns up dead by apparent suicide, she becomes suspicious and investigates on her own.
Xin's song magic makes it possible for her to keep a portal open between worlds, but when a dead body comes through she finds herself deep in a conspiracy.
Grant, a retired professor of mathematics, once calculated out the seven possible murder mystery plot lines. Ambitious editor Julia wants to republish his book, but first she has some questions about apparent clues left in the pages.
Amateur detective Philo Vance is first on the scene of a murdered stockbroker, and is intrigued by the absense of his toupee and teeth. The first in a series!
Miriam is invited to a remote island off the coast of Mexico, but when she and six other people arrive, they learn they've been brought there under false pretenses. As strange accidents occur, they have to decide who to trust.
Years ago, Louise was kidnapped and escaped. Now, someone is murdering Black girls and Louise may be the only person who can help solve the case.
Four friends in a retirement community have a weekly get-together where they attempt to solve cold case murders, but when someone is murdered on their doorstep, the game gets very real.
Nigerian psychologist Philip is asked by a powerful politician to visit a remote port town and look into the murders of three students, but there are powerful forces hindering the investigation.
Annalee, Black professor at the Chicago Bible College, is called home to KKK-run Denver to solve her father's murder. She joins forces with Eddie, a white boy searching for his father, and Jack, a Black pastor Annalee might be falling for.
Former conductors of the Underground Railroad Hetty and Benjy now use their magic to help them solve crimes the police ignore. When they find a friend murdered, their investigation uncovers secrets.
Palace nurse Hyeon just wants to remain unnoticed, but when there are four murders in a single night and her beloved teacher is the prime suspect, she feels compelled to investigate.
Shortly after Dracula is published, Tillie's sister is found dead with two puncture wounds in her neck and her body drained of blood. Is it a copycat, or a vampire? Tillie attempts to investigate, but the laudanum she takes for an injury makes it difficult to know what's real.
---
If you're looking for even more great murder mystery book recommendations, try TBR: Tailored Book Recommendations! TBR is a personalized book recommendation service that sends you books you'll love to read. Here's how it works: Simply fill out the reader survey and let us know what you want more of and what you're not keen on. Then, an expert Bibliologist will read your responses and recommend three books just for you. There are two subscription options: receive your recommendation letter via email in about two weeks — perfect for library users! — or opt to receive your recommendations as brand new hardcovers in the mail in about three to four weeks. Learn more and sign up now!