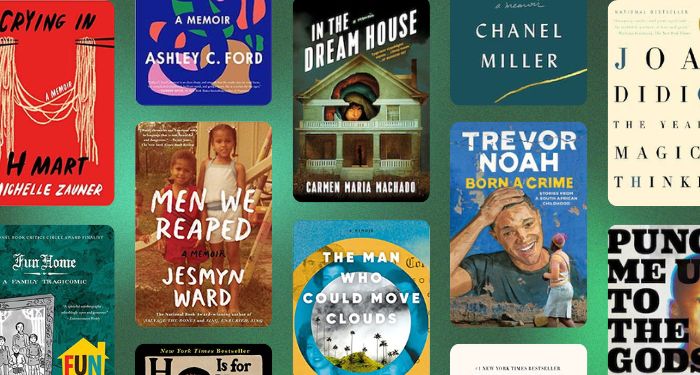 Memoir is a booming genre right now, with a near-embarrassment of riches in the world of personal nonfiction. People love to feel a personal connection with other people, especially celebrities — and these days, that means the best memoirs cover far more than just actors and musicians, even expanding to include writers of other genres, for example. We humans love a good story, and when those stories are true? It's a huge bonus.
While autobiography used to be in favor with books spanning most of a life or a career, these days we turn to memoir for a more focused look at a person. Memoirs of love, of grief, and of accomplishments are filling the shelves, and our reading lives are all the more rich for it. Some memoirs are written like novels, while others collect essays on a theme. Perhaps we are drawn to these books because it's a smaller commitment than reading about an entire life, but I suspect it's actually because it's more intimate. I know when I finish a particularly good memoir, I only want more of that person.
This list includes the best memoirs by authors who were already famous as well as books by folks readers had never heard of. All of them were published in the last 20 years, many in the last five. I've excluded a few of the really huge recent books — like Spare by Prince Harry, I'm Glad My Mom Died by Jennette McCurdy, and Becoming by Michelle Obama — and I'm sure I've missed some amazing books that have fallen out of memory already. These titles are presented in roughly chronological publication order. Read on for 25 of the best memoirs from the last 20 years!
Nafisi is a teacher who, for two years, risked the Islamic morality squads to host seven of her female students every week, reading forbidden classic novels. This is her group memoir of the ways that the stories they read intersected with the eight women's lives.
Essayist and journalist Didion writes about her daughter's illness and induced coma, her husband of 40 years dying suddenly, and how she lived through the worst year of her life.
Fun Home by Alison Bechdel (2006)
Cartoonist Alison Bechdel (perhaps you've heard of the Bechdel-Wallace test) writes about coming out as a lesbian when she was in college and learning that her father was also gay — and then losing him to suicide. This memoir was adapted as a Broadway musical!
Just Kids by Patti Smith (2010)
Musician Smith, still best known for her 1975 album Horses, writes about her relationship with photographer Robert Mapplethorpe during the 1960s and '70s, as she began her career in New York City.
In this moving tome, novelist Winterson writes about her "life's work to find happiness," examining her painful past as she searches for her biological mother.
I Am Malala by Malala Yousafzai (2012)
After the Taliban attempted to assassinate Yousafzai for daring to go to school, she wrote her story, telling the world about life in a country run by terrorists and the fight for education that her parents encouraged.
Wild by Cheryl Strayed (2012)
When she was 22, Strayed's mother died and her marriage ended. After four years of feeling lost, she decided to hike the Pacific Coast Trail alone. This is the story of how doing so helped her to heal.
Novelist Ward examines the reasons for the loss of five men she was close to in five years, looking at the way that poor, Black men are disposable in America.
Comedian and host of The Daily Show Noah writes about his childhood in apartheid South Africa, where his white father and Black mother's union was illegal and he was kept hidden.
As a child, Macdonald dreamed of becoming a falconer. After her father dies unexpectedly, she copes with her grief by buying a goshawk named Mabel and training her. Interspersed with her and Mabel's story is a biography of T.H. White, author of The Once and Future King.
As he completed his training as a neurosurgeon, Kalanithi was diagnosed with stage IV lung cancer. Faced with his own mortality, he spent the rest of his life working on this memoir of his own death.
Hunger by Roxane Gay (2017)
Novelist, essayist, New York Times columnist, and editor Gay writes about her relationship with her body, her history of trauma, and how difficult it is to recover and care for herself.
Editor and writer Chung tells the story of her international, cross-race adoption as a premature infant, growing up Korean American in a white town in Oregon, and how she uncovered her own identity.
Heavy by Kiese Laymon (2018)
Essayist Laymon examines a life of abuse, secrets, and his body in a country where, he posits, most people do not want to carry the weight of becoming free.
Short story author Machado uses literary devices and horror tropes to explore an abusive relationship she was previously in with a woman.
Known only as "Emily Doe" during the shocking trial of her rapist, Miller takes control of the narrative and tells her own story as a woman of color who is far more than her most public trauma.
Qian's family immigrated from China to New York City, where they worked in sweatshops as she struggled to learn English and fit in. When her mother falls ill, they have to navigate a country in which they are considered illegal.
Zauner, of experimental music group Japanese Breakfast, writes about growing up with a Korean mother and a white father, distancing herself from her Asian roots, and how she reconnected with them when her mother was dying of cancer.
Novelist Emezi tells their story in letters to loved ones, exploring spiritual beliefs and creativity, love and relationships, and more — and how all of those things intersect with the body, Blackness, and gender.
Structured around the poem "We Real Cool" by Gwendolyn Brooks, Broome's memoir of Black, gay boyhood in Ohio and young adulthood in New York and Pittsburgh vividly invites readers to grow up with him.
Growing up with an incarcerated father and a fraught relationship with her mother, Ford writes about her discoveries when, after being raped by an abusive boyfriend, she finally sought the reason her father had been imprisoned.
The pressure of the male-dominated tech world of Silicon Valley pushed Vasquez-Lavado to a breaking point, spiraling into alcoholism. So she began climbing, and eventually set her sights on Everest. And rather than go it alone, she made the ascent with a group of female survivors like herself.
Contreras's grandfather was one of many men in her family with "the secrets," an ability to speak with the dead. Her mother was the first woman to inherit the secrets, and Contreras began to understand the secrets after a head injury.
Samatar's parents are a Swiss Mennonite and a Somali Muslim, so when she learned that a group of German-speaking Mennonites traveled the Silk Road into Asia to await Christ's return in the 1800s, and established a Christian town whose church is the titular white mosque, she retraced their steps, exploring both history and her own cultural background.
Smith is a poet (you may be familiar with her poem "Good Bones" — the memoir is titled after the last line) and in this memoir she examines the role of women in the world, shining a light on the shortcomings of traditional gender roles through her own life experience.
Looking for more great memoir? Check out our picks for the best memoirs of 2021. And then, sign up for TBR: Tailored Book Recommendations! TBR is a personalized book recommendation service that sends you books you'll love to read. Here's how it works: Simply fill out the reader survey and let us know what you want more of–such as best books for your book club–and what you're not keen on. Then, an expert Bibliologist will read your responses and recommend three books just for you. Receive your recommendation letter via email in about two weeks, or opt to receive your recommendations as brand new hardcovers in the mail in about three to four weeks. Learn more and sign up now!