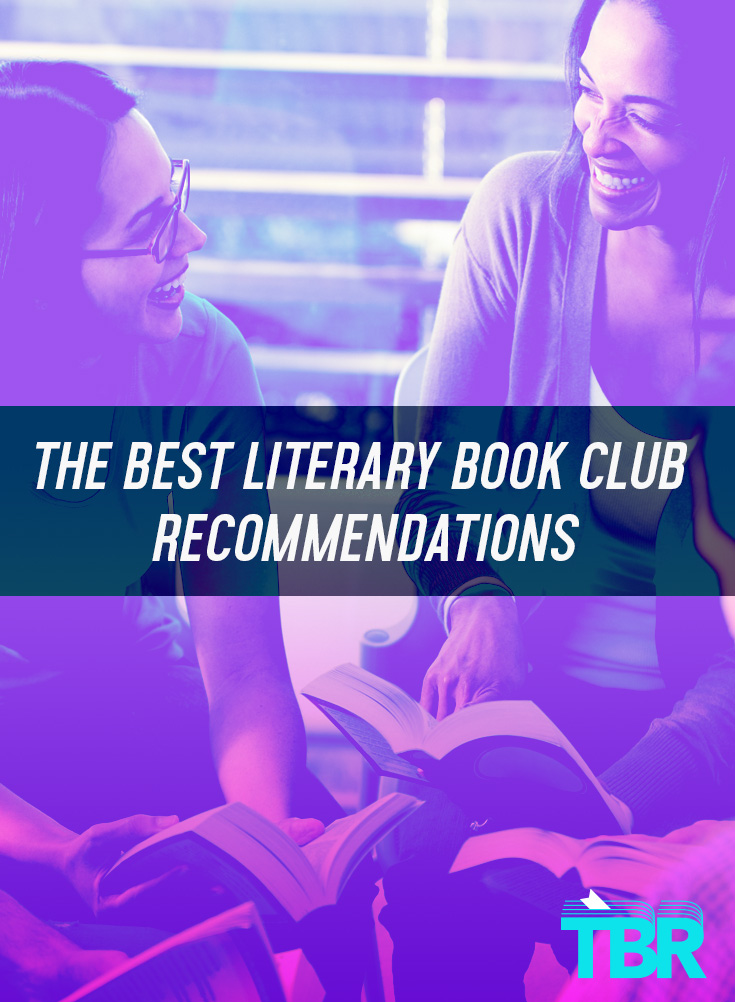 Finding a great book for your next book club meeting that satisfies a wide range of reading tastes can be difficult! If your book club enjoys literary fiction or wants to try their hands at more literary novels, then we've got you covered with these literary book club recommendations! The following 20 books are all excellent, discussion-worthy literary book club recommendations from 2020 and recent years.
Emira is a young Black college grad, trying to make a living by babysitting for the wealthy Chamberlain family. When a security guard accuses her of kidnapping her white charge, it forever alters how the child's mother, Alix, sees Emira. This is a smart, funny, satirical novel about race and class.
Amy adores and looks up to her older sister, Sylvie, which is why she's the only one that seems alarmed when Sylvie doesn't return home from a trip to visit family in Amsterdam. Ignoring everyone who tells her to calm down, Amy hops a plane to Europe, where she discovers family secrets that hint at Sylvie's disappearance.
Inland by Téa Obreht
In this novel set in the American West in 1893, Nora is a frontierswoman awaiting the return of her husband and sons while her youngest tells of a terrifying creature stalking their land. Lurie is an outlaw, able to see spirits and searching for reprove in the West. Their lives collide unexpectedly in this suspenseful novel.
An immigrant couple own and operate a "miracle" cure that attracts desperate people far and wide, but when their hyperbaric chamber explodes and kills two people, it results in a drawn-out court case that will reveal cracks in their small community.
When Elwood Curtis, a well-mannered young Black man with a promising future, makes one innocent mistake, he's sent to Nickel Academy, a school for delinquent boys. Once there, he is slow to realize the full extent of abuse and horror perpetuated there, and how it will affect him for the rest of his life.
Florida by Lauren Groff
In this brilliant collection of short stories, Groff explores the beauty and danger of the Floridian landscape and the complicated lives of people who live there. From parents doing the best they can to loners adrift, each story is a beautiful, sharp-edged masterpiece.
A family of four sets out on a road trip from New York to Arizona, and along the way the children can feel their parents' relationship fracturing with every mile, even as they get swept up in the crisis of children being detained at the border.
In this National Book Award winning novel, two teens fall in love at a performing arts high school in the suburbs. But their fledgling relationship is quickly noticed by everyone, including their drama teacher, and what follows next will have the reader questioning everything they thought they knew about the characters.
Connell and Marianne are from the same town, but they barely know each other outside of a bizarre encounter. Later, they're both studying at Trinity and even though they run in very different circles they keep running into each other, drawn together by an unexplainable bond.
Hiram is a man born into slavery, but he has a special power that is ignited when he nearly drowns in a river. Determined to find freedom, he leaves the only place he's ever known and begins moving north, but is soon drawn into a struggle between slaveholders and those who have escaped bondage.
As the Spanish Civil War erupts, Roser and Victor flee their homeland for France, where they find passage on a ship to Chile. Although they don't love each other, they marry out of convenience and survival, and must start over in a new land, hopeful that they may one day return home.
When a Moroccan immigrant named Driss Guerraoui is killed by a speeding car that drives off, his death brings together an unlikely cast of characters who all have their own trials, ideals, and stories about the night Driss is killed.
Kali Fajardo-Anstine centers Latinx and indigenous women in this short story collection, mainly set in Denver, CO. From women dealing with past mistakes, breaking family legacies, and chasing after their dreams, this is a complex and moving collection about female power.
Marie, a young Black woman, is working for the FBI in the late 1980's when she's recruited by the CIA to spy on the president of Burkina Faso. She agrees to the mission, but is surprised to find she actually likes her target and his politics. This is a fantastic literary thriller with graceful writing and plenty of suspense.
Jessa has been trying to keep her family together ever since her father's death by suicide, but with a failing taxidermy business and her mother coping by arranging the animals in lewd positions, she's got a lot on her plate. Haunted by an unrequited love, Jessa slowly comes to understand that only by letting go can she move forward.
Sittenfeld's first collection of short stories is a sly and clever look at contemporary life as issues of marriage, parenthood, money, careers, and love intersect. One woman becomes obsessed with a former flame who has found social media fame while another woman has a shocking encounter with her high school bully while on her honeymoon. These stories are relatable and will make you think twice about everyday situations.
Written as a letter to his mother, the narrator of this novel is in his late twenties and begins to explore his family history, which stretched back to Vietnam before his birth. This is a brilliant and moving novel about telling your story and the complications of family connections.
Patsy by Nicole Dennis-Benn
Patsy has long hoped for a visa to the U.S. so she can leave Jamaica and reconnect with her first love, Cicely, but when it finally comes she must leave her mother and daughter behind to make her own way in a country where her future is uncertain.
Set in New York City, National Book Award winner Woodson explores the lives of two very different families who are forever connected by an unplanned teenage pregnancy. This is a short yet powerful read, making it a great selection for book clubs.
In this winner of the Nobel Prize for Literature, Janina makes a living by looking after the summer homes of Poland's wealthy. When a series of mysterious deaths occurs in her sleepy village, she begins looking into them, even though no one would believe her if she found anything useful.
Looking for more great literary book club recommendations for 2020? Check out our list of 2020 releases that are perfect for book club discussions! And if you want more literary book club recommendations that are great for book groups, sign up for TBR: Tailored Book Recommendations!
TBR is a personalized book recommendation service that puts you in control of what you want to receive–kind of like Stitch Fix for books! Just fill out the reader survey and tell us what you want to read more–and what you want to steer clear of–and an expert Bibliologist will recommend three books just for you every quarter. To get your recommendations, choose between the recommendations-only level and the hardcover level. The recommendations only level will get you three personalized recommendations straight into your inbox, perfect for library power users and audiobook and ebook readers. The hardcover level will get you your recommendations as new hardcover books, sent to you from our partner, Print: A Bookstore in Portland, ME!
Learn more and get started now!