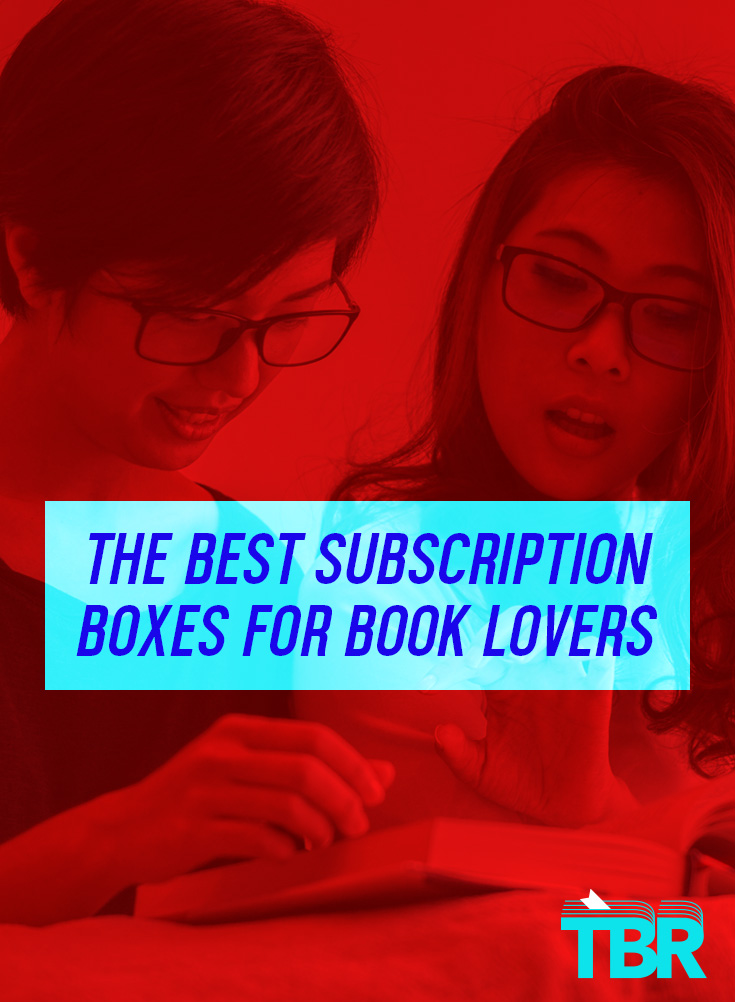 Are you ready to treat your self and your shelf to a book subscription service? With so many subscription boxes for book lovers out there, it can be hard to keep up with which subscription services are the best, or even just find the best book subscription for you! That's where we come in! We've come up with a list of the best book subscription boxes of 2019 with everything you need to know before you subscribe!
If you are all about the books and you want recommendations that are personalized to YOU and your reading, TBR is the service for you. With flexible pricing, it's even affordable for everyone! Here's how it works: You fill out a reader survey with your interests, favorite genres and books, and what you want to read more of. You can even include a link to your Goodreads page! Then, expert Bibliologists read your survey responses carefully and pick three books, just for you! You can choose to receive your recommendations via an emailed letter (recommendations-only subscription) or as three brand-new hardcover books, which come from Print: A Bookstore in Portland, ME. You'll be given the opportunity to provide feedback to your Bibliologist on your picks, and can change your survey responses at any time! The recommendation-only subscription costs $15 per quarter, and the hardcover subscription is $79 (plus shipping) per quarter.
This is the subscription box for the proud introvert and has everything you need to enjoy a cozy night in–a paperback general fiction book written by a female author, an exclusive bookmark, and 5-6 goodies to help you relax while you read! Pricing starts at $13.99, and they even offer one-time surprise boxes if you want to just try it out!
Literati Bookstore is an indie bookstore in Ann Arbor, MI offering exclusive, signed editions of hardcover books (Culturo) and paperback books (Insisto). They pick literary releases for their hardcover club, and indie press first edition paperbacks for their paperback club. All books are signed, and the pricing is exactly the cost of the book, plus shipping. As a bonus, if you're a Culturo subscriber, you'll get free one-of-a-kind art prints from Wolverine Press at random times throughout the year!
If you want a subscription book box that is so much more than just books and things, the Feminist Book Club is for you! You'll receive a book that will depend your understanding of intersectional feminism plus 2-4 products created by women-owned businesses. The magic of this box is that you'll also gain exclusive entry into a secret Facebook group where there are expert-led discussions and members can weigh in on the next month's book pick. Books + community + feminism = perfection. Boxes start at $45.
Geared toward female readers, Fresh Fiction Books offers an expansive subscription that combines both print and ebooks to deliver 5-7 books in each box. While Fresh Fiction is open to any genre, their focus is on romance novels of all type! While this box in not customizable (all boxes are packed at random), it is affordable with plans starting at $25.95 per month!
If you read for personal growth, CoachCrate will help you take your journey to the next level! Each box contains a self-help book along with an exclusive reading guide developed by CoachCrate and 3-6 items that fit with the theme of the book and are intended to help you either relax, grow, or challenge yourself. Each box will also give you exclusive online access to 2-4 recorded coaching videos, helping you go deeper into the book and your reading experience. The box also promises an extra coaching session, either in a live call, worksheets, or guided meditations! Pricing starts at $40 per month!
If you want a subscription service that will deliver brand new books, then Book of the Month is the way to go. Each month, their judges pick a small selection of new releases to choose from. They vary in genre, but they tend to be adult books in literary and general fiction categories, with an occasional genre book slipped in for good measure. For $14.99, you get a new book each month, and you can add a book to your shipment for an additional $9.99.
Unplugged wants to you put down the phone and get lost in a good book! Choose from YA or adult books, and receive one book (hardcover or paperback–you choose!), plus 4-6 self-care products and exclusive activities designed to help you unplug and be more present in your life! Plans start at $33 per month!
If you want a first edition signed book club subscription, plus goodies, then The Strand Bookstore's The Book Hook Up us for you! Prices vary by genre, which you can choose, but most start at $55 per month. The bookstore picks out a brand-new release, which is signed, and they pair it with a paperback and assorted goodies from either the Strand or their partner companies!
Perfect for the reader afflicted with wanderlust, The Wordy Traveler offers international fiction, free-trade goodies, a limited edition art print, and special products made by women from all over the world. This quarterly service has two box options: The Backpacker, which contains one book, and the Suitcase, which contains three books. Pricing starts at $38 per quarter.
Powell's Books in Portland, OR offers a fantastic subscription service for readers who want to read the best that independent presses have to offer! A new box is available every 6-8 weeks, and each one contains a new book from an indie press, an exclusive slipcase, a Q&A with the author, plus goodies. The goodies could be anything from another book (paperback or ARC), journals, pens, or tea or snacks!
Coffee and a Classic offers just that–a classic book, something to sip, and two bookish items and a bookmark. This service offers a Starter box with all of those items, and the Standard box comes with all of those items, plus a snack and an exclusive mug. You can choose from Classic Fiction, Classic Nonfiction, and Children's Classics. This is an excellent box if you want to work more classics into your reading life, plus they have tea and hot chocolate options if coffee isn't your jam! Pricing starts at $28 per month.
My Lit Box celebrates books by writers of color! It's a quarterly service that offers a brand new book, plus 2 bookish goodies. The ordering window is very limited–you can only order in February, May, August, and November–so we recommend signing up for their newsletter for a reminder when ordering opens up!
This fun monthly service is library-themed and celebrates contemporary Black authors! It contains four options–book only, complete box, fiction, and nonfiction! With the book-only subscription, you'll get the book and library packet containing a catalog card, spine label, and logo sticker. The complete box will get you that, plus 2-4 goodies! Pricing starts at $19 per month!
Designed for men, Culture Carton is a monthly service that includes a lifestyle book and a few luxury lifestyle items. Past items have included wallets, grooming kits, ties, and hats. The books are a range of newer paperbacks and classics. Monthly subscriptions start at $45 per month.
Perfect for the coffee-loving reader, this service offers a 12 oz bag of coffee (whole beans or grounds), plus two hardcovers in the genre of your choice! This service adds new coffee blends monthly, plus they send you an ebook for on-the-go reading! Starts at $31.99 per month.
This is a service with a unique tier of self-help options! The most basic plan gives you the book, plus customized guides and reading questions. The Deluxe box gives you all of that, plus 3-5 goodies and access to a "courage" community to help you along in your journey. The Group Coaching option gets you all of this, plus an hour-long coaching session. All of the books chosen are based in science, and actionable. Starts at $30 per month.
Are you a writer as well as a reader? This box is for you. Each box includes a new fiction book, plus writerly gifts, an invitation to chat with a publishing professional, and a craft lesson from a bestselling writer! This is the perfect box to satisfy your itch for good books while also keeping you motivated as you pen your own bestseller. Starts at $27.50 per month!
If you love the goodies that come in many subscription boxes, this is the service for you! Choose between Adult or Young Adult books, and then customize your experiences so you can get book and goodies, book and a t-shirt, or all three! Plus, this service has an add-on shop, ensuring that you get everything that you want! Boxes start at $18 per month.