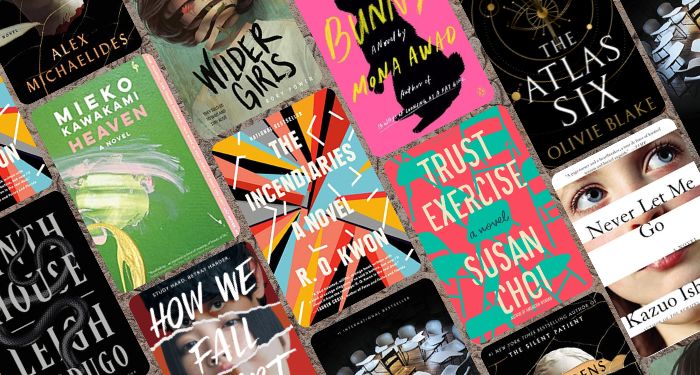 In the 19th century, books set at school — especially boarding school — were immensely popular. Many of them were sweet coming-of-age stories about girls making lifelong friendships, and often they included (as most "juvenile" books at the time did) some sort of lesson or moral. There were exceptions, of course, such as The Picture of Dorian Gray by Oscar Wilde, which is frequently cited as one of the first and best dark academia books (although it is not set in a school).
In the mid-20th century, books like The Prime Of Miss Jean Brodie by Muriel Spark, Good Times/Bad Times by James Kirkwood Jr., and The Catcher in the Rye by J.D. Salinger, all set at least partly at school, brought the genre to a darker place. Readers ate them up, and while the majority of titles were white and straight, Kirkwood was gay and his books had gay themes, and the 1970s saw the posthumous publication of E.M. Forester's overtly gay Maurice, in which two young men fall in love at school, but one chooses marriage and family, abandoning his boyfriend.
In this century, and really since the 1990s, there has been a slow build into an explosion of dark academia novels. The volume of books and modern sensibilities mean vast improvements in diversity, and there are many queer and BIPOC options within the sub-genre now.
Beginning in 2015, the aesthetic of gothic school buildings, candles, and shadows grew popular on Tumblr and then Instagram, moving onto TikTok in the 2020s. The moody vibes contrast with the wildly popular cozy aesthetic of cottagecore, but to my eye they complement each other.
Readers want books that explore dark academic themes and suggest the aesthetic, and authors have delivered! Here are 25 of the best dark academia books.
Dark Academia YA (and NA)
As El explores the Scholomance, a school where you either learn magic or you die, she must learn to control her own dark magic.
Admission to Catherine House is free, and graduates go on to great things, but students must stay on campus for three years with no contact with the outside world. After Ines's roommate dies mysteriously, she becomes curious about the secrets of the study of plasm.
Grieving her mother's death, Bree attends a summer program at UNC–Chapel Hill, where she is surprised to find out that monsters exist, and a magical group called the Legendborn, descended from King Arthur's knights of the round table, keeps them at bay.
Devon and Chiamaka are Head Boy and Head Girl at Niveus Private Academy, but other than that — and being among the only Black students — they don't have much in common. Until an anonymous texter calling themself Ace threatens to spill all of their secrets.
Felicity's girlfriend died last year at Dalloway School in the Catskills. Now Felicity is back at school, living in Godwin House, which is haunted by the Dalloway Five. New student Ellis asks Felicity to help her research the school's occult past, and Felicity can't resist.
Hetty's friend Byatt is missing. They've been quarantined at Raxter School for Girls since the Tox first hit a year and a half ago. The teachers died, and the students who venture beyond the boundaries turn into something else. But Hetty will do anything to find Byatt.
Nancy's friend Jamie is dead under mysterious circumstances, and someone calling themself The Proctor thinks she and her friends Krystal, Akil, and Alexander are responsible. They have to find the real killer, but Nancy doesn't know who she can trust — even her friends.
Ariane's death at Grimrose Académie is ruled a suicide, but Ella, Yuki, and Rory don't believe it. When new student Nani arrives, the four of them discover that Ariane wasn't the first girl to die — and they deaths might be connected to a fairytale curse.
Dark Academia Books for Adults
Richard looks back on his time at a Massachusetts liberal arts college and the group of Classics students he became obsessed with, desperate to fit in with them and their charismatic teacher. But after graduation, he's the only one who can't move forward.
Students at Hailsham boarding school are isolated from the world, and it's only after graduation that Kathy, Ruth, and Tommy are able to realize what their beloved school really is.
Will meets Phoebe at Edwards University and falls in love with her. She falls under the spell of a religious cult that bombs several buildings and kills five people, and she disappears. Will is determined to find her.
Confessions by Kanae Minato, Translated by Stephen Snyder
Yuko resigns her middle school teaching job, spending her final day telling her students the story of how they are responsible for the death of her four-year-old child.
English professor Scarlett kills one man every year: the worst man on campus. And she gets away with it. But that might change when student Carly goes looking for revenge on the man who raped her best friend Allison.
Artist Paul meets Julian in college in 1970s Pittsburgh, and quickly realizes that he's found his intellectual match. Julian is cruel and controlling, and Paul will do anything to protect their bond.
Vita Nostra by Marina and Sergey Dyachenko, Translated by Julia Meitov Hersey
A mysterious man convinced sixteen-year-old Sasha to swim naked to a buoy and back every morning before dawn, and as payment she vomits strange gold coins every time she returns to the beach. Her mother uses those coins to pay for her entry to a magical school where, if they step out of line, students' families are hurt as punishment.
Blue and her father have spent most of her life moving around, but she settles in for her senior year of high school at St. Galway School in North Carolina, determined to earn a place at Harvard. She is accepted into an elite group of students called the Bluebloods, led by teacher Hannah, and when Hannah dies, she is determined to find out why.
Hex by Rebecca Dinerstein Knight
PhD student Nell worships her mentor, Joan. As she studies poisonous plants, her notebooks where she logs her findings fill up with pages of her feelings for Joan.
Every year, six candidates are chosen to compete for five spots in the Alexandrean Society, caretakers of magical history and knowledge. Libby, Nico, Reina, Parisa, Callum, and Tristan are this year's six.
Bunny by Mona Awad
Samantha hates the other MFA fiction writing students at Warren University, especially the group that calls themselves the Bunnies. But when they invite her into their inner circle, she ditches her only friend to find out what it's like to be a Bunny.
Ann comes to New York to work at the Metropolitan Museum of Art and is sent to work at the Cloisters, a castle full of medieval art. She is not sure about curator Patrick's obsession with the history of tarot, but then she finds a fifteenth century deck that was believed lost.
In the 1980s, David and Sarah meet in Mr. Kingsley's acting class, and become obsessed with each other. Their life at school is guarded from the outside world, until it isn't, and suddenly it's unclear what is true and what isn't.
Ambrosia and Sully were best friends at school, and haven't spoken since. But someone is still upset about what they did ten years ago, and uses their ten year anniversary to pursue vengeance.
Heaven by Mieko Kawakami
Fourteen-year-old Eyes is tormented by his classmates for having a "lazy eye." He suffers in silence until Kojima, who is also being bullied, sends him a note. As their friendship develops, she looks forward to their tormentors realizing what they've done.
Mariana knows Greek Tragedy professor Edward Fosca is a murderer, but he's protected by a secret society of female students known only as The Maidens. Mariana's niece was a member of the group before she was killed, and Mariana is determined to catch Fosca.
After surviving a multi-homicide, Alex is given a full ride at Yale by a mystery benefactor under one condition: she has to keep an eye on the secret societies at school. The occult ones she didn't know existed.
Looking for more great reads? Check out our picks for the best dark books. And then, sign up for TBR: Tailored Book Recommendations! TBR is a personalized book recommendation service that sends you books you'll love to read. Here's how it works: Simply fill out the reader survey and let us know what you want more of and what you're not keen on. Then, an expert Bibliologist will read your responses and recommend three books just for you. Receive your recommendation letter via email in about two weeks, or opt to receive your recommendations as brand new hardcovers in the mail in about three to four weeks. Learn more and sign up now!