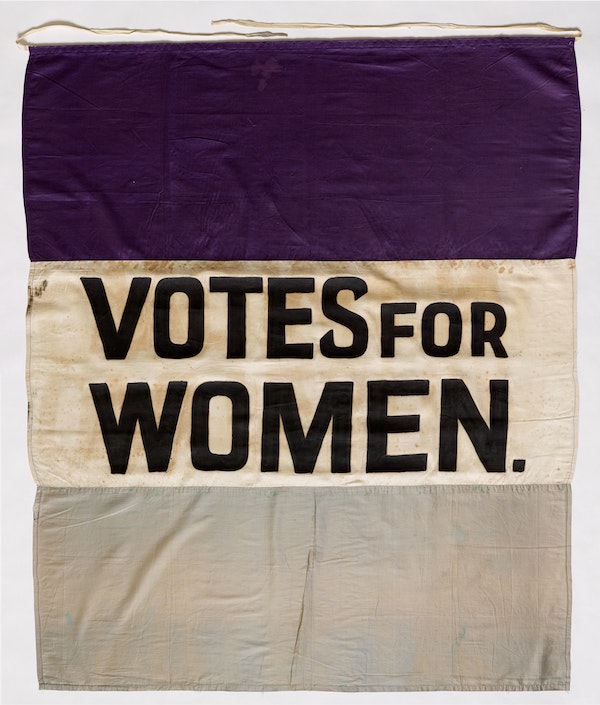 March is Women's History Month, and a great opportunity to pick up a book that illuminates the important contributions that women have made throughout history, from marching for the right to vote to their invaluable work in the sciences, and everything in between! Here are some of the best books about women's history, written by female historians and authors!
When we learn about women's suffrage, we tend to focus on Seneca Falls and the 1920 win for women's votes–but the initial suffragist movement often excluded Black women and other women from marginalized identities. In this book, Jones illuminates the lives and work of the Black women who fought for voting rights for all, before Seneca Falls and beyond 1920.
Batalion tells the little-known story of the Polish Jewish women who organized and became resistance fighters by bribing Nazis, paying off Gestapo, taking grave risks to sabotage, pass messages, smuggle arms, and fight back against their oppressors. Written by the granddaughter of a Polish Holocaust survivor, this book honors the lives and sacrifices these women made.
Set during the climax of the American suffragist movement, which occurred in Nashville, TN in the summer of 1920, this book highlights the difficulties suffragists faced as they arrived in the city to fight for their rights in the last state needed to ratify the nineteenth amendment, an the fierce opposition they encountered from men, politicians, lobbyists, and even other women.
Even though this book is ten years old (so "the present" feels slightly outdated, despite a new afterword), this is an excellent account of the local, regional, and national events that sparked the women's liberation movement in 1960, and covers a tumultuous fifty-year period that saw huge cultural change for women, from the introduction of the Pill to Roe v. Wade, all the way through important Title IX rulings and seeing women take their places in the board room and politics. This is a comprehensive look at multiple facets of female advancement.
Although not widely known, Alaska Native Tlingit Elizabeth Peratrovich is celebrated in Alaska for being a civil rights advocate who in 1945 delivered an impassioned speech before the Alaska Territorial Legislative Session that moved lawmakers to pass the Alaska Anti-Discrimination Act. Although Alaska would not yet become a state for 14 years, it was the first civil rights legislation in the country, and paved the way for more civil rights work in the latter half of the 20th century. This book explores Peratrovich's amazing life, work, and legacy.
Black women in New York and Philadelphia in the early 20th century had a much more profound impact on our culture and society than we realize, and in this book Hartman explores the intimate lives and legacies of Black women who stood up to demeaning wages, redefined values surrounding family and marriages, and built meaningful lives for themselves.
This is the incredible story of the human computers who helped American get to space. These computers, brilliant Black women who struggled to find jobs worthy of their skills and knowledge, were able to work for NASA when America ended the space race. This is their previously untold story about their vital contributions and accomplishments.
In this collection, Swaby highlights 52 incredible scientists whose contributions to the scientific community and the world were groundbreaking. Each profile highlights the woman, how they became scientists and their influences, their breakthroughs, and what they became best known for.
Martin Luther King, Jr., Malcolm X, and James Baldwin are some of the most influential thinkers and leaders of the 20th century, but how did they become the men that we remember today? Tubbs looks at the lives and influences of their mothers, all Black women who grew up at the beginning of the 20th century. She traces their commonalities and experiences to show how they raised their sons to go down in history.
In this graphic history, Pénélope Bagieu tells the stories of women both famous and overlooked by history, and how they rebelled and fought for their rights, changed the world, and paved the way for more rebel girls to stake their claims.
Throughout history, stories of female warriors who were fierce and sexually free have existed, but too many historians have been quick to write them off as myths. In this comprehensive history of female warriors in the ancient world, Mayor looks at the archeological evidence that proves women have always fought, and shows Amazons in a completely new light.
Why They Marched: Untold Stories of the Women Who Fought for the Right to Vote by Susan Ware
Ware profiles nineteen women in history to offer an intimate and personal account of why they became involved in politics and suffrage, despite the risk to their reputations and relationships. This book makes the political personal as it examines nineteen very different women, getting to the core of why they marched.
Farmer explores the role of women in the Black Power movement, moving beyond the basic assumption that sexism kept women from succeeding in the male-dominated space to show that Black women have always pushed for radical inclusivity in their own spheres and in social justice movements. This book draws upon countless sources to reveal how Black women have helped challenge and shape ideas surrounding feminism and social justice.
In this graphic nonfiction book, Hall and Martínez look at the history of women who led revolts against slavery in the Middle Passage and beyond. Hall, a granddaughter of enslaved people, is haunted by the legacy of slavery in her life and in our country, and so this is part history and part memoir as she reconstructs stories that were left out of history books.
Want to explore more history books? We've rounded up some of the best history book subscription services around. And if you want to read more of the best books about women's history, TBR: Tailored Book Recommendations! TBR is a personalized book recommendation service that sends you books you'll love to read.
Here's how it works: Simply fill out the reader survey and let us know what you want more of–such as nonfiction about women in history–and what you're not keen on. Then, an expert Biblioligist will read your responses and recommend three books just for you. Receive your recommendation letter via email in about two weeks, or opt to receive your recommendations as brand new hardcovers from our partner, Print: A Bookstore in Portland, ME in about three to four weeks. Learn more and sign up now!