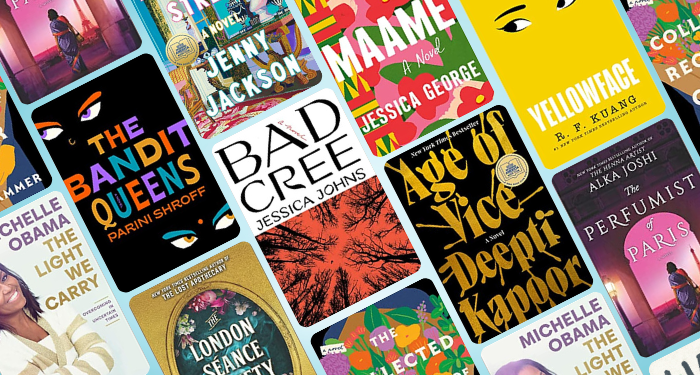 2022 was an amazing year for book club books, and 2023 is shaping up to be just as great, if not even better! If you're looking to scope out some of the best picks for your book club reads for 2023 (or maybe you want to start your own book club and are looking for books to excite and inspire), you need look no further than the best book club books 2023 has to offer (plus one from late 2022) that are sure to be hits with your book club members! These are the most anticipated book club books of the year, along with a few that might not be on your radar.
Looking for backlist titles? Check out the best book club books of 2022. Need a hand setting up a new book club? Check out our guide on how to run a book club! And now, here's 20 of the best book club books of 2023.
Everyone thinks Geeta killed her husband. She didn't — he disappeared — but there are perks to people thinking you're a black widow. Then the local women start asking Geeta for help getting rid of their husbands.
A rich man's car, driven by confused servant Ajay, jumps the curb and kills five people. In the aftermath, Ajay's life intersects with Sunny, the playboy heir, and Neda, a journalist.
Bad Cree by Jessica Johns
Mackenzie's dreams are blurring the line with reality, and they may be trying to tell her something about her sister Sabrina's death. She feels called home, but on her arrival the dreams only become more intense…and dangerous.
In the Canadian town of Dunmore, where enslaved Americans flee, a young woman named Lensinda works for a Black journalist. When an old woman fresh off the Underground Railroad kills a slave hunter and refuses to flee, Lensinda attempts to interview her, but the woman proposes an exchange of stories.
In the all-Black community of New Jessup, Alabama, newcomer Alice falls in love and tries to balance her support for Raymond's organizing with her longing to keep the town together and protected from both outside forces and turmoil within.
Maame by Jessica George
Maddy is tired of being the only Black woman at work and the only caregiver for her father, who has Parkinson's. She's ready to do something for herself, so when her mother returns from a trip to Ghana, Maddy starts saying yes to things like friendships and dating.
Ruby's chances of escaping poverty and being the first in her family to attend college are dashed by a love affair. Eleanor falls in love with William, and hopes that having his baby will convince his family to accept her.
Eniola is from a poor Nigerian family, working to keep his family together. Wuraola is a doctor from a wealthy Nigerian family, in love with a politician's son. When Eniola is targeted by a local politician, the families' paths cross.
The Stockton family on Pineapple Street in Brooklyn Heights comes from old money. This novel follows the three daughters — eldest Darley, who won't ask her husband to sign a prenup; daughter-in-law Sasha, who feels shut out from the family; and youngest daughter Georgiana, who falls in love with the wrong man.
From the author of Dear Edward. William's basketball scholarship is his ticket away from an unhappy home life, and when he meets Julia he is welcomed into her family by her parents and sisters. But then secrets from his past cause a rift in his new family.
From the author of The Lost Apothecary. Lenna comes to Paris to try to solve her sister's death. She apprentices herself to spiritualist Vaudeline, who is renowned for helping spirits find their murderers, and the two women travel to London to work with the all-male Séance Society.
In this trilogy concluding novel, Radha is living in Paris, working for a perfumer and raising her daughters. She travels to India in search of new fragrances when she learns that the son she gave up years ago, but never stopped grieving, is in Paris looking for her.
When bartender Malcolm buys The Half Moon, the bar he works at and loves, he has big plans to bring in new customers and more money — but the existing clientele doesn't like change. Meanwhile, Malcolm's lawyer wife Jess is struggling to accept that she may never be a mother, and trying to decide what comes next.
Native teen Perry teams up with her new friends from Team Misfit Toys — and her twin sister Pauline — to fight the legal loopholes that have allowed the local university museum to keep the remains of Warrior Girl and 12 other Indigenous warriors away from their ancestral people. But it might take a heist to set things right.
Clover is a death doula whose life revolves around the dying, leaving her little time for living. To fulfill a client's dying wish, she sets off across the country hoping to uncover a love story, and in the process she begins living.
Looking for more great book club inspiration? Check out our picks for the best book club books of 2022. And then, sign up for TBR: Tailored Book Recommendations! TBR is a personalized book recommendation service that sends you books you'll love to read. Here's how it works: Simply fill out the reader survey and let us know what you want more of–such as best books for your book club–and what you're not keen on. Then, an expert Bibliologist will read your responses and recommend three books just for you. Receive your recommendation letter via email in about two weeks, or opt to receive your recommendations as brand new hardcovers in the mail in about three to four weeks. Learn more and sign up now!