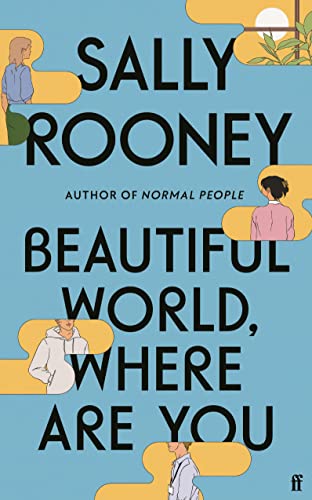 Sally Rooney has taken the literary world by storm with her novels Conversations with Friends and Normal People, both of which were big bestsellers and have been or are in the process of being adapted for the screen. Rooney has been hailed the voice of the millennial generation, and her newest pick has been a book club favorite. If your group is reading Beautiful World, Where Are You, then read on for a Beautiful World, Where Are You reading guide and book club questions!
Beautiful World, Where Are You Summary
In this literary novel, Alice and Eileen are best friends. Alice is a novelist in New York City who meets a man named Felix in a warehouse, and extends a surprising invitation to travel with her to Rome. Eileen is living in Dublin, smarting from a terrible break up. To distract herself, she begins flirting with Simon, a childhood friend. The four find their lives twisting together in ways that are both exhilarating and uncomfortable as they face the realities of their imperfect world, achieving their dreams, and reckoning with the unforeseen consequences of success, all while trying to find hope for the future.
Themes: Success and fame, personal issues vs. worldwide problems, friendship and intimacy, social class, romantic love
Beautiful World, Where Are You Book Club Questions
This is largely a book about relationships—between Alice and Eileen, Alice and Felix, Eileen and Simon, but there are many significant connections throughout the book. Discuss these relationships, how they're formed, and how they evolve over the course of the book.
Which of the four central characters did you identify with the most? Were there any you didn't care for?
What did you think of the structure of the novel? Much of the content is conveyed in letters—why do you think that Rooney chose to do this? What did you think about the decision to compare and contrast what characters are doing at certain times?
What did you think about the pacing of this book? Did the letters slow it down for you?
How do these characters differ from each other? Felix makes a point to tell Alice that they aren't like Simon and Eileen—why do you think he does this, and what do you think he means by it?
Discuss the notion of intimacy. The characters in this book have sex with each other, but that's not the only form of intimacy in the book. Which characters do you think are truly intimate with each other? Are they the same characters who are sleeping with each other?
A lot of the characters have feelings and opinions on religion, politics, and art—what did you think of those discussions? Who did you find yourself agreeing with the most? Who did you find yourself disagreeing with the most?
How do the characters of the book use their opinions and personal tastes to create their own personalities and identities? Is this something that is done in a healthy manner?
Did you find Alice and Eileen to be realistic or pessimistic about the state of the world? Do you share any of their thoughts or concerns? Do you find yourself focusing on immediate matters and experiences to avoid looking at the overall state of the world?
Some readers have implied that Alice is a thinly veiled version of the author. Do you agree or disagree with this opinion? Why do you think Rooney chose to write about a novelist and the themes she did in this book?
What did you think about Alice's reflections of fame and success? Did they make you reconsider any of your preconceived notions or perceptions of public figures?
Sally Rooney's pervious two novels were very Irish-centric while this novel looks farther afield for its settings. What do you think is the significance of that? Did you enjoy the novel's settings?
What were your thoughts on the ending of the book? Did you find it satisfying, or dissatisfying? Did you find it realistic?
Looking for more book club resources? Check out our guide to running a book club, and our recommended literary book club picks! And if you need more book suggestions, sign up for TBR: Tailored Book Recommendations! TBR is a personalized book recommendation service that sends you books you'll love to read. Here's how it works: Simply fill out the reader survey and let us know what you want more of—such as books for fans of Sally Rooney—and what you're not keen on. Then, an expert Bibliologist will read your responses and recommend three books just for you. Receive your recommendation letter via email in about two weeks, or opt to receive your recommendations as brand new hardcovers in the mail in about three to four weeks. Learn more and sign up now!