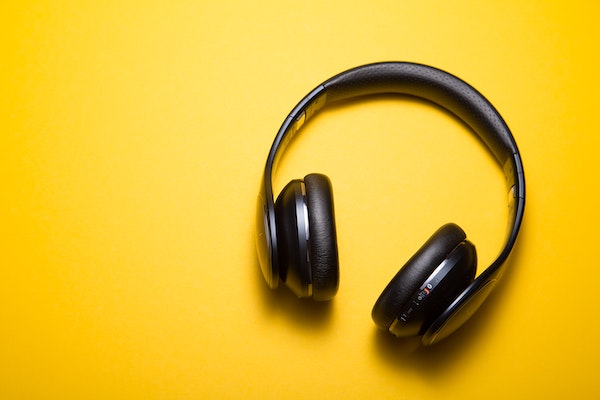 Here at TBR, we absolutely believe that audiobooks are real books! We also know that sourcing audiobooks can be a little bit tricky because there are so many different options out there! Audible has offered a subscription-based model for audiobooks for a long time now, but recently they've launched Audible Plus and Premium Plus, two different plans that offer different content for different kinds of readers. If you're wondering which service is right for your reading habits and budget, never fear! We're going to break it down Audible Plus vs. Premium Plus for you. 
What Is Audible Premium Plus?
If you're a long-time Audible subscriber, Audible Premium Plus is very similar to the previous basic subscription service. Each month, you receive a credit that may be redeemed for any title in the Audible catalog–a vast array of all audiobooks from major and independent publishers, as well as Audible-exclusive audiobooks that you can't get anywhere else.
Previously, Audible used to sweeten the subscription by offering members two free Audible Original downloads each month they kept an active subscription. However, with the new Premium Plus account, members receive free access to the entire Premium Plus catalog, a growing collection of free content, mostly Audible originals. The collection includes books, novellas, short stories, and podcasts, and new titles and content are added to the catalog each week. You'll find many (but not all) Audible exclusive audiobooks in this Premium Plus catalog, plus a robust romance selection (previously available in Audible's romance-exclusive subscription, which has since been retired). Audible Premium Plus members also receive a 30% discount on additional titles not in the free catalog, and access to members-only sales.
What is Audible Plus?
Audible Plus is a more basic version of Premium Plus, offered at a lower price point. In this subscription, members just get get access to the Premium Plus catalog, and they do not receive one credit per month to redeem on titles not available in Premium Plus catalog. They also do not get to access to discounted audiobooks or the members only sales.
What's in the Audible Plus Catalog?
The Audible Plus Catalog boasts thousands of audiobooks, podcasts, and Audible Originals at no additional charge. In this catalog you'll find popular books like The Queen's Gambit by Walter Tevis and Anne of Green Gables by L.M. Montgomery, performed by Rachel McAdams. You'll also find a wide array of podcasts in every genre, from spirituality and self help to true crime. Some of these podcasts are produced by Audible, but others, like NBC's Dateline, are made by other major content creators. You'll also have access to a huge collection of romance novels, including titles by Susan Mallery and Chanel Cleeton. Just keep in mind that the Audible Plus Catalog does change constantly. As things are added, some things may also cycle out of the Premium Plus Catalog.
Also keep in mind that Audible has really upped their Original content game in recent years, and they even produce series of short stories and novellas by prominent authors such as Rainbow Rowell, Roxane Gay, and Ruth Ware. These stories are only available through Amazon and Audible, and most are available for free via the Audible Plus Catalog.
Audible Plus vs. Premium Plus Price
Of course, the biggest difference between Audible Plus and Premium Plus is price. Because Audible Plus doesn't include a a credit that can be redeemed for any book on Audible, it's set at a much lower price point–$7.95 per month. If you're looking for the full Audible experience, the Premium Plus subscription is available in a few different ways. If you want one credit and you want to be charged monthly, it costs $14.95 per month. If you want two credits and you want to be billed monthly, it costs $22.95 per month. You can also opt in to be charged once annually, in which case Audible will give you access to a year's worth of credits at once–and a small savings. An annual subscription with 12 credits costs $149.50 per year, and an annual subscription with 24 credits costs $229.50 per year.
Is Audible Premium Plus Worth It?
If you are an avid audiobook reader who reads more than one audiobook per month, then the Audible Premium Plus subscription is definitely a great deal. You might not be interested in every single title offered in the Premium Plus catalog, but it is a robust catalog with many different offerings and lots of exclusive content. It's an especially great option for mega readers who enjoy podcasts as well.
If you have a really great library system and are merely looking to Audible to fill in the gap between library holds, or you want access to their exclusive content, the Audible Plus option might be a great cost-effective subscription for you. Just keep in mind that not all Audible exclusive content is included in that subscription–Trevor Noah's Born a Crime, for example, is an Audible Exclusive (i.e. not available digitally in libraries or any other retailers) but still requires a credit or cash purchase to access. Ultimately, there's something amazing to be found in both subscription tiers, so you'll never go without great books!
Want more Audible tips and tricks? Learn how to cancel your Audible subscription, and what happens to your credits if you do cancel.
And if you're looking for more great audiobook recommendations, sign up for TBR: Tailored Book Recommendations! TBR is a personalized book recommendation service that sends you books you'll love to read.
Here's how it works: Simply fill out the reader survey and let us know what you want more of–such as great books on audio–and what you're not keen on. Then, an expert Biblioligist will read your responses and recommend three books just for you. Receive your recommendation letter via email in about two weeks, or opt to receive your recommendations as brand new hardcovers from our partner, Print: A Bookstore in Portland, ME in about three to four weeks. Learn more and sign up now!