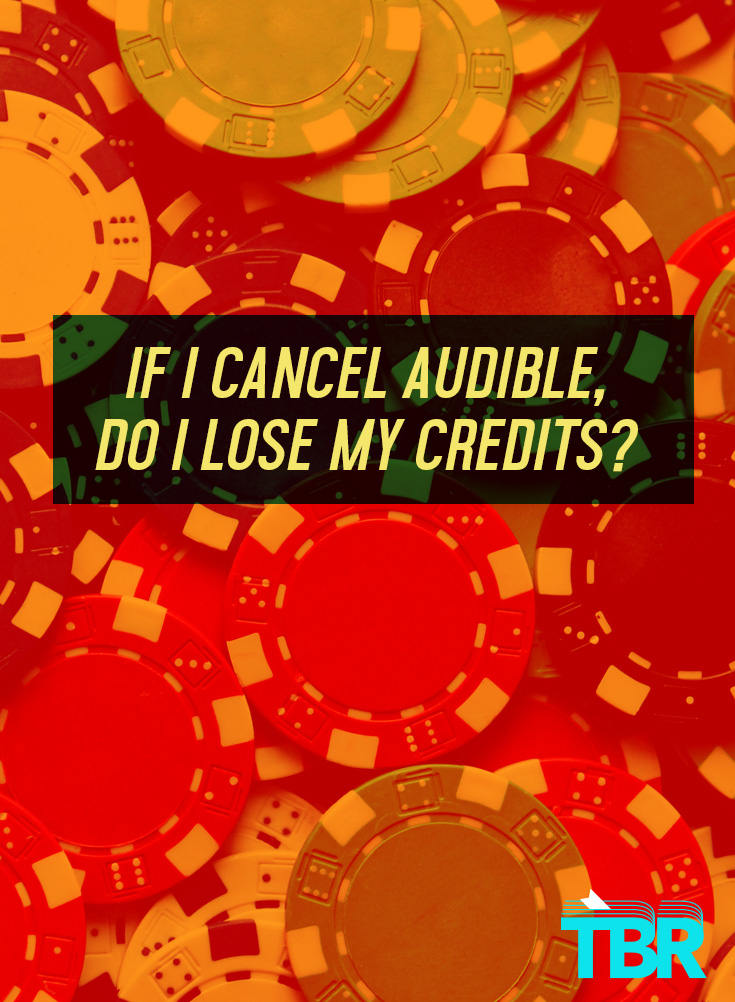 We know how easy it is to sign up for Audible, and then let your monthly credits pile up! Whatever your reason for deciding to cancel Audible, one big question looms: If I cancel Audible, do I lose my credits? The short answer is yes. However, don't despair! There are a few options for you, and we'll answer all your questions about canceling Audible and whether or not you have the option to gift Audible credits before you make the break.
If I Cancel Audible, Do I Lose My Credits?
We've covered the mechanics of how to cancel Audible before, but it's good to review, as there will be options to hold on to your credits and take a break. First off, there is no way to cancel Audible completely and retain your credits. However, if you don't want your hard-earned money to go to waste, you have three options:
First, you may spend your credits on audiobooks (keep in mind you can use credits on pre-orders), and rest easy knowing that you always have access to your full audiobook library even after you cancel your subscription.
Second, you may pause your Audible membership for thirty, sixty, or ninety days. This alleviates from pressure off of your wallet while giving you time to catch up on your listening!
Third, you may gift your Audible credits to someone else who will enjoy them–although there are limitations to that.
How to Pause Audible Membership
If you'd like to take a short break from your membership, you can pause it and decide later if you'd like to resume. This is the only way to get Audible to stop charging your account and keep your unused credits. Keep in mind that you will not be able to purchase titles from the periodic sales or the Audible Daily Deals, and you won't be able to download your two free Audible Originals during this time. You will, however, be able to use your outstanding credits whenever you like.
Pausing your Audible membership is not intuitive, as Audible doesn't like to see people leave, but here is how to pause your Audible Membership in four easy steps:
1. Navigate to your name at the top right of the Audible and hover your cursor over your name to bring up the drop down menu. Click on "Account Details."
2. In your account, the very first box you should see shows you membership details. Notice that you can switch your membership to adjust how frequently you receive credits. However, you won't be able to pause your membership there–click on "Cancel membership."
3. The next screen will prompt you to answer why you're canceling. Provide an answer, and click on "continue canceling." Don't worry, the next screen will allow you to pause your membership!
4. Now Audible will offer you two options! You can switch to every other month billing (so you are billed and receive one credit every other month rather than every month), or you can pause your membership for one, two, or three months. Choose whichever option works best for you!
How to Gift Audible Credits
Say you want a clean break from Audible, but you want to make sure your credits do some good first–you paid for them, after all! Audible doesn't let you simply offload your credits to someone else. Instead, you must purchase a specific audiobook and then you may gift that audiobook to anyone, whether or not they have an Audible account already!
1. From the home page, click on Gifts, at the top in the menu bar.
2. Once you come to the Gifts page, at the top are options to give someone credits or a subscription. Ignore this–these options will charge your account, and cannot be paid for in credits. Scroll down to "Give a specific Audible book." From here, you can either click on the most wished-for and most gifted, or you can search the site for individual audiobooks. Keep in mind that not every Audible audiobook is giftable.
3. When you find the book you want to gift, look for the little "Give as a gift" icon below the the purchase options. If you do not see that link, then the book is not gift-able and you'll have to pick a different title.
4. All you need to gift an audiobook is your recipient's email address! Fill out the pertinent information and write a gift message! Note: Audible allows you pick the delivery date of the audiobook, which is great for scheduling holiday or birthday gifts! The recipient will receive an email notification of their gift on that date. If you don't set a date, they will receive an email informing them of their gift right away. When you're ready to check out, click Continue.
5. This page will summarize your order and allow you to review your recipient's information to make sure everything is correct. It will also allow you to choose between charging the gift to your payment information, or redeeming your credit! If you have credits available, you will be able to use your credit!
And that's it! Use up all your credits, and then proceed to the instructions on how to cancel your Audible membership!
Find Your Next Book
If you're done with algorithms and want personalized book recommendations in any format, check out TBR: Tailored Book Recommendations!
TBR is a quarterly service that puts you in control of your book recommendations and offers you three personalized recommendations-only via an emailed letter, or three brand-new hardcover books! Start by taking the reader survey, which will ask you an array of questions about what you like, what you don't like, what you want more of, and what your reading dealbreakers are. Then, your responses will be read by a real power reader, called a Bibliologist, who will recommend three books for you based on your responses! You can even include a link to your Goodreads page to avoid recommendations of books you've already read or want to read!
The recommendations-only level starts at just $15 per quarter, and it's perfect for audiobook listeners and library power users!