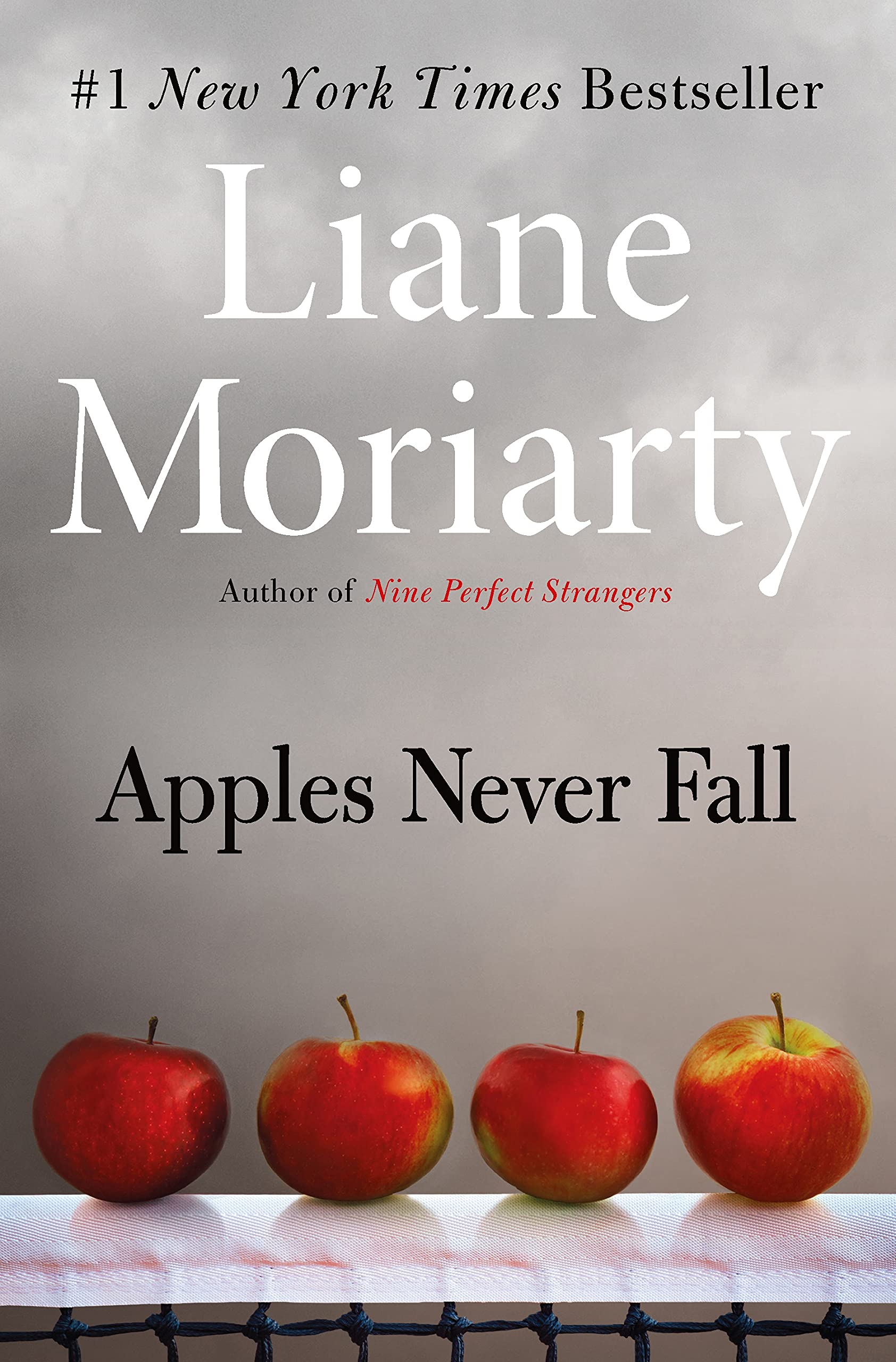 Liane Moriarty is known for her character-driven novels that propose a tantalizing "what if?" to readers. Her books Big Little Lies and Nine Perfect Strangers are book club favorites that have gone on to become hit TV shows, and her latest novel is likely to be just as popular with readers as it expertly interrogates what it means to be successful and how different members of the same family can have vastly different understandings of their history. If your book club has chosen Moriarty's latest novel, read on for an Apples Never Fall book club questions, reading guide, and more!
Apples Never Fall Book Summary
Stan and Joy Delaney have been married for fifty years, and they've just recently sold their very successful tennis training business and are settling into retirement. Their four children may not have followed in their footsteps to become tennis pros, but they each have their own jobs, dramas, and successes. Everything seems, on the surface, to be quite normal, until one day Joy disappears without a trace, leaving behind her phone. And Amy, Logan, Troy, and Brooke Delaney are the first to admit that this situation doesn't look good for their dad. They might even believe that he could have something to do with her disappearance. But first they have questions: Where could Joy have gone? And were there parents really happy? And could this have anything to do with a mysterious young woman who briefly lived with their parents last year before disappearing from their lives? In this multi-POV, twisting domestic mystery, every member of the Delaney family will have to interrogate their own perceptions of their past and their relationships in order to get at the truth of what really happened to Joy.
Apples Never Fall Book Club Questions
What were your first impressions of the Delaney children? How did those impressions shift over the course of the book?
Which character did you enjoy the most or relate to the most?
What did you think of Stan and Joy's relationship? Clearly there are some resentments, but they also seem to have been truly happy. Would you classify their relationship as healthy? How did your impression of their marriage shift throughout the book?
What do you think of Savannah? Would you have been as hospitable to her as Joy was? Would you have been as suspicious as her children were?
Did you believe that Stan was guilty of Joy's disappearance? Did your opinion change at all as you learned more?
Which of the four Delaney children do you think is most successful? How do you think their parents defined success for their children?
Let's talk about tennis. Why do you think it mattered to Joy and Stan that their kids were successful at their chosen sport? How did tennis both bring joy and heartbreak to the Delaneys' lives?
According to Stan, there are very specific reasons why none of his children had what it took to go pro in tennis. Were these reasons realistic or valid? Do you think that Stan holds onto that disappointment? How do his children react to his evaluations?
Everyone in this book has secrets, some bigger than others. Did any of these secrets particularly shock or surprise you? What did you think of Joy's biggest secret?
Why do you think that Joy was so drawn to Savannah and helping her? Was it simply pity, or do you think there was a more genuine connection there?
What did you think when you learned Savannah's true identity? How did your perception of the other kids' memories and past events shift?
Discuss the ending of the book, and where each character was left. Did you think it was a realistic ending? What did you think about where the story left Savannah? What do you think really happened to Savannah's mother?
This book was billed as a mystery, but it ended up being more of an exploration of family relationships, disagreements and grievances, miscommunications, and resentments. Were you disappointed that the book didn't follow a more traditional structure?
For your gathering: Consider baking brownies (that oh-so-contentious dessert!) and pairing them with any of Savannah's savory meals from the book!
Looking for more great book club recommendations? Check out our guide to running a book club, and some of our favorite literary book club recommendations.
And of you need more recommendations and ideas, sign up for TBR: Tailored Book Recommendations! TBR is a personalized book recommendation service that sends you books you'll love to read. Here's how it works: Simply fill out the reader survey and let us know what you want more of—such as great new book club picks—and what you're not keen on. Then, an expert Bibliologist will read your responses and recommend three books just for you. Receive your recommendation letter via email in about two weeks, or opt to receive your recommendations as brand new hardcovers in the mail in about three to four weeks. Learn more and sign up now!