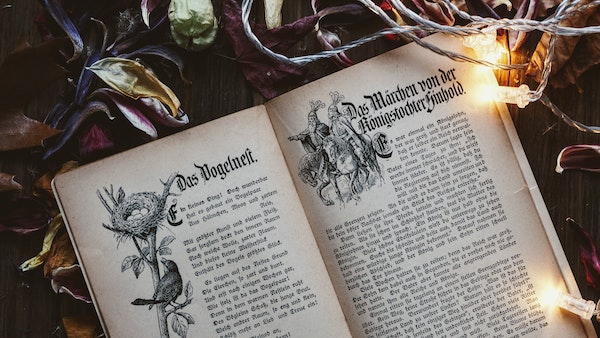 Just because you're a grown up doesn't mean that you can't enjoy fairy tales–after all, some of those stories weren't exactly told with young audiences in mind. We've rounded up a list of fifteen adult fairy tales, dark fairy tales, and fairy tale retellings that are perfect for losing yourself in. Here we go!
If you like fairy tales with humor and a bit of space exploration, pick up this hilarious book that plays with fairy tale conventions. Rory Thorne thought she was going to inherit her father's throne, and his interplanetary consortium, but then he was assassinated and her baby brother was born, and now she's been sent to marry a far-off prince. When she arrives, she learns that an evil regent is bent on taking all of her future husband's power, and she has to go rescue the prince before it's too late.
White As Milk, Red as Blood: The Forgotten Fairy Tales of Franz Xaver von Schönwerth by Franz Xaver von Schönwerth, Willow Dawson, and Shelley Tanaka
Franz Xaver von Schönwerth was, like the Brothers Grimm, a man keenly interested in folk tales and fairy tales of Bavaria and traveled throughout the region in the 1850's to collect stories, faithfully recording them without editorializing. His manuscripts were rediscovered in a German archive, and have now been translated to English for the first time, revealing darker tales and interesting twists on gender, magic, and violence. This illustrated edition is definitely not for kids–but adults will find it deliciously dark.
In this dark and magical collection of short stories, Machado spins original tales about romance, lust, longing, and the lengths people go to possess one another. From a wife who wears a ribbon around her neck to a boutique full of beautiful dresses in a world where girls are fading into nothingness, this strange collection is full of original fairy tales for a new generation.
This is a retelling of Snow White, set in the mid 20th century New England and told from the point of view of Boy, who marries a widower with a beautiful daughter named Snow, and finds herself thrown off kilter when the birth of her own daughter reveals that her husband's family has been passing as white. Boy banishes Snow, but as Snow grows older, her curiosity about her stepmother leads to their reunion.
Vasilisa grew up listening to the old stories and following the old traditions. She's the youngest child, the only girl, and she has a special touch with the nature and creatures that around her home in the deep Russian north. But when a new stepmother from Moscow arrives, she declares that Vasilisa's practices are paganism and forbids her from continuing, putting the entire village's lives at peril as a new darkness closes in.
In the valley, Agnieszka knows happiness and a simple life. But at the edge of the valley is a woods brimming with darkness, and the only thing holding it back is a wizard known as the Dragon. In return for his help, he demands that the villagers send him one young woman once every ten years. Agnieszka is worried her best friend will be chosen–but that's not who the Dragon picks.
The Starlit World edited by Navah Wolfe and Dominic Parisien
In this anthology, some of the best sci-fi and fantasy writers have retold numerous fairy tales, giving them a modern twist. These retold stories range from western, sci-fi, and even dystopian genres, and are penned by Charlie Jane Anders, Aliette de Bodard, Amal El-mohtar, Jeffrey Ford, Max Gladstone, Theodora Goss, Daryl Gregory, Kat Howard, Stephen Graham Jones, Margo Lanagan, Marjorie Liu, Seanan McGuire, Garth Nix, Naomi Novik, Sofia Samatar, Karin Tidbeck, Catherynne M. Valente, and Genevieve Valentine.
In this historical tale inspired by folk tales and legends, Ji Lin is working as a dance hall girl when one of her customers slips something strange and gruesome in her pocket. Ren is a houseboy looking to fulfill his master's dying wish: that his body be reunited with his finger, severed years earlier. As Red and Ji Lin's paths cross, a tiger lurks in the night.
When Rhea, a peasant, is proposed to by Lord Craven, she can't say no. But she knows there's something off about him, which is confirmed when she is whisked away to his remote manor, and she learns that he's been married six times already. She refuses to become his seventh bride, but first Lord Craven gives her a series of impossible tests to solve before dawn–or she shall lose her freedom forever.
Written by one of Russia's most prominent authors, this collection of scary and short fairy tales is in the tradition of Gogol and Edgar Allan Poe. They feature bleak and humorous stories of Russian people living under the Soviet government, with unexpected twists of magic and violence. This book is not for the faint of heart!
Apollo Kagwa's father disappeared when he was a young child, leaving behind unanswered questions and a mysterious box of books. When Apollo becomes a father himself, he and his wife Emma struggle with the sleepless nights and hardships of caring for a newborn, but then Emma begins acting very odd before she vanishes altogether with their son, leading Apollo on an epic quest to find his family.
Set in Alaska in 1920, this book is about Jack and Mabel, a homesteading couple who are desperately lonely and wish for a child of their own, and one day build a little girl out of snow. The next day, their snow child is gone, replaced by a real child who exists in the winter woods on her own. Jack and Mabel come to love her life a daughter, but they soon uncover her secrets.
Set during Carnival on a Carribean-settled planet, the Robber Queen is a legend that Tan-Tan adores. But when her father commits a horrific crime, she finds herself in a foreign and terrifying landscape, and she must become her own hero in order to save herself.
The Merry Spinster by Daniel M. Ortberg (previously published as Mallory Ortberg)
This collection of short stories reimagines children's tales and fairy tales as new stories for modern adults, feminist, mischievous and wrought with psychological horror. The tales are adapted from Ortberg's popular column on The Toast, "Children's Stories made Horrific."
Casiopea lives with her horrid family in 1920's Mexico, cleaning and enduring abuse until one day she opens a mysterious box and accidentally unleashes the Mayan god of death. He immediately enlists Casiopea's help in reclaiming his throne, and she has no choice to follow on a wild adventure that will take her far from home.
Find more adult fairy tales
Looking for more great adult fairy tales and fantasy books? Check out the best fantasy book subscription services! Or, simply sign up for TBR: Tailored Book Recommendations! TBR is a personalized book recommendation service that send you books you'll love to read.
Here's how it works: Simply fill out the reader survey and let us know what you want more of–such as fairy tales for adults–and what you're not keen on. Then, an expert Biblioligist will read your responses and recommend three books just for you. Receive your recommendation letter via email in about two weeks, or opt to receive your recommendations as brand new hardcovers from our partner, Print: A Bookstore in Portland, ME in about three to four weeks.