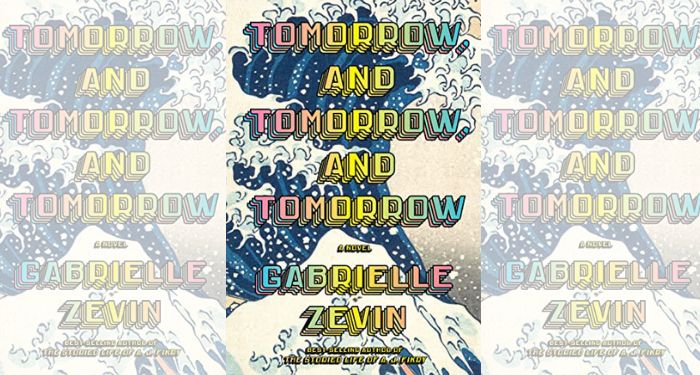 Runaway hit novel Tomorrow and Tomorrow and Tomorrow by Gabrielle Zevin, author of The Storied Life of A.J. Fikry, is a popular book club choice. You've likely already heard of this New York Times and IndieBound bestseller, which also made their list of notable 2022 books and was named a best book of the year by Time, Glamour, Amazon, and Goodreads — among other accolades — but if you haven't, you're in for a great read. It's the perfect choice for book club discussion, and we're here to help! Read on for our Tomorrow and Tomorrow and Tomorrow book club questions, themes, and ideas for your next meeting!
Tomorrow and Tomorrow and Tomorrow Summary
A bildungsroman (coming-of-age story), Tomorrow and Tomorrow and Tomorrow follows Sadie and Sam and their friend Marx as the three start trying to make video games together. Sam and Sadie first meet as children, when he is recovering from a car accident that killed his mother and she is visiting her sister, who has leukemia. Even then, they bond over video games, but Sam stops speaking to Sadie over a selfish act of hers. They reconnect in college, where Sam and Marx are roommates at Harvard (Sadie attends nearby MIT), and that's when they begin working on their own game. After finding success before age 25, the book follows them over the next 30 years as their lives continue to intersect.
Tomorrow and Tomorrow and Tomorrow Themes
This book covers video games, poetry, collaboration, fairness, Shakespeare, friendship, loss of loved ones, Jewish experience, Korean American experience, games vs. reality, love, and so much.
Tomorrow and Tomorrow and Tomorrow Book Club Ideas
Before you get into the specifics of the book, try an icebreaker question to get everyone talking! For this book, you might ask: if you could make a video game about anything, what would you choose?
Tomorrow and Tomorrow and Tomorrow Book Club Questions
1. The title is taken from Macbeth's soliloquy after Lady Macbeth dies. Here's the text of that speech:
She should have died hereafter;
There would have been a time for such a word.
Tomorrow, and tomorrow, and tomorrow,
Creeps in this petty pace from day to day
To the last syllable of recorded time,
And all our yesterdays have lighted fools
The way to dusty death. Out, out, brief candle!
Life's but a walking shadow, a poor player
That struts and frets his hour upon the stage
And then is heard no more. It is a tale
Told by an idiot, full of sound and fury,
Signifying nothing.
He is talking about the meaninglessness of life; do you think Zevin's book supports that bleak outlook, or counters it?
2. Sam and Sadie are both from Los Angeles — him from Koreatown and her from Beverly Hills — but their friendship is rekindled in Boston. Do you think these locations are particularly meaningful to the story? How so?
3. Sam and Sadie's friendship has ups and downs from the beginning. Do you think Sadie falling in love with Marx is a bigger trial to their friendship than the other things they go through, or just one in a lifetime of many?
4. Sadie faces a tremendous amount of misogyny in the male-dominated video game industry. Have you seen similar obstacles for women — or any other group — in your own line of work?
5. Sadie and Sam are both Jewish, and Sam is half Korean; Marx is also Korean. How do those backgrounds influence the characters' behaviors and experiences?
6. The book tackles big themes and touches on many things that could be seen as negative or depressing, including climate change, racism, misogyny, and poverty. Do you think these elements bring the reader down, or is the book ultimately hopeful and optimistic?
7. Marx says, "No loss is permanent, because nothing is permanent, ever." What do you think of this? Does it with you and relate to losses you've experienced?
8. Video games are as important as the relationships in Tomorrow and Tomorrow and Tomorrow. If you play video games, what is your favorite game or type of game? If you don't play video games, what are some other types of games — such as boardgames or tabletop roleplaying games — that you enjoy?
Looking for more great book club content or recommendations? Check out our lists of the best book club apps and these delightful cozy books! Need help getting started with your book club? Check out Tirzah's guide to running your own book club!
If you're looking for even more great book club recommendations, try TBR: Tailored Book Recommendations! TBR is a personalized book recommendation service that sends you books you'll love to read. Here's how it works: Simply fill out the reader survey and let us know what you want more of and what you're not keen on. Then, an expert Bibliologist will read your responses and recommend three books just for you. There are two subscription options: receive your recommendation letter via email in about two weeks — perfect for library users! — or opt to receive your recommendations as brand new hardcovers in the mail in about three to four weeks. Learn more and sign up now!