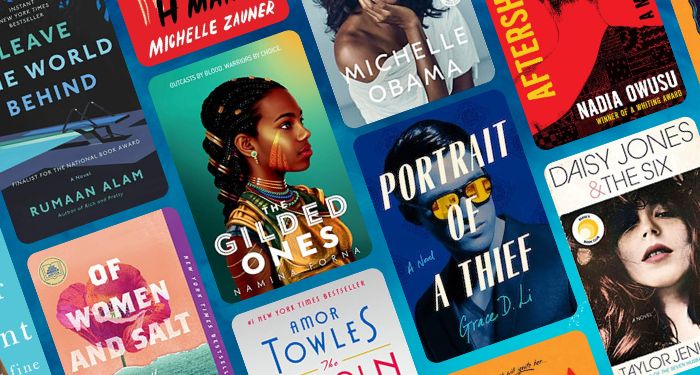 Celebrities—they read books, just like us! There's something really fun and magical about getting together with a group of people and reading the same book, and if you enjoy that book club magic but can't make a local meeting or want to expand your reach to include readers beyond your immediate community, turn to a celebrity book club! The nice thing about celebrity book clubs is that they are oftentimes more accessible than in-person clubs, they offer exclusive content, interviews with authors, and you can participate around your schedule. Here's a list of 8 of the best ongoing celebrity book clubs that you can join right now!
Oprah's Book Club
Often considered the OG celebrity book club, Oprah's Book Club originally started as a segment on her popular and now retired talk show in 1996. Her first pick was Jacquelyn Mitchard's The Deep End of the Ocean, and she's since helped elevate the profile of nearly 100 books throughout the years,. Authors report that the Oprah boost is career-changing, and her seal of approval is known to help move tens of thousands of copies. These days, readers can participate in her book club online. Some of her most notable (and sometimes scandalous!) picks have been She's Come Undone by Wally Lamb, Becoming by Michelle Obama, and A Million Little Pieces by James Frey.
Reese's Book Club
Actress Reese Witherspoon launched her book club in 2016 as part of her mission to help promote women's stories in Hollywood and beyond. Her first pick was Eleanor Oliphant is Completely Fine by Gail Honeyman, and since then she's picked a variety of monthly picks from different cultures and genres, and has even expanded to include a quarterly YA pick. Readers con participate online and in her exclusive app. Some of her most popular picks include Daisy Jones and the Six by Taylor Jenkins Reid, Little Fires Everywhere by Celeste Ng, and Furia by Yamile Saied Méndez.
Read With Jenna
Jenna Bush Hager, former First Daughter and co-host of Today with Hoda and Jenna has a popular book club called Read With Jenna, which launched in 2019. The monthly book club is a segment of the Today show, and her picks appeal to viewers and readers across the country. Some of her popular picks include Evvie Drake Starts Over by Linda Holmes, Leave the World Behind by Rumaan Alam, and The Lincoln Highway by Amor Towles. Readers can tune in to her segment and follow along online.
Stranger Reads with Kelly Clarkson
Kelly Clarkson has just launched a brand-new book club called Stranger Reads, inspired by seeing a stranger reading an Agatha Christie novel and picking up the book for herself. Unlike the traditional celeb book club structure, all readers need to do is pick up a book that gets them outside of their comfort zone, and share it on social media with the hashtag #StrangerReads.
Celebrity Book Clubs on Literati
Literati Book Clubs is a service that offers subscriptions to various celebrity book clubs. You sign up for each individual celeb book club, and you'll get monthly book deliveries. Paid access to at least one book club gets you access to exclusive content across all book clubs via their app.
Stephen Curry's Book Club
Professional basketball player Stephen Curry has his own book club with picks that tend to be pretty eclectic, ranging from inspirational sports stories, YA fantasy like The Gilded Ones by Namina Forna, and Grace Li's thriller Portrait of a Thief. His picks tend to have a social justice slant, and he aims to highlight marginalized voices.
Megan Rapinoe's Book Club
Soccer star and LGBTQ+ rights activist Megan Rapinoe offers a book club that reads everything from trans YA novels like Felix Ever After by Kacen Callender to moving memoirs such as Crying in H Mart by Michelle Zauner. Her books tend to focus on LGBTQ+ issues and books that address inequality and diverse perspectives.
Roxane Gay's Book Club
Author and critic Roxane Gay offers "audacious" picks through her book club, which tend toward literary fiction and memoirs. Her books focus on breaking boundaries and feminist and queer perspectives. Her latest picks include Somebody's Daughter by Ashley C. Ford, Of Women and Salt by Gabriela Garcia, and Memphis by Tara M. Stringfellow.
Malala's Book Club
Malala Yousafzai, activist and Nobel Peace Prize laureate, has her own book club that focusing on uplifting, educational, and sympathetic books, including memoirs and fiction. Her recent picks include Aftershocks by Nadia Owusu and Come Fly the World by Julia Cooke.
Looking for more great recommendations? Check out our round up of best book recommendation sites. And if you want more personalized recommendations, sign up for TBR: Tailored Book Recommendations! TBR is a personalized book recommendation service that sends you books you'll love to read. Here's how it works: Simply fill out the reader survey and let us know what you want more of—such as hot new releases or book club catnip—and what you're not keen on. Then, an expert Bibliologist will read your responses and recommend three books just for you. Receive your recommendation letter via email in about two weeks, or opt to receive your recommendations as brand new hardcovers in the mail in about three to four weeks. Learn more and sign up now!