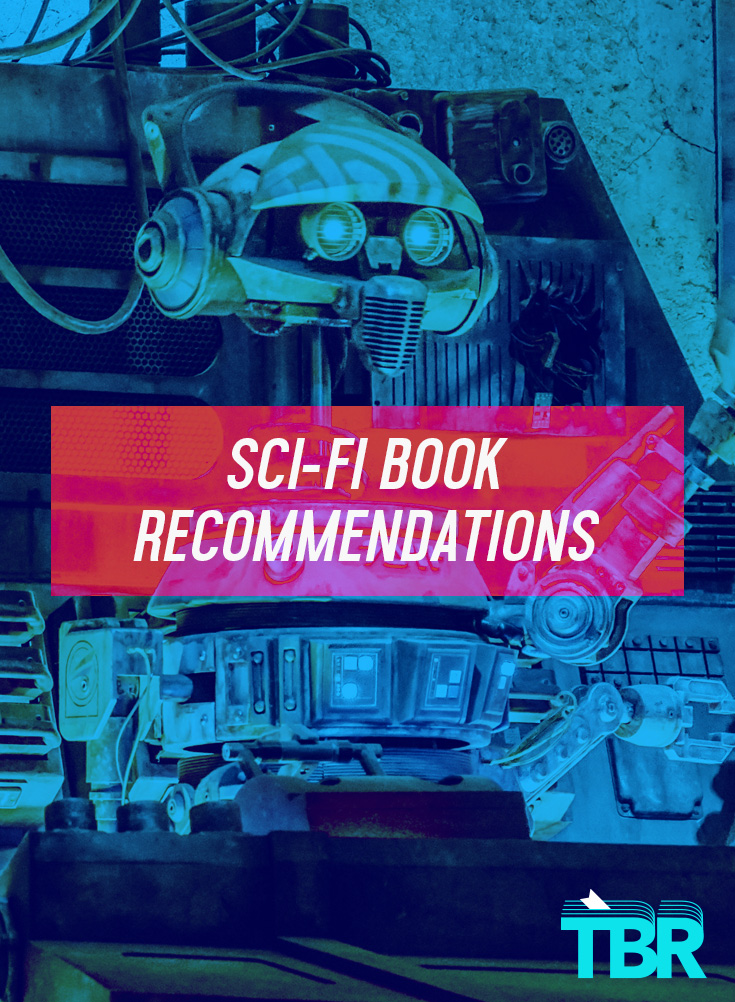 Calling all science fiction fans! If you want to get a jump on the best new sci-fi books of 2020, we've got you covered! This list of new sci-fi book releases will help you plan your 2020 reading and ensure you don't miss any of the amazing new books coming out. From standalones to sequels, exciting new debuts and new books from sci-fi greats, there are sci-fi book recommendations for every type of sci-fi reader here!
A mere six years after a global pandemic fractured society, four survivors find themselves once again in danger of losing everything they've managed to preserve. A former pop star, a party planner, and a father and daughter find their paths crossing in this very human story about the end of the world.
Out January 14, 2020.
Nia is a space traveler who exists solely in her ship, and ages beyond the outside worlds and universe. When the lonely woman takes in a mute child who communicates via music, the two discover connection and a home in each other. But they are not safe, and the boy is being hunted.
Out January 14, 2020.
3. Riot Baby by Tochi Onyebuchi
In a near future LA, Ella has the ability to see a person's fate when she looks at them. Her brother Kev protects them both by hiding Ella's ability. But when he's incarcerated and Ella is left alone, she must decide if she'll use her abilities to create a different world for the both of them. This is a sci-fi novel with superhero vibes!
Out January 21, 2020.
4. The Seep by Chana Porter
Trina, a trans woman, and her wife Deeba live under the alien takeover called the Seep, which seems like a utopia until Deeba becomes convinced that she would have a better life in a new existence and leaves Trina behind. Devastated, Trina tries to save a boy caught in the Seep and must confront the realities of this new existence.
Out January 21, 2020.
In this near-future Western story, Esther stows away on a library wagon headed for the Southwest in order to escape an arranged marriage and the grief over her best friend's execution for possessing contraband. Knowing Gailey's work, their new novella is certain to be a rollicking queer adventure!
Out February 4, 2020.
Gish Jen crafts a story of near future America where the Internet is part AI and surveillance and the people are tightly controlled. A young female baseball prodigy attracts the attention of officials just as the country rejoins the Olympics with the intention of beating ChinRussia–but her parents prove to be disruptors.
Out February 4, 2020.
Ken Liu is a celebrated writer and translator of sci-fi and fantasy, and this new collection includes his best sci-fi and fantasy stories of recent years, plus a new, never-before-published novella!
Out February 25, 2020.
8. Docile by KM Szpara
In this strange dystopia, one can pay back debt by becoming a Docile–to become completely beholden to the holders of your contract. Elisha's mother lost herself as a Docile and the drug she took to get through the servitude, and now Elisha is set to become a Docile and is determined not to fall to the same fate. But when his resolution runs up against his new contract holder's beliefs about the Docile drug, a battle of nerves and wits ensues.
Out March 3, 2020.
After an epidemic, California is under quarantine. The living stay in high towers, but those who die can upload their consciousnesses to a company that controls them totally. The poor are leased to the wealthy as companions, but when one companion discovers that she can defy orders, she decides to find her murderer, sparking a rebellion that will sweep the world.
Out March 3, 2020.
10. The Last Human by Zack Jordan
For an off-the-wall space adventure, pick up this book about Sarya, who is hiding her identity as the last human in the universe. She has no idea why humanity was destroyed, but when her human nature is inadvertently exposed, she's propelled on a madcap journey to figure out just what happened to humanity and discover her own exciting fate.
Out March 24, 2020.
11. Vagabonds by Hao Jingfang, translated by Ken Liu
In the wake of a civil war between Earth and Mars, a group of teens from Mars are sent to Earth to try and bridge the chasm between the two planets. But for these teens, adrift and searching for identity, this journey is especially fateful as they struggle to feel at home in two very different worlds.
Out April 14, 2020.
In this third book of the Interdependency series, the interstellar pathway called The Flow has finally collapsed, cutting off star systems from the heart of the empire. The emperox must convince her opponents that The Flow has truly collapsed and find a way to save those left stranded–or watch her empire fall.
Out April 14, 2020.
In this third book in the Cas Russell series, Cas discovers that the cost for winning a war against a shadow organization is that her very past–and her abilities–have been erased. And now Cas and her friends are being targeted.
Out April 28, 2020.
In the midst of a strange outbreak of paranoia and hallucinations in a city in Africa, a woman named Faith agrees to help a young girl find her baby brother–but is he even real? Their search takes them across the paths of a large cast of characters all affected by this strange outbreak that could just be mass hysteria, or something more.
Out May 5, 2020.
Murderbot fans, rejoice! The novella series is getting its first standalone full length novel about your favorite Murderbot, who must take drastic action to save some human not-friends when they're taken hostage.
Out May 5, 2020.
Set in a galaxy embroiled in war and populated by those who'd take advantage from all sides, this space opera follows a physicist and a spoiled heir who find a jump gate and use it, and find something worth protecting and fighting for on the other side.
Out May 5, 2020.
Harrowhark has managed to win a deadly battle in Gideon the Ninth, but her mind and her body have suffered for it. Now she's locked into the emperor's service and must train until she's the perfect weapon–but a ghost is hunting her and she might be losing her mind.
Out June 2, 2020.
The third in the Lady Astronaut series, this book explores an Earth reaching its expiration date due to climate change very soon, and two Lady Astronauts with different missions that are absolutely vital to saving humanity. But with political tensions heating up, their missions may be imperiled.
Out July 14, 2020.
19. Prime Deceptions by Valerie Valdez
This is the sequel to Chilling Effect. Not much is known about the plot yet, but keep an eye out for more information soon about one of our most-anticipated sci-fi book recommendations for 2020.
Out September 8, 2020.
The Eragon author has a sci-fi debut about first contact to look forward to, about a xenobiologist who finds an alien artifact while surveying a new uncolonized planet, sparking an epic battle between races and changing the course of history.
Out September 8, 2020.
Find more sci-fi book recommendations
Do you want to stay up to date on all of the amazing new sci-fi book recommendations and releases coming in 2020 and beyond? Sign up for TBR: Tailored Book Recommendations! TBR is a personalized book subscription service that puts you in control of what you want to receive. To get started, fill out our reader survey and tell us what you want: new sci-fi book recommendations, for example.
Then, choose between the recommendations-only level or the hardcover level. With recommendations-only, you'll receive an email within two weeks with three personalized book recommendations from an expert Bibliologist. This is perfect for library users and ebook and audiobook lovers! If you want hardcovers, then the hardcover level will get you three brand new hardcover books from our partner, Print: A Bookstore in Portland, ME. Your hardcovers are also handpicked by a Bibliologist and come with a personalized letter explaining why your Bibliologist chose the books they did. Your hardcover order should arrive in 3-4 weeks from placing your order.

Check out more details about how TBR works, and take a peek at how TBR stacks up against other sci-fi book subscription services.