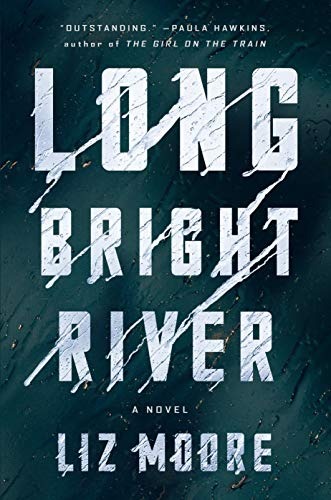 Long Bright River by Liz Moore has been a popular pick with readers since it first released in 2020, even landing on Barack Obama's favorite books of 2020 list! If your book club has decided to pick up this book, then we've got you covered with a Long Bright River book club questions, summary, and a reading guide to help your club have a great discussion!
Taking its inspiration from the very real and ongoing opioid epidemic, Long Bright River follows two sisters, Mickey and Kacey. They live and work in the same neighborhood, but in very different roles. Mickey is a detective with the Philadelphia Police Department, and she patrols Kensington, a neighborhood that has bee impacted by drugs and opioids. Kacey is a known user and prostitute who lives on the streets in Kensington, and although the two sisters are estranged, Mickey does her best to keep tabs on her sister when she can. Everything changes when a killer begins targeting women in the neighborhood, and Kacey disappears without a trace. Terrified that her sister could be the next victim, Mickey throws herself into the case, determined to unmask the killer and find her sister. The novel explores the complexities of family history, drugs, and the impact of crime on a community in this fascinating and well-written thriller.
Themes: Sisterhood, family history, class, addiction
Long Bright River Book Club Questions:
Kacey and Mickey are sisters who end up in very different lives as adults. How are they similar? What decisions or events impacted them to diverge in such extreme ways?
Kensington is a rich setting that is as interesting as any of the characters in the book. What did you think of the setting? What stood out to you about it? How does each characters' relationship to Kensington influence the story or its telling?
One of the major themes of this book is class. Discuss how class is presented in the book, and how each of the characters is affected by class–the class they were born into, the class they strive for, or the class they find themselves in as adults.
Addiction plays a major role in this novel, and many of the characters struggle with addiction to drugs in the past and present. How does the author present addiction in the characters? How all the characters all, to a certain extent, affected by addiction even if they themselves are not addicted to something? What other dark impulses or addictions are present throughout the text?
Discuss who (or what) served as turning points in Mickey's life. What characters have served as mentors to Mickey, and what experiences (or lack of opportunities) have led her to her current path? Would her life look different without the mentors and experiences she has?
In many ways, Mickey was forced to be a mother to Kacey at a young age, after the death of their own mother. To what extent does Mickey feel responsible for Kacey's decisions as an adult? How does she wish to make amends or avoid past mistakes?
Although Kensington suffers from the opioid epidemic, in what ways are the residents a community? What does this community have to offer that might be positive? What are the downsides in this community, aside from the obvious presence of drugs and the murders? What elements of this community do you see reflected in your own communities?
Were you surprised by the direction that the mysteries took? Were you able to anticipate any of the reveals or twists? If so, did that affect your enjoyment of the novel?
Which elements did you find most compelling about this novel? Would you read another book by Liz Moore? Why or why not?
What did you learn, if anything, about the opioid crisis? Did this novel add a human component to your understanding of addiction and the crisis?
For more reading, viewing, and discussion, consider checking out this New York Magazine about the best nonfiction about the opioid crisis. Your book club might also want to watch The Pharmacist on Netflix, an excellent documentary about the start of the opioid crisis in the U.S.
Want more book club suggestions? Check out our best recommended reading for book clubs in 2021. And if you want more great book recommendations, sign up for TBR: Tailored Book Recommendations! TBR is a personalized book recommendation service that sends you books you'll love to read. Here's how it works: Simply fill out the reader survey and let us know what you want more of–such as book club recommendations–and what you're not keen on. Then, an expert Bibliologist will read your responses and recommend three books just for you. Receive your recommendation letter via email in about two weeks, or opt to receive your recommendations as brand new hardcovers in the mail in about three to four weeks. Learn more and sign up now!