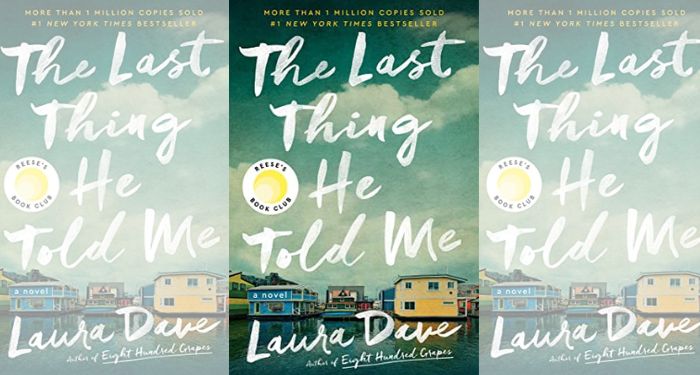 If your book club is looking for a thrilling mystery, then look no further than The Last Thing He Told Me by Laura Dave—an instant bestseller and Reese Witherspoon book club pick! It combines family drama, mystery, and intrigue to make for an exciting read, and the plot asks big questions that will keep your book club talking! To get ready for your next book club meeting, check out our guide for how to run a book club, and then look over some great book club discussion questions we've prepared to help your discussion run smoothly!
The Last Thing He Told Me Summary
Hannah and Owen have only been married a year before he slips her a note and disappears. The note asks Hannah to protect his teenage daughter, Bailey, who lost her own mother as a young child and now wants nothing to do with Hannah. But Hannah knows that the situation is serious when the FBI arrests Owen's boss and then agents show up at her house, demanding to know where her husband is. Hannah realizes that there is more to Owen than meets the eye, and if she's going to find him and discover the truth, she's going to have to protect Bailey…and work with her to discover what this family is hiding.
The Last Thing He Told Me Themes
Loyalty, the nature of unconditional love, the meaning of family
Before you launch into your discussion, it might be helpful to come up with an icebreaker question to help get the conversation flowing. These can be silly or fun, and are not meant to be taken too seriously. For this discussion, you might ask your group, If you could send a normal-sounding text to your spouse to signal that you've been kidnapped, what would it be?
The Last Thing He Told Me Discussion Questions
After one year of marriage, do you think you can truly know someone?
Why do you think that Owen's note was so short and vague? Did he want Hannah to start digging, or do you think he hoped that she wouldn't pry into his background?
Why do you think Owen kept his past a complete secret from Hannah? Do you think he believed he had left it behind, or was that just wishful thinking?
Would you be able to trust a spouse if it turned out that they have a hidden past? Why do you think Hannah stood by Owen, even before she uncovered the whole truth?
What were your first suspicions about why Owen disappeared? Were you on the mark?
Let's talk about family connection. What were Hannah's views on family based on her own childhood? Do you think there were any parallels between her life and Bailey's?
Discuss Hannah's relationship with Bailey. Was it authentic? Do you think it was fair of Owen to leave the two of them together to puzzle out his past?
Do you believe that "found" family can be as strong as blood relations?
What would you have done if you were Hannah? Could you leave everything behind and go into witness protection if you had to?
Hannah must make some difficult choices for the sake of her own safety, and for Bailey's. Do you think she makes the right choices? Would you have made different choices?
What did you think of the ending of the book? Do you think that Owen will ever be able to return to his family? Do you think that they'd be able to return to normal?
Would you read another book by Laura Dave? If yes, why? Of no, why not?
What similar titles would you recommend to those in this group who enjoyed The Last Thing He Told Me?
We recommend: Pieces of Her by Karin Slaughter, Local Woman Missing by Mary Kubica, and Speaking of Summer by Kalisha Buckhanon.
Looking for more great book club content or recommendations? Check out our recommendations for the best romantic thrillers if you want more exciting plot twists and romantic subplots. And if you want another twisting domestic thriller for your book club, then check out our book club guides to The Silent Wife by Alex Michaelides!
If you're looking for more great book club recommendations, sign up for TBR: Tailored Book Recommendations! TBR is a personalized book recommendation service that sends you books you'll love to read. Here's how it works: Simply fill out the reader survey and let us know what you want more of and what you're not keen on. Then, an expert Bibliologist will read your responses and recommend three books just for you. Receive your recommendation letter via email in about two weeks, or opt to receive your recommendations as brand new hardcovers in the mail in about three to four weeks. Learn more and sign up now!