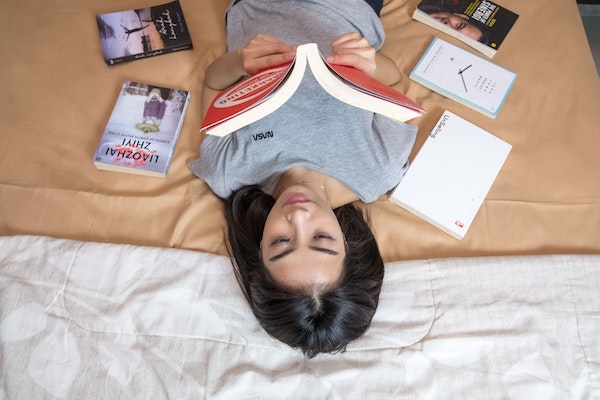 If you hang around a reader long enough, chances are you'll hear them utter the acronym "TBR." What, exactly, is a TBR and why are readers so obsessed with them? TBR stands for "to be read" and it can refer to a literal or metaphorical pile of books you want to read at some point. How readers might define their TBR stacks can depend on what kind of reader they are and how they choose books, and there's no one way to go about it!
In the book world, the idea of a TBR stack might have started with a very narrow definition of a finite, reasonable number of books that one hoped to read in a timely manner. But as book culture has evolved across the Internet, so has the definition of a TBR! Some readers have a very limited, defined TBR stack, and they might refer to the literal books they've already purchased, checked out from the library, or borrowed from a friend, and hope to finish before they're due back or before they buy more books. Think of it like the neat stack of books on your nightstand. Other readers may define their TBR stack much more broadly to include books they've not yet procured but want to read, or even so widely as to include anything and everything that catches their interests, and it would be impossible to physically contain everything on their TBR. Some readers have an actual TBR list that they keep on their phones, in apps, or on paper—and others eschew organization altogether and consider anything and everything that catches their interest as part of their TBR. However you define a TBR stack and organize your reading life is up to you!
When deciding what to read next, if you are someone who likes to keep things tightly organized and you like clearly defined goals, then you might use an app or list to keep your TBR narrow, and refer to simply the books you have on hand to read next. Sometimes you might have a general, wide TBR list for books you hope to get to but don't want to assign a timeframe to, and then pull a limited number of books for a specific timeframe, such as "summer TBR" or "vacation TBR" or even monthly TBR lists. If you're a reader who doesn't like to limit yourself or think too far ahead, you might consider everything you have access to a part of your TBR, whether that's physical books owned, digital books downloaded, or books that you can get from the library, and pick up books my mood or vibe. No one way is right or wrong, it all just depends on what works for you as a reader!
We love that the concept of TBR is open to wide interpretation, which was why it was a no-brainer to name our personalized book recommendation service TBR! Not only does it stand for Tailored Book Recommendations, which is what we do, but we love the play on words and hope our recommendations jump onto your TBR stacks, however you define them! TBR: Tailored Book Recommendations is unlike any other subscription service in that we take the time to get to know you are your reading habits through our extensive survey that asks about your reading likes, dislikes, what you want more of, what themes you might want to explore, your favorite genres, and how adventurous you want to be in your picks. We'll even ask about your favorite movies and shows and media, and what topics or themes you might want a heads up about, or avoid altogether. Readers can take the time to answer these questions as thoroughly as they like, and there's always the option to include a link to a Goodreads or Storygraph account, so we can see what you've read or what's on your radar already.
Once the survey is in, it's time for our expert Bibliologists to shine! Our Bibliologists are real, live human power readers whose areas of expertise are matched carefully to your survey responses and requests. They read and analyze your responses, check your Goodreads or Storygraph accounts, and then pick three books that they think you'll love based on your responses. You'll receive these recommendations via a personalized recommendation letter, and sometimes you might even get a bonus recommendation! Subscription plans let you choose to receive your letter via email so you can procure the books yourself (perfect if you're a digital reader or library user!), or if you like the rush of fresh book mail, choose to receive your recommendation letter and the recommended books in the mail! Then, add those books to your TBR and get reading!
After you've read your recommended reads, you can log back into your account and give feedback on the books and the recommendations overall. You can always switch Bibliologists at any time, no questions asked. The Bibliologists can see your entire recommendation history and will take into account your feedback on your picks so you never get repeat recommendations or anything you don't want. You can always change up your survey responses if you'd like to explore new genres or grow weary of certain types of books, so your recommendations from TBR will always be fresh and relevant. We aim to recommend books that will leap off your TBR shelf and become your new favorites! Get started by taking the survey now!