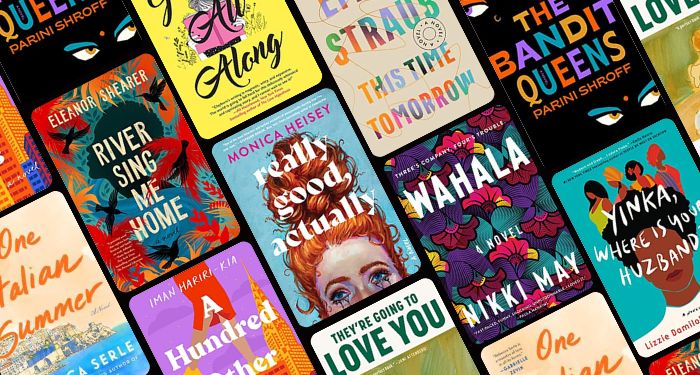 What is women's fiction? This genre marker can be confusing, because so many titles that are considered women's fiction would just be considered fiction if they were written by (or about) men. Like most genres, it is really a marketing term, but it can be helpful to understand what is generally mean by the term, especially if you tend to enjoy books that fall under the women's fiction umbrella!
Women's fiction includes books that center women and focus on (so-called) women's issues, such as family, friendships, and intersecting oppressions. The books can be contemporary or historical, and may be romance or include a romantic plot line. Some women's fiction is also considered literary fiction, while some is on the chick lit/beach read side of the imaginary divide. Some thrillers are women's fiction, and indeed nearly any genre can also be considered women's fiction.
Generally speaking, the primary theme of women's fiction novels is self-fulfillment, whether it's a coming-of-age story, a middle aged divorcee learning who she is without a partner, or a workplace drama where an under-appreciated employee learns to speak up for herself. The plot almost always involves major outside forces in the form of life changes out of the protagonist's control, and the internal journey she takes from beginning to (fulfilled) end.
Read on for our list of the best new women's fiction coming to your shelves in 2023 and a few of our favorites from 2022!
Most Anticipated 2023 Women's Fiction
Joyce has been divorced for a year and is ready to enjoy being single when her sister Lydia, newly divorced, moves in with her and they are forced to confront family secrets and remember their other sister, who died when they were children.
Geeta's husband disappeared five years ago, and the rumor in her village is that she killed him. She doesn't contradict her neighbors' belief, because it means she is mostly left alone…until other women start asking for her help getting rid of their husbands, and they aren't all willing to take no for an answer.
This historical novel fictionalizes the real life Mitford sisters, following Nancy as she tries to help stop the Nazis from taking over England, and the way the political and the personal intersect for her.
Unexpected circumstances find longtime personal assistant Georgie leaving Los Angeles and moving back to her hometown, where she finds her teenage diary, full of "friendfic" ideas for her future. She finds herself becoming roommates with former town bad boy Levi and trying to make some of her teenage dreams reality.
Maggie is broke, divorced, and running really late on her graduate thesis. This debut novel by TV and screenwriter Heisey (Schitt's Creek) follows a year in the life of a 29-year-old rediscovering herself and reinventing her life.
Rachel is enslaved at Providence Plantation in Barbados, and when the the Emancipation Act of 1834 comes into affect, the plantation owner announces that all of his formerly enslaved workers are now apprentices and must stay for another six years. So Rachel runs away and tries to find her children, who were sold to other slavers. From Barbados she travels to British Guiana and then to Trinidad, determined to ensure that her children are free so that she can be.
Great 2022 Women's Fiction
Wahala by Nikki May
Three Anglo-Nigerian friends welcome a fourth woman into their group, and at first she brings out the best in everyone, but soon the newcomer's presence sows chaos and group dynamics change.
Katy is reeling from her mother Carol's sudden death and decides to take their planned trip to Italy solo. As she begins to find peace, Carol suddenly appears as a 30-year-old, and Katy has the chance to get to know her mother all over again.
Alice's life at 40 is…okay, except for the fact that her father is dying. Then she wakes up on her 16th birthday and has a chance to relive their relationship.
Noora lands a job as the assistant to the editor-in-chief of Vinyl, her favorite magazine. She hopes this will open the door to her dream of writing for the magazine, but her new boss is a total nightmare and Noora is stuck in the middle of a turf war between the print and digital teams.
Yinka's aunties think she's too modern and should be married by now, while her friends think she is too traditional. Her girlfriends want her to get over her ex, and her cousin just got engaged. So Yinka goes in search of a date for the wedding, all the while looking for herself.
This historical fiction tells the story of Sylvia Beach, an American who opened a bookstore in Paris in 1919: Shakespeare & Company, which would become a second home to writers like Ernest Hemingway and James Joyce.
A coming-of-age story about an aspiring ballerina with a gay father during the AIDS crisis, this book examines ambition, artistry, and family.
If you're looking for even more great women's fiction recommendations, try TBR: Tailored Book Recommendations! TBR is a personalized book recommendation service that sends you books you'll love to read. Here's how it works: Simply fill out the reader survey and let us know what you want more of and what you're not keen on. Then, an expert Bibliologist will read your responses and recommend three books just for you. There are two subscription options: receive your recommendation letter via email in about two weeks — perfect for library users! — or opt to receive your recommendations as brand new hardcovers in the mail in about three to four weeks. Learn more and sign up now!